Canadian Acro Intensive
August 15, 2020 @ 8:00 am

-

August 21, 2020 @ 5:00 pm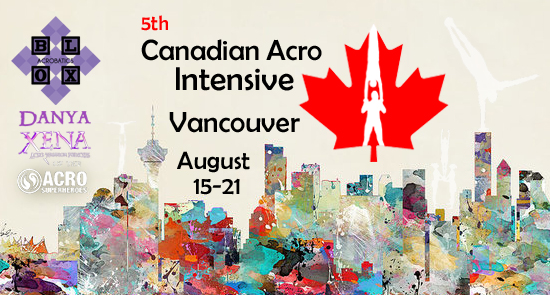 —-> 7 Days of Amazing Acro Training!
Join Danya & Blox for a full week of Acro playing, training and creating. If you've been craving an immersive Acrobatic experience blending European and North American Acro traditions, this is the event for you!
We will practice a large variety of skills including: Dynamic L-basing, handstand and hand to hands, trio and group work, popping, Icarian and of course standing Acrobatics. There will be something for everyone, and this event is not to be missed!
Guest Teacher: TBA!
—-> Training Schedule
6 hours of Acrobatics every day!
Each day, before partner acrobatics, is prehab, tumbling, then handstand training. In addition to group training, participants will also have opportunities for private acro coaching.
#SeriousTraining with #GoodVibes
—-> Investment:
********Ticket sales begin Feb 14 at noon PST********
TICKET INFORMATION:
We are adding options to the ways that you can pay for the Canadian Acro Intensive this year. We want to reward participant that are keen and sign up early and also make this option more accessible to everyone. This will make our ticketing more complicated – but we believe that the increase in financial accessibility makes that worth while.
We strongly recommend that everyone read the ticket overview on our website https://www.canadianacrointensive.com/event-tickets fully before purchasing your ticket to ensure you get the best and most accurate option – VIP and CREW discounts CAN NOT BE APPLIED RETROACTIVELY – so do it right the first time 🙂
VIP = 15% Off
CODE: VIP2020
AVAILABILITY: Attended a previous Canadian Acro Intensive
Crew = 10%
CODE: CREW2020
AVAILABILITY: Email the names of your group of 4 to canadianacrointensive@gmail.com before you each purchase your tickets.
For information on how to combine these codes, access payment plans and paying via eTransfers go here https://www.canadianacrointensive.com/event-tickets
EVENT TICKETS
Super Early Bird (First 6 to register) $650
Early Bird (Next 10 to register) $750
Late Bird (Next 16 to register) $850
Regular Price $1000
—->Pre-Requisites
To be accepted into the Canadian Acro Intensive, all applicants must submit a prerequisite video. We are committed to upholding the integrity of the skill level taught and of the safety of everyone at the training. This video must include ALL of the 'technical' prerequisite skills listed. This video does NOT need to be high quality, have music, or be anything besides a decent attempt at each of the listed skills (it doesn't have to be perfect!). We're excited to see how you move!
Email a link to CanadianAcroIntensive@gmail.com. (If you have sent us a video in a previous year we do not need another one). The video deadline is 1 month before the training i.e. 15 July 2020.
Please be sure to get professional instruction on the skills in this video before attempting. Use spotters where needed. If you need instruction/assistance, or to request an extension on the video submission, please be in touch.
TECHNICAL
*All prerequisites may be spotted (we encourage it!)
**Get in touch with us if you need help/direction with positions, grips, spotting etc.
Standing
H2H – jump from 2 high – comfortable and confident making attempts
F2H – any entrance – 10 seconds (feel free to use a second base to post into it)
High Bird – 5 seconds
Camel
Solo
Handstand – 1 minute (with spotter or against wall)
L-Basing
H2H – any entrance, low or extended – 5 seconds
Free star – 10 seconds
Tempo Popping Barrel Roll
Icarian
R Star to Throne (popping towards the flyers back)
Stretch Jump (throne to throne)
LIFE
A good attitude: listen well, open to feedback and trying different techniques, ability and desire to 'play nice with others', an honest embrace of identity diversity.
SPOTTING
The desire to practice acrobatics safely and learn the art of spotting
​
—-> Accommodation
Once accepted into the program you will be invited into the housing and transportation Facebook group to collaborate with other students on finding accommodation The awesome Acro community of Vancouver may be able to host a few people but here are a couple of other fun options:
Check out AirBnB :
Book a bed in a Hostel
Check out these sites as well Travellers Point and Lonely Planet