Bali Acro Spirit Pre-Festival Intensive 2024
February 6, 2024

-

February 8, 2024

$180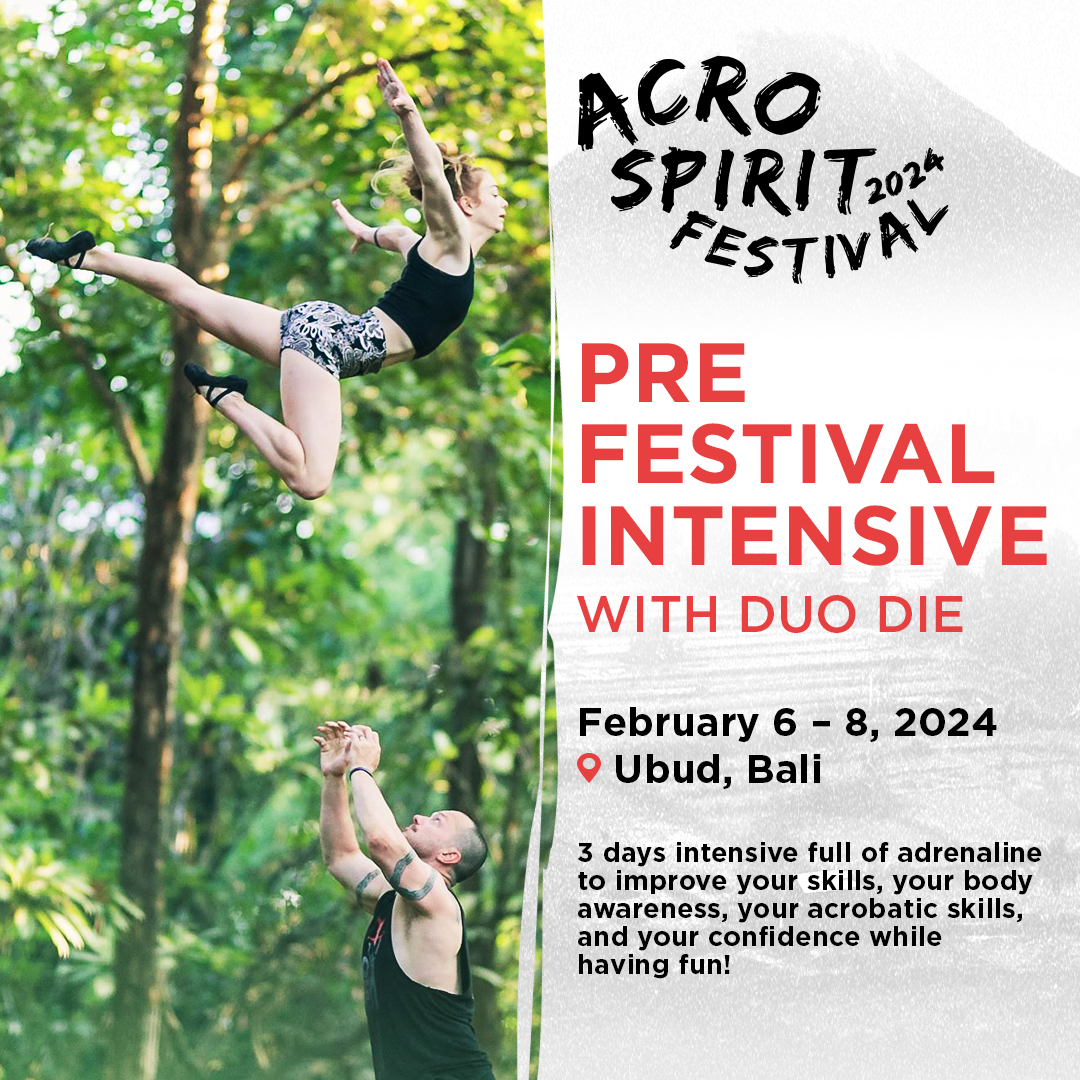 Level up your acro skills in this 3-day pre-festival intensive with the incredible DUO DIE!
Join us for an immersive three-day adventure as we empower you to master the art of partner acrobatics. We will impart essential concepts and drills, laying the groundwork for a strong foundation in your partner acro practice. Throughout the workshops, we will focus on honing techniques in f2h and h2h, while also providing a comprehensive introduction to dynamic Icarian.
Don't miss your chance to get their dedicated coaching and seriously improve your acro!

Pre reqs: Comfort in two high (basing or flying). Some experience in standing f2h and h2h. 

At our core, we are passionate about sharing the intricacies and purpose behind each movement, creating the pathway to unlocking higher-level skills. Through a combination of hands-on learning and insightful explanations, we aim to foster a deeper understanding of partner acrobatics, ensuring you feel confident and capable as you progress in your partnership.
This workshop offers a welcoming and supportive environment for intermediate+ skill levels. We will cover progressions for skills such as h2h and f2h entries and exits, Icarian spinning and popping, and dancey asymmetrical tricks.

DUO DIE
Dane and Caitlin met in 2013 and quickly fell into a routine of training foundational drills, practicing progression and precision, workshopping, performing, coaching and learning around the world! Their goal as a team is to spread their love of acro, through hard work and smart training. They are constantly looking to evolve their technique in training and teaching, all the while working towards a long life of partner acro. Through their focus on communication and working together, they have developed a coaching approach that has the potential to make acrobatics fun, progressive and sustainable for a lifetime!
They have learned from many different coaches along the way.  All have different methods and styles, all of which are valid and worthy of knowing. It is the job of a partnership to work together to decide which techniques work, everyone is different and may require different techniques! Be open to them all and go with what works for you.