Acroyoga Teacher Training by AcroFusion 2023 residential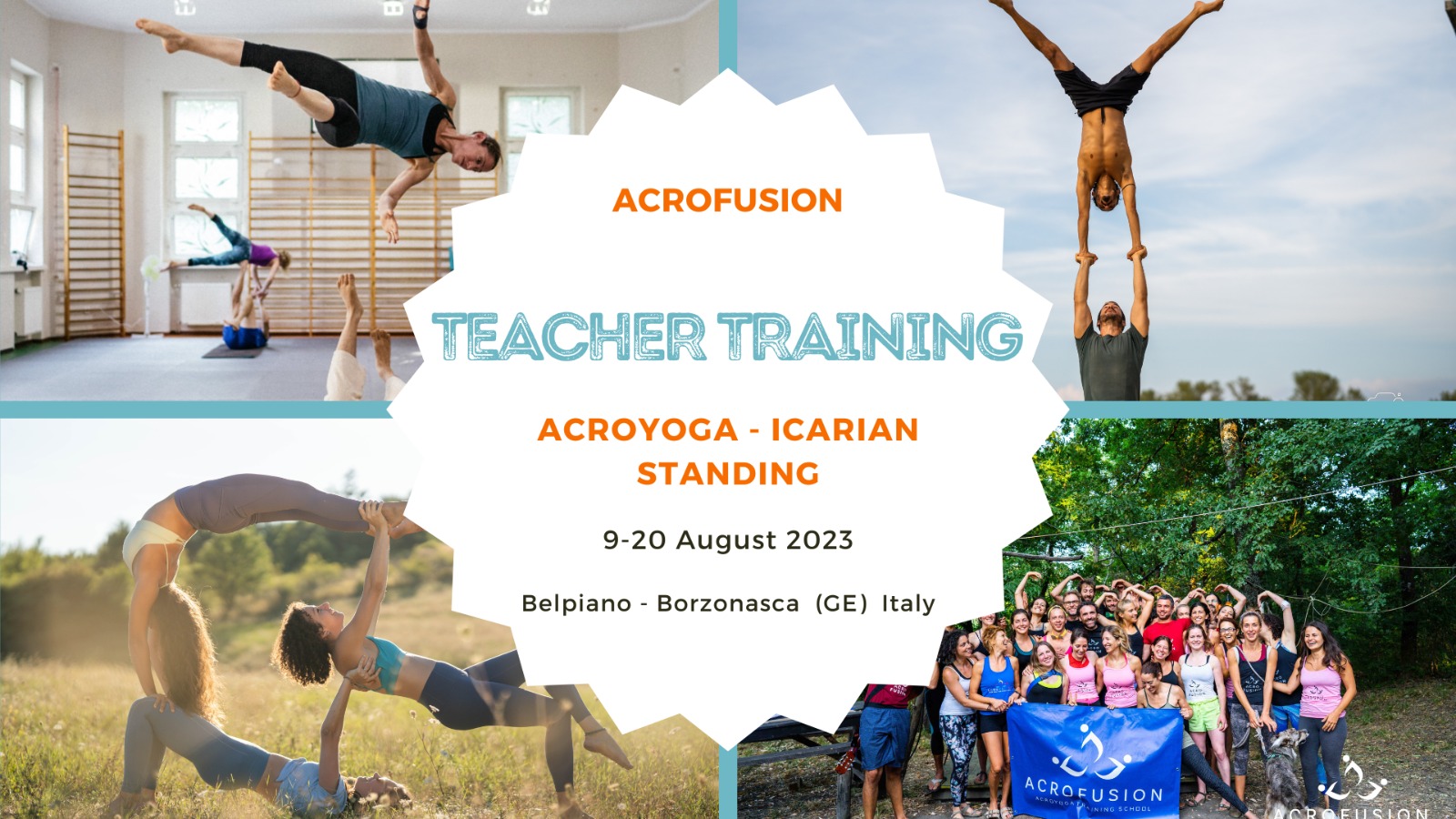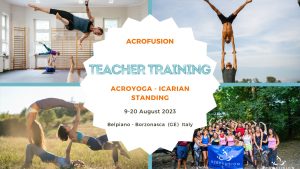 AcroFusion TT by @SicilyAcro & @Acroseeds is a great project to spread acroyoga in Italy and around the world!
WHO:
@SicilyAcro & @AcroSeeds have decided to join their strengths and competencies to create an unforgettable teacher training: Acro Fusion TT!
This year in the teacher team there will be also @Alfonso Sabaidee and @Alberto Betsinlao -Performing Arts- that will add their amazing competencies in teaching Icarian games and Standing Acrobatics!
WHAT:
The training is based on the fusion of some cool disciplines, Acrobatic Movement, Vinyasa Yoga, Handstand, and Thai massage, to explore better all Acroyoga aspects.
The focus is on how to teach and build strength (AcroJedi) and fluidity (Acro Flow).
There will be also time for personal practice is also available to improve personal, technical, and professional skills: a lot of calibrations, progressions, whips, icarian, h2h, and Standing Acro.
WHEN:
09-20 August 2023
WHERE:
Belpiano Campus
Via Belpiano 14 – 16041, Borzonasca (Genova-Italy)
https://www.belpianocampus.it/strutture/
How to register and application form:
https://forms.gle/vZfbiTyNXdHpmKBx9
 Investiment for the first 10 members and until May 20th:
1320 dormitory
1350 quadruple
1450 in doble room
What will you learn:
-How to teach acroyoga to multilevel classes in a clear, safe and fun way and —How to customize the practice
-How to train in a sustainable, smart, and fun way
Specific contents:
-Elements of vinyasa yoga aimed at personal practice
-Elements of acrobatics,
-Acroyoga: foundations, inversions, acroJedi, acro flow, whips, icarian's
-Teaching methods and teaching methodology
-Didactics: progression, communication, creativity
-Thai massage/restorative practice
-Elements of anatomy applied to acroyoga
-Exercises for the sustainability of the practice
-Marketing elements
Language:
TT will be one day in English and one in Italian, with simultaneous translation
Schedule:
7:30 – 8:45 Vinyasa Yoga / Flow work / Pre hub
9:00 – 10.00 breakfast
10.00 – 13.00 Foundation – Jedi Training – Handstand
13.00 – 15.00 Lunch break
15.00 – 18.30 Acro Flow / teaching groups/workshops
* Certification: with a national diploma recognized by ENDAS and Coni as acrobatic gymnastics instructors with AcroYoga specialties. The cost of the national diploma, for those who wish it (it is not mandatory to request it), will be 120€ extra
Awarded by AcrofusionTeachers: Valeria Maggiali, Francesco Semino, Francesca Isabella Famà and Luigi Mercurio.
The team will also be composed of international assistants, depending on the number of participants. We will need at leat 15 participants to start the TT
Photo shooting:
During the teacher training is included a professional photo shooting: bring your favorite clothes!
Portrait picture and some acro action shoot
Check here your pre-reg: 
https://www.acrofusion.it/prereq/
Price: cooming soon
Refunds:
By canceling your reservation by May 20th, you will receive the full amount paid minus € 50 for expenses.
By canceling your reservation after May 20th, you will receive half of the investment paid.
By canceling the reservation after July 15th, it is not possible to receive the amount paid.
*Being recognized both nationally and internationally, it can be used to work through contracts and sports collaborations with A.S.D. (Amateur Sports Associations) and/or other types of associations, obtaining tax advantages (In Italy free-tax up to 10,000 euros for instructors with a diploma in the sport's field).