Dutch AcroYoga Festival – Summer 2023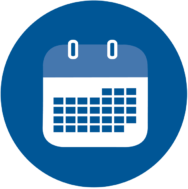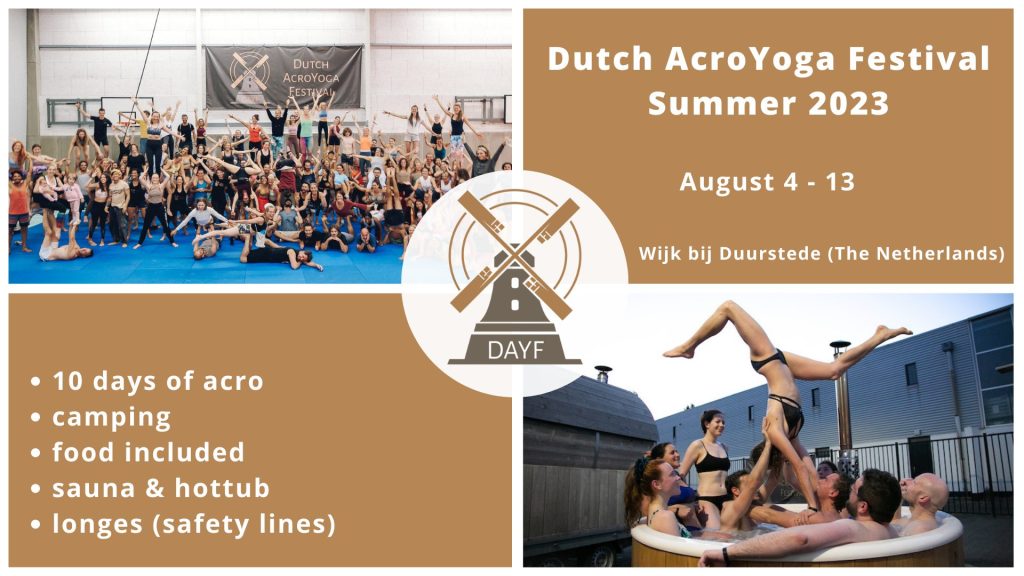 We're thrilled to announce a new edition of the Dutch AcroYoga Festival: DAYF Summer 2023! Due to the success of last year's Summer edition, and the interest showed by many people for Summer 2023, we decided to do it again!
The festival will take place from August 8 until August 13, 2023. It's situated in the centre of The Netherlands, in the great but cozy town Wijk bij Duurstede.
WORKSHOPS & LEVEL
There will be around 135 workshops, a mix of L-basing and standing, and with a minimum of 4/5 workshops each round (beginner / intermediate / advanced ).
Beginners are welcome. To be able to enjoy the festival to the fullest, we recommend you to have at least taken 5 to 10 AcroYoga or acrobatic classes before.
Feel free to join for a day, a weekend, or the full ten days!
SAFETY LINES
There will be multiple safety lines (longes).
JAMMING
The gym will be available for jamming 24/7, so for the true diehards: you can continue all night long
.
FOOD
Three meals a day and coffee and tea are included in the price!
ACCOMMODATION
There's the option to camp besides the venue. If you come by plane or from far away, it's now also possible to rent camping gear (tent, mattress, sleeping bag).
There's also space for campers (no electricity and water).
SAUNA & JACUZZI
A sauna & jacuzzi will be there too, to recover after your training!
PHOTOS
There will be a photographer to capture your favourite moments.
VENUE
The festival will take place on the border of a very cozy town, called Wijk bij Duurstede. It's situated near river Lek, where you can take a dip in between the workshops.
The workshops will take place in two big halls or, when the weather allows it, outside. There will be around 1000m2 tatami for you to play at.
SCHEDULE
TBA closer to date here and at:
https://dutchacroyogafestival.com/dutch-acroyoga…/
TEACHERS
Tom the Acrobat (DE)
Mediogiromas (Gonza, Agus, Mati (AR))
Mati & Coni (CL)
Amir & Yska (IR)
Evan Josef Cohn (USA / DE)
Natalia & Joshua (PL)
Lennert & Yvonne (NL)
Laura & Caspian (ID)
Amitai / AcroTaiTai (IR)
Karel & Veronica (NL/BE)
Lisa & Korneel (BE)
Sebastian Debels (BE)
Susann Mayer (ES)
Clara & Lidiya (ES)
….More soon…
DATES
August 4 – 13, 2023
TICKET PRICES
Check the website:
https://dutchacroyogafestival.com/dutch-acroyoga…/
REGISTRATION
Fill out the form:
https://docs.google.com/…/1FAIpQLSf9A…/viewform
PAYMENT DETAILS
Bank account (IBAN): NL40SNSB0925977055
BIC/SWIFT code: SNSBNL2A
Name: Turn and Twist
Description: 'DAYF Spring23' + 'Name participant'
ADDRESS
Stichting Wijksport
Lekdijk Oost 15A
3961 MB Wijk bij Duurstede
The Netherlands
��
QUESTIONS
For questions send an e-mail to: info@dutchacroyogafestival.com