Timeout Acro 2022
November 3, 2022

-

November 6, 2022

369€ – 399€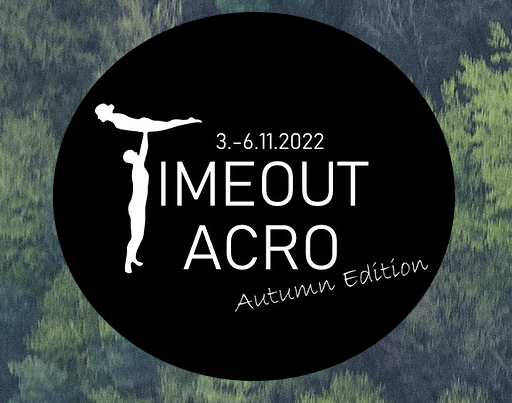 Timeout-acro autumn edition 2022 will be the third edition of our Timeout Acro Festival. Don´t miss our 4 day all-inclusive Acro Yoga weekend in the beautiful german national park "Eifel". Give yourself a break from your every-day life routine and join us for 4 days full of Acro Yoga, Acrobatics, Thai Massage, Lunar Practice, Yoga, Sauna, Community and lots of fun!
There will be over 30 different workshops (Acro Yoga, Acrobatics, Handstands, Thai Massage, Wùo Taï Massage, Lunar Practice, Yoga, Capoeira and BodyArt) from beginners level all the way up to advanced level. Free Jam time. Delicious vegan food. Sauna. Chimney. And much more.
We offer more than 30 different Workshops for all levels from beginners to advanced. Full of Washmachines, Pops, Whips, Icarians, H2H, Acro Dance, Entry to Standing Acrobatics, Handstands, Therapeutic Flying, Thai Massage, Yoga, movement…
"Auszeit Eifel" in 53937 Gemünd is a former youth hostel with plenty of space for a group of around 120 people. One hour drive from Cologne. Surrounded by a peaceful and beautiful forest, with only some horses as neighbours.
We have 8-10 bed dorms and 4-bed dorms. There are shared toilets and bathrooms on each Floor. We have 3 halls for the Workshops and Jamtime, a healing space, a separate dining area and a cosy chimney room for community time. Due to the hight of our celings its not suitable for advanced standing Acrobatics. 
There will be delicious vegan food, freshly prepared 3 times per Day. Besides that, there will always be at least a little snack available. 
There will be coffee, tea and water provided for free, but you can also buy additional drinks on site or bring your own. 
The prices include 3 nights of accommodation, all workshops, sauna and 3 delicious vegan meals a day (starting with dinner on Thursday, ending with lunch on Sunday).
Late Bird from 1st of June 2022
10-bed dorm: 369,-€
4-bed dorm: 399,-€
​