Sicily Acro Post Convention 2023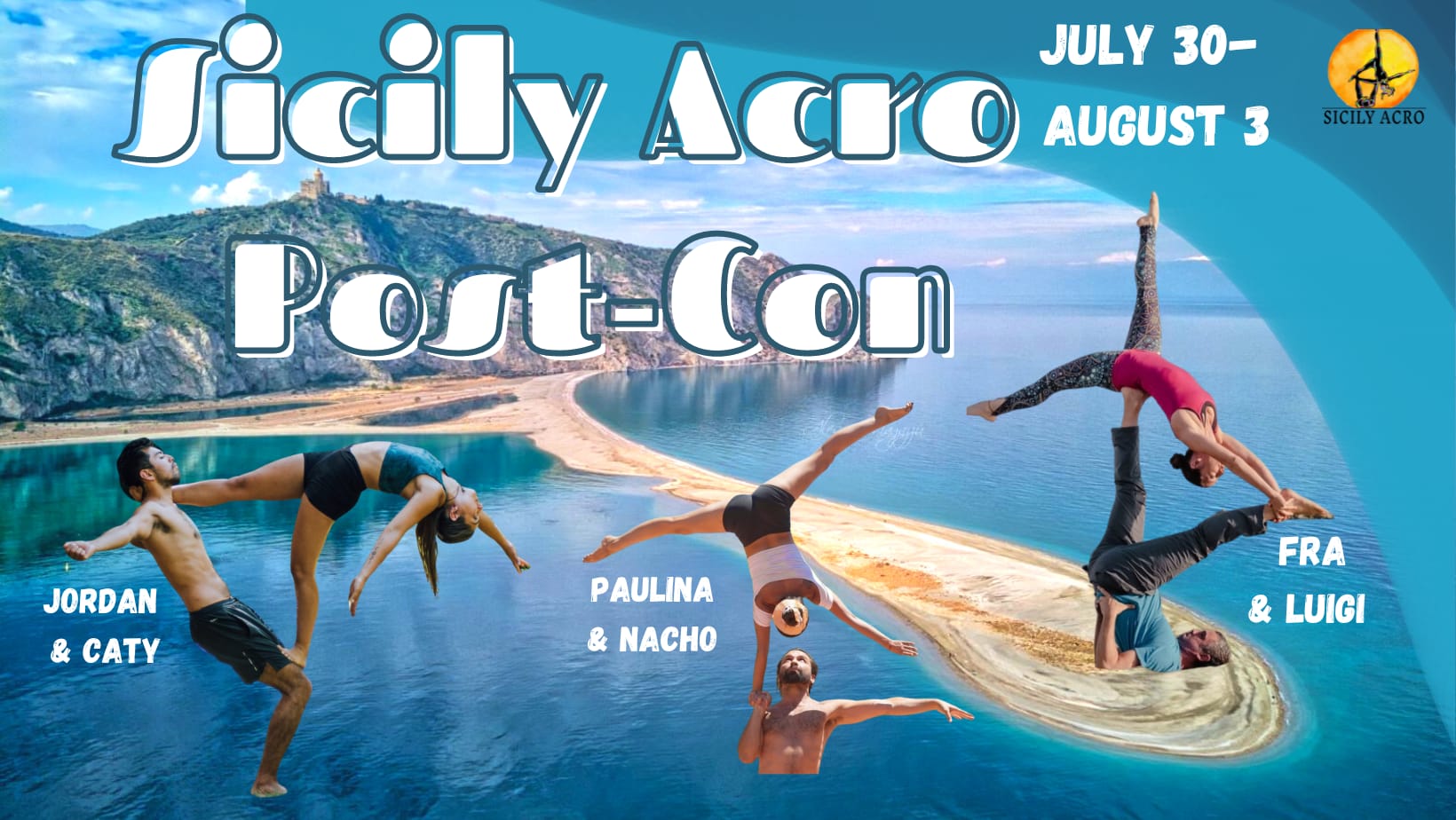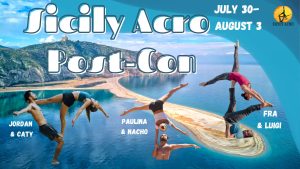 Sicily Acro Post-Con 2023:
Are you ready for this?
A 4 and half days Acro Love Retreat!
6-8 amazing teachers will guide you in an amazing experience!
 Dates: 30-31 July-1-2-3 August 2023
 To register follow the google form link: 
https://forms.gle/BtkvQfjuiGdvyRBn6
 Teacher Team:
 @sicilyacro +
The Chilean crew: @duofuria (catalina.sol & @razonesyfuerzas), @duoliquen @tinypauwer & @aurelos) and more if the number of the participant will be more then 40
 They will follow you closely and will share the tricks you love most!
Skills to be covered include:
Icarian, Whips/Whops, Flows, Pass the flyer, H2H, and Standing Acro.
Prereqs:
Basic Washing Machines
Tarzan Whip
Icarian Bird to Bird
Icarian Throne to Throne
 Investment:
220€ for 4,5 days – 180€ (for those who join the SAC 2022)
150€ for 2 days – 100 € (for those who join the SAC 2022)
 What's included : *6-8 hours of acro training per day
Not Included: *Housing *Food *Flights
For more info write an email to sicilypostconv@gmail.com
 Schedule:
9:00-:9:30 Warm-Up – Games
9:30-12:00 Acro workshops
12:00-16:00 Lunch break- jam – swimming….
16:00-16:30 Warm-Up – Games
16:30-19:00 Acro workshops
19:00 Free Time
ACCOMMODATION AND FOOD ARE NOT INCLUDED IN THE PRICE
 WHERE TO SLEEP?
We remind you that you have to provide your accommodation.
You could choose among these options:
CAMPING (cost about 10-15 euros per day per person)
Remember to bring with your equipment (tent, sleeping bag)
– CAMPING "BAIA DEL PRINCIPE"
The Sicily Post Convention will be held here!
Under the shadow of the pine forest of this campsite will be a large mats area for the workshops. The campsite is located in front of the beach and there is free wi-fi.
You don't need to book the spot for your tent in advance, you can do it upon arrival.
– "CAMPING VILLAGGIO MARINELLO":
It is located 7 minutes walk from the convention place and is provided with services such as Bar, Pizzeria, Restaurant, wi-fi. For more info (e.g. Tent/ bungalow/Mobile home/Mini apartment): 
www.villaggiomarinello.it
SHARED APARTMENT
( 20 euros per person per day more or less):
– You can rent an apartment in OLIVERI, the town where the " Sicily Acro Convention" and the "Sicily Post Convention" will be held.
– Look on the internet for "apartment in Oliveri" or "B&B in Oliveri" and share it with your friends or other participants and this will become a super Holiday!
– If you need help, contact us: sicilypostconv@gmail.com
FOOD!!
You have to provide for yourself with your meals. Food in Sicily is not expensive and it is very good!
There are many options to choose from according to your tastes and your possibilities:
– Along the beach and in the Oliveri Village ( where the convention will be held) you can find excellent bars and trattorias where you can appreciate the local delicacies (granitas, arancinis, vegetables, fish, meat, pasta, pizza, etc.)
– If you want to cook there are markets and shops with fresh fruits and vegetables
– You can also take advantage of the convention agreement with some local restaurants (10% discount)
 WHAT TO BRING WITH YOU
Do not forget at home: total sunscreen, after-sun cream, a beach towel, mosquito spray and a great desire to have fun!
HOW TO GET THERE
• TRAIN
COMING FROM PALERMO OR MESSINA or CATANIA: get off at the railway station "OLIVERI-TINDARI" Buy your ticket here: 
http://www.trenitalia.com/
• PLANE (there are 2 main Airports in Sicily)
– CATANIA "FONTANAROSSA INTERNATIONAL AIRPORT" (160 Kᴍ from OLIVERI)
From the airport take a train to "Oliveri-Tindari" train station (you are 5 minutes walk from the camping "Baia del Principe" where the post-convention will be held) or stop at "Patti" train station (that is 15 minutes by car from the Post convention place) and from there take a taxi
– PALERMO "FALCONE & BORSELLINO INTERNATIONAL AIRPORT" (207 Km from OLIVERI) From the airport take a train to Palermo Central Station and from there a train to Oliveri-Tindari train station
More detailed info will be communicated through the "welcome mail" that you will receive once you have registered and paid the deposit
Refund Policy
• If you can no longer come to the "Sicily Post Convention", contact us by email.
IMPORTANT: YOU CAN NOT SELL YOUR TICKET AS IT IS NOMINAL
• If you cancel your reservation by April 30, we will deduct 15 euros from the deposit paid (secretariat expenses)
• If you cancel your reservation from 1 May to 1 June, we will deduct 50 euros from the deposit paid
• If you cancel your reservation after the 1st of June, you cannot be refunded
• In case of cancellation of the Convention due to Covid-19 restrictions we will refund you the 50% of the deposit paid.
The refund does not include any travel expenses.
For more info write an email to: sicilypostconv@gmail.com
FOLLOW YOUR INNER SUN!
IT WILL BRING YOU TO SICILY!