International Acro Mini-Festival
January 3, 2020

-

January 5, 2020

eur170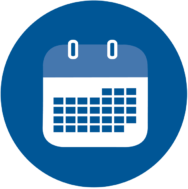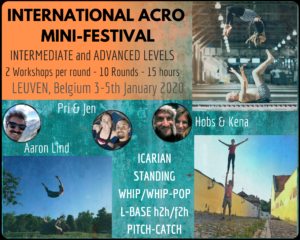 ? We are happy to invite you to the International Acro Mini-Festival! ?
This festival is born from the meeting of 5 teachers coming from different parts of the USA and Europe who share the same passion for acrobatics. Together they aim to offer a variety of fun and interesting content and a complete, technical and safe learning experience. This festival is a unique opportunity to learn and train with passionate and skillful teachers from around the world: Aaron Lind, Hobs, Kena, Pri and Jen.
You will learn all the tools you need in order to build advanced skills step by step. During 3 days, you will be able to choose between 2 simultaneous workshops for each round: an intermediate and an advanced level, as well as handstand sessions and a jam.
We will focus on different acrobatic skills:
? Icarian
? L-base & Standing f2h/h2h
? Whips & Whip-pops
? Pitch & Catch
You do not need to come with a specific partner.
✅ SCHEDULE
More info soon!
✅ WHEN
DAY 1: Friday, January 3rd from 17:30 to 21:30
DAY 2: Saturday, January 4th from 9:30 to 13:30 & from 15 to 19:15
DAY 3: Sunday, January 5th from 9:30 to 13:30 & from 15 to 19:15
✅ WHERE
The workshop will take place in Leuven at Cirkus in Beweging. The venue is equipped with tatami floor, crash pads and lunge.
✅ INVESTMENT
EARLY BIRD* (until December 1st or the first 15 spots)
3 DAYS: 170 EUROS
LATE BIRD* (after December 1st)
3 DAYS: 200 euros
2 DAYS (Saturday and Sunday): 170 euros
1 DAY (Saturday or Sunday): 100 euros
*FOOD & ACCOMODATION ARE NOT INCLUDED
✅ RESERVATIONS
Please fill the registration form:
https://forms.gle/SvSqwELCq6fGXCow6
✅ CONTACT
Contact us at prijenacro@gmail.com for any question about pre-requisites, level and content of the workshop.
✅ SKILL LEVEL
This mini-festival is addressed to intermediate and advanced acro levels, NOT FOR ACRO BEGINNERS. In order to enjoy the mini-festival, we recommend you to join us if you have acro experience of at least 1 year, stability in washing machines, some experience with pops and in standing acro.
✅ ABOUT US
? Aaron Lind
Aaron Lind has offered uplifting, educational, and empowering acro experiences consistently for over 11 years across North America, Mexico, Canada, Europe, and Asia. He has not taught on Antarctica (yet!). He offers classes, workshops, weekend intensives, training retreats, a 90 hour immersion system, and a 200 hour teaching mentorship course for those interested in leading acrobatics classes.
Aaron's teaching philosophy is that through progressive training and attention to detail at a fundamental level, challenging skills become accessible, aesthetic, efficient, safer, and more fun!
Aaron's mission in structuring events is to offer a balance of discipline and play. He strives to teach progressive, analytical, and method-based teaching with playful, fun, and lighthearted activities and themes.
Aaron believes partner acrobatics is a powerful tool for self discovery and empowerment through creative play, dedicated physical training and healthy partnering. Aaron brings much learning to his classes and is informed by his lifelong study of movement, including partner acrobatics, yoga, and gymnastics. Aaron values his studentship as much as his role as a teacher, and trains with some of the most skilled and sought after coaches in the world. He is excited to share his practice as an avenue for fun, creative, and expressive lifestyle.
〰 Facebook: https://www.facebook.com/AaronLindAcro/
〰 Instagram: https://www.instagram.com/aaronlindacro/
? Hobs Hobotus & Kena Noel Heck
Hobs loves training and teaching Acro and his passion is delightfully infectious and irresistible. He is one of the lead teachers for Acro Revolution Teacher Trainings and also loves to travel and teach workshops and retreats. He is a charismatic and compassionate teacher with a clear voice, and a giving and caring approach to students.
Kena is a female Icarus. She is an Acro Revolution certified teacher and always wants to fly high and free, and is very excited to share her love of Icarian Games with the Acro world! Kena also loves to make Acro-friendly accessories and make Acro more fun and comfortable for everyone 🙂 Together their commitment and dedication to the practice is obvious in their excellent technical
skills, intelligent progressions and clear demonstrations.
〰 Facebook:
https://www.facebook.com/hobs.hobotus
https://www.facebook.com/frotographaring
〰 〰Instagram:
https://www.instagram.com/discofruitfashion/
https://www.instagram.com/hobotus/
? Pri & Jen
When they started practicing together, Pri and Jenny directly felt a strong connection and a shared vision focused on the investigation of new and fluid dynamic movements.They are both Acro Revolution certified teachers. They love all kinds of whipping movements, and especially its momentum to create fluidity. They are always looking for new combinations and new synergetic movements. They are Whips, Whip-pops, and Icarians fanatics. Since she was a child, Jennifer has been in love with movement. She's explored all types of activities such as dancing, climbing, yoga, and so on, before settling her heart on acro. Pri has more than 7 years of experience in acro and since the beginning, he focused on dynamic transitions. All this time he has organized intensive and advanced acroyoga workshops, as well as taken part in retreats, festivals, and meetings. His latest workshops are part of a successful tour that is taking him to the main European cities to share his passion and knowledge on fluid dynamic transitions.
〰 Facebook:
https://www.facebook.com/acropri
https://www.facebook.com/jen.sher.737
〰 Instagram:
https://www.instagram.com/pri_prix/
https://www.instagram.com/oh_jenns/
*** CANCELLATION POLICY ***
In case of cancellation, we will refund 70% of the workshop price for all cancellations until December 22th After this date, we won't be able to refund any percentage of the price.
Though, if you are not able to come, you can transfer your ticket to another person, letting us know the name of the participant that will take your place.