FEM Acro Spirit Festival
August 18, 2022 @ 4:00 pm

-

August 21, 2022 @ 3:00 pm

250€ – 480€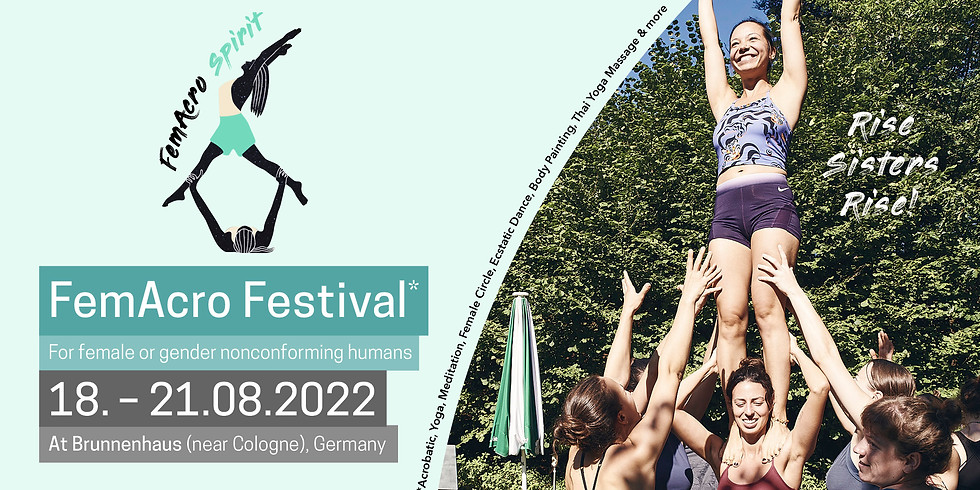 About
FemAcro Spirit provides an empowering and creative space for people who identify as female or gender nonconforming. This is your place to try out new roles in Acro and/or in life, to find/re-find strength, to share your joy, to show vulnerability, to heal and most of all to connect/re-connect with your femininity.
In this amazing 4-days Fest we will delight ourselves with loads of Acro, Yoga, Massage, Female circle, Breath work, Body Painting and more.
There are classes for ALL LEVELS.
If you have never tried Acro before, feel welcome to join our community and try out something new in a safe and supportive environment.
If you wish to bring your child/children, please contact us to check the possibilities.
Location
'Brunnenhaus' is a beautiful retreat centre in the heart of Germany. The house with its huge garden is located in a nature preserved forest area, far away from big streets. 'Brunnenhaus' can accommodate up to 40 people, there are dorms and double rooms available. Two big rooms with wooden floors and high ceilings invite you to move, stretch and meditate.
The team
Jordis Troost,  Barbara Krüger, Lisa Böttger, Marina Rodrigues, atharina Bauer, Lotta Faidini, Lisa Dahm
Tickets
The prices include all workshops, sauna, 3 delicious vegan meals a day (starting with dinner on Thursday, ending with lunch on Sunday) and your chosen way of accommodation. We have one Single room, a few Double rooms and three Dorm rooms with four up to six beds. You can also sleep in your own tent or Van.
We have a solidarity price system: If you have little money, you pay less, if you have more you pay more. We won't control and trust in your honesty and solidarity.