Dutch AcroYoga Festival Winter Wonderland 2022
December 8, 2022

-

December 16, 2022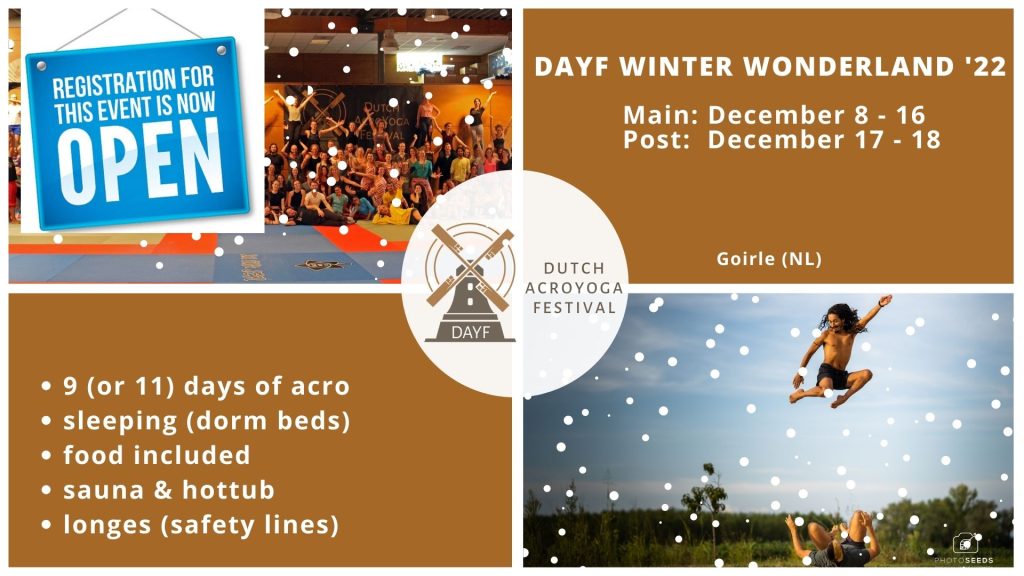 We're super happy to add a new edition of the Dutch AcroYoga Festival to the agenda: DAYF Winter 2022! The festival and will be held on December 8 – 16, 2022 at a beautiful location in Goirle near nature. And there will be a Post on December 17 -18 by Alfonso & Alberto.
🎚️WORKSHOPS & LEVEL 🎚️
135 workshops, with a minimum of 4/5 workshops every round (beginner / intermediate / advanced / standing).
Beginner are welcome. We do advice you to have at least taken 5 to 10 AcroYoga or Acrobatic classes before. Feel free and happy to join for a day, a weekend, or the whole week.
You don't need to bring a partner, you'll meet loads of friends to play with you at the festival!
🧗‍♀️SAFETY LINES 🧗🏼‍♂️
There will be multiple safety lines (longes).
🤸‍♂️JAMMING 🤸‍♀️
There will be one gym available for jamming (free training) the whole night, away from the sleeping area. So either take your rest, or train into the early hours!
🥗🍲 FOOD 🥑🍌
Three meals a day and coffee and tea are included in the price!
🛌 SLEEPING 🛌
You can sleep in a 6, or 8 person dorm, come with your camper.
🏊🏻‍♂️ SAUNA & JACUZZI 🏊🏻‍♀️
A sauna & jacuzzi will be there to recover after your training!
🎶 MUSIC 🎶
TBA
📸 PHOTOS 📸
There will be a photographer to capture your favourite moments.
🏠 VENUE 🏠
The festival will be held in the beautiful and easy-reachable sports centre ActiveStay in Goirle. There are 2 big separate areas fully floored with tatami (400m² & 200m²) and dorms to sleep in.
For pictures see:
🗒️ SCHEDULE 🗒️
TBA at:
👩‍🏫 TEACHERS 👨‍🏫
Alfonso & Alberto (ES/MX)
More TBA…
📆 DATES 📆
December 8 – 16, 2022
Post December 17 -18, 2022
💰TICKET PRICES 💰
Check the website: https://dutchacroyogafestival.com/dutch-acroyoga-festival-winter-2022/
📝 REGISTRATION 📝
Fill out the form:
https://docs.google.com/forms/d/e/1FAIpQLSdVAnw2nZ-efdzXeaCLb2muSokDkat4zJp07QIXd7fpkIA6kg/viewform
💰 PAYMENT DETAILS 💰
Bank account (IBAN): NL40SNSB0925977055
BIC/SWIFT code: SNSBNL2A
Name: Turn and Twist
Description: 'Your name', DAYF Winter 2022, 'Date(s) joining'
🌍 ADDRESS 🌍
ActiveStay
Tijvoortsebaan 1
5051 HJ Goirle
The Netherlands
ℹ️ MORE INFO ℹ️
And follow:
https://www.facebook.com/DutchAYF/
⁉️ QUESTIONS ⁉️
For questions send an e-mail to: info@dutchacroyogafestival.com