DAP – Dynamic Acro Program '22
August 29

-

September 11

990€ – 1090€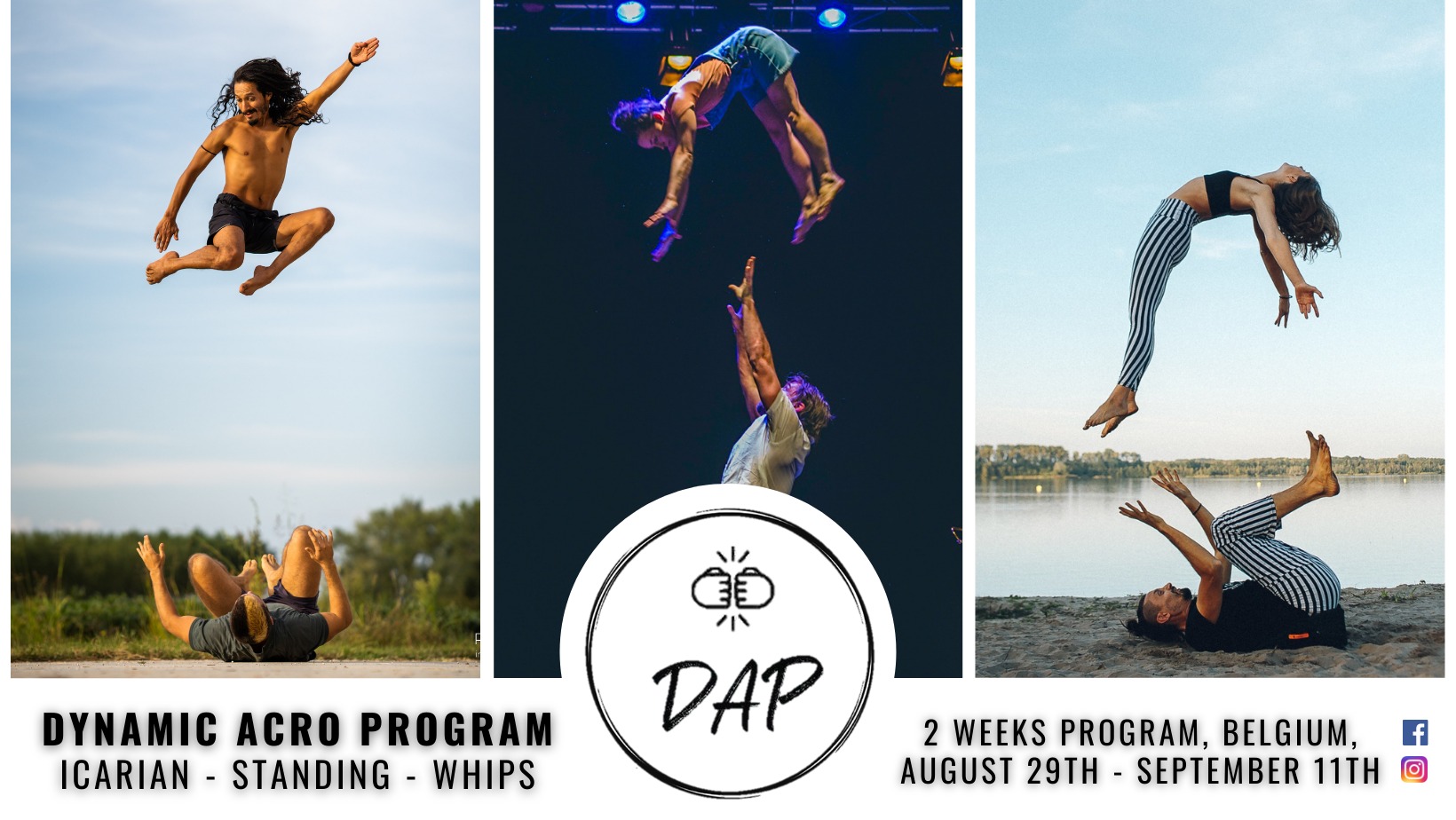 After the success of the first edition, DAP is back for its second round!
3 main acrobatic topics during the whole program:
Icarian games
Standing acrobatics
Whips, Whip-pops and Whicarians
8 international teachers:
– 𝘈𝘭𝘧𝘰𝘯𝘴𝘰 𝘚𝘢𝘣𝘢𝘪𝘥𝘦𝘦 ("The Icarian Prime Minister") from Spain.
– 𝘈𝘭𝘣𝘦𝘳𝘵𝘰 𝘉𝘦𝘵𝘴𝘪𝘯𝘭𝘢𝘰 ("The Movement Chamán") from Mexico/France.
– 𝘗𝘳𝘪 ("The Lord of the Whips") from Italy.
– 𝘑𝘦𝘯 ("The T-Rex of Whips") from Belgium.
– 𝘍𝘦𝘳 ("The Hand to Hand Prophet") from Argentina.
– 𝘍𝘪𝘧𝘪 ("The Queen of Hands") from Israel.
– Zenzero/Magdalena ("The Hand to Hand Spicy Spice") from Argentina
– Canella/Nicolo ("The Chef of Standing Acro") from Italy
Accomodation:
Accommodation in private 8-person houses (4 shared rooms) with fully equipped kitchen, allowing everyone to take a pleasant, necessary rest, and cook their favorite food.
Prerequisites
In order to join the event you need to feel comfortable doing all the prerequisites in all the disciplines.
𝗜𝗰𝗮𝗿𝗶𝗮𝗻
– Tempos on Front Plank (Straight throws)
– Tempos on Throne/American Chair (Straight throws)
– Icarian pop from Throne to Front Plank and back.
𝗦𝘁𝗮𝗻𝗱𝗶𝗻𝗴 𝗔𝗰𝗿𝗼
– 30 seconds Handstand against the wall
– 20 seconds Tuck Sit in L-basing and Foot to Hand in L-basing
– Solid Two High
– Recommended some experience in standing Foot to Hand and Hand to Hand
𝗪𝗵𝗶𝗽𝘀 𝗮𝗻𝗱 𝗪𝗵𝗶𝗽𝗼𝗽𝘀
– Tarzán, diving from Bird in between the legs and coming back.
– Stable with all the basic Acroyoga positions.
– Comfortable with washing machines and flows.
Prices
All prices include: 24 workshops and lessons per week, several private lessons per participant, 8 TEACHERS available for you during the whole program, accommodation in fully equipped private houses of 8 people with 4 double rooms, access to the resort facilities, training spaces indoors and outdoors with lunges…
𝙎𝙐𝙋𝙀𝙍 𝙀𝘼𝙍𝙇𝙔 𝘽𝙄𝙍𝘿 – Until 14th March 890€
𝙀𝘼𝙍𝙇𝙔 𝘽𝙄𝙍𝘿 – Until 30th May 990€
𝙍𝙀𝙂𝙐𝙇𝘼𝙍 𝙋𝙍𝙄𝘾𝙀 – After 30th May 1090€
In order to give the best possible attention, spots are limited. Don't miss the chance to experience this unique and epic acro event.