Circus Dance Lab 2022
July 15

-

July 22

950€ – 1100€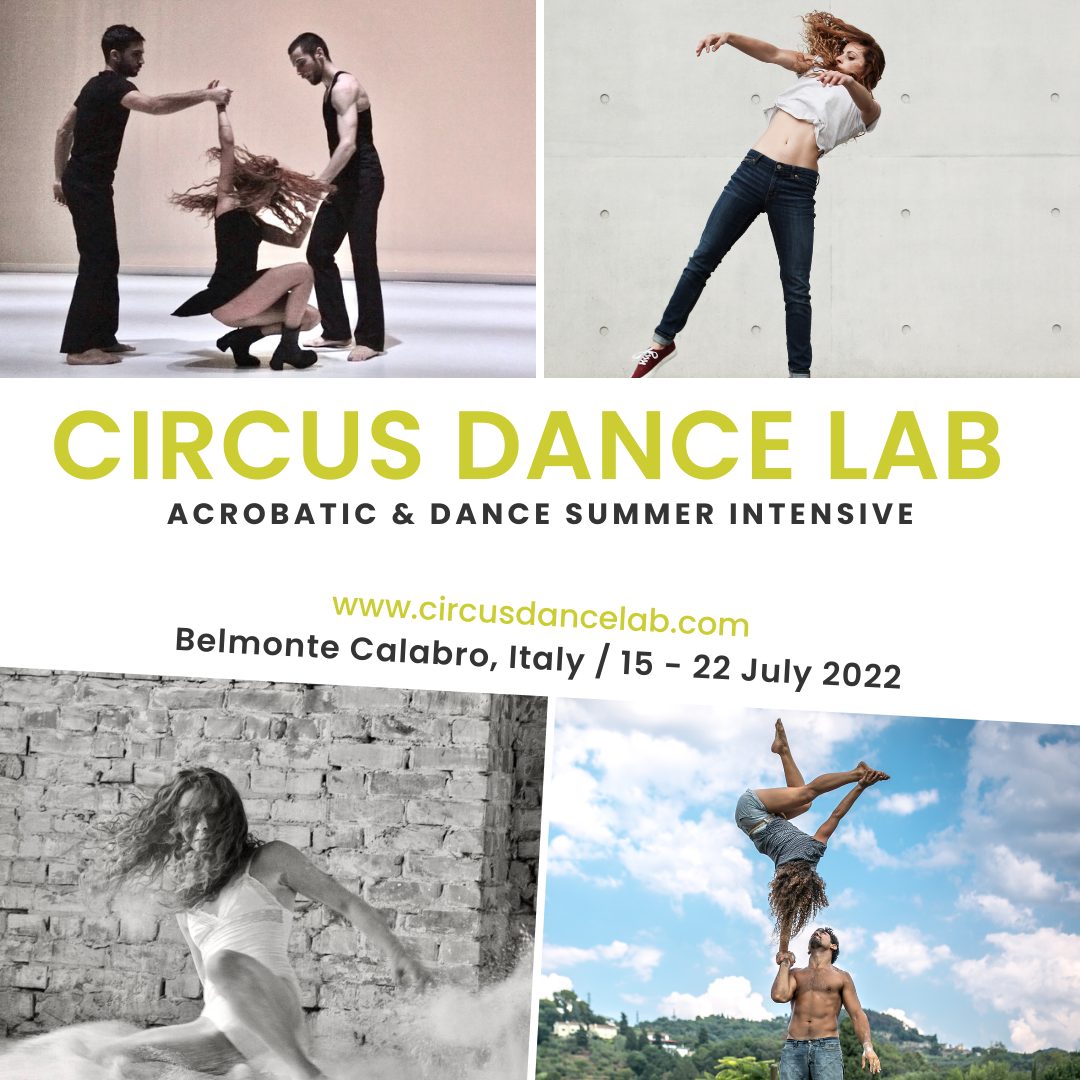 ABOUT
Circus Dance Lab is an acrobatic & dance summer intensive designed for enthusiastic movers and performers who want to explore new tools for their movement research. It is held once a year in a stunning natural setting in Calabria, Italy.
Whether you come as a solo, duo, or with your group, CDL is an excellent opportunity to dive into a creative mindset and strengthen your basics.
During our Intensive, we combine different disciplines such as floorwork, contemporary dance, partner acrobatics, handstands, acrobatics, and dance partnering.
Come train with us this summer! Apply here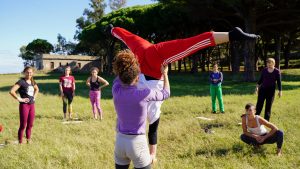 OVERVIEW
We strive to create a safe, committed, and multidisciplinary space where each participant can grow and improve individually and as an integral part of the community.
Over the course of seven days, we will dive into movement training and artistic research.
This will help all participants:
• develop their technique
• explore the process of combining art and skill
• widen their range of movement
• enrich their performance
• grow in confidence
• have lots of fun and make new friends!
The first five days focus on refining techniques.
For each discipline, students will be divided into either beginner/intermediate or advanced groups to participate to the best of their ability.
The last two days will be dedicated to the laboratories, during which we will consolidate all the techniques learned.
The program also includes Thai Bodywork classes to nourish the body and mind and prevent injuries.
TEACHERS
• Nicoló Bussi & Magdalena Vicente Demaestri (Cie. ZeC):
Partner Acrobatics / Handstands / Acrobatics
• Marika Gangemi:
Floorwork / Contemporary Partnering / Thai Massage
• Giacomo Corvaia:
Contemporary Partnering
• Cristiana Casadio:
Floorwork / Contemporary Dance
• Lorenzo Aureli:
Introduction to Partner Acrobatics
Visit our Website for further information on teachers' bio, class descriptions, and a detailed daily schedule.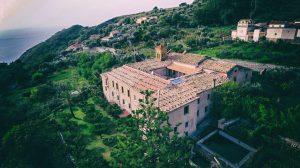 TRAINING VENUE
The Circus Dance Lab venue is a former Franciscan monastery called Ex Convento.
Situated on the hilltop of Belmonte Calabro, surrounded by a scented Mediterranean nature, Ex Convento meets all our needs:
an indoor space equipped for our practices, a large citrus grove, a big kitchen, a communal area to eat and socialize, and a shaded outdoor gym.
FOOD
Tina, our fantastic chef, will prepare two delicious Italian meals each day.
Fresh fruit and nuts are available to snack on between classes. Breakfast will be served at the VAB, our accommodation venue.
The food is local and organic and will be mainly vegetarian and vegan. Please inform us in advance if you have any special dietary restrictions.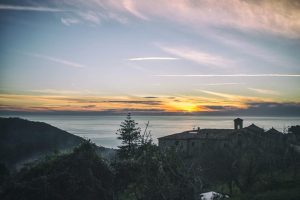 ACCOMMODATION
VAB – Villaggio Albergo Belmonte is only a 5-min walk away from Ex Convento and a 15-minute walk from the medieval historical center of Belmonte Calabro.
VAB offers a spectacular sea view, two pools, a green area, and breakfast.
You can choose to stay in a suite with two double beds (quad occupancy), a shared double room (double occupancy), or a single room.
CONDITIONS OF PARTICIPATION
• Applicants must be with a minimum age of 16 years old.
• You must provide a video link (YouTube or Vimeo) to present your technical skills.
• Once you are registered, you will receive an email confirmation of your application.
• After reviewing your qualification, we will send you a second email with payment details. Space is limited!
COSTS FOR PARTICIPANTS
Our tickets include seven full days of training, three meals a day, and eight nights' accommodation:
Water Ticket €950   | Suite with two double beds (quad occupancy)
Wind Ticket €1,000 | Double room (double occupancy)
Fire Ticket €1,100     | Single room (single occupancy)
Email: info@circusdancelab.com
Phone/ WhatsApp: +49 (0) 1742007672