Acroatia 2022 – Croatian Acrobatic Festival 2022
July 22, 2022

-

August 5, 2022

450€ – 750€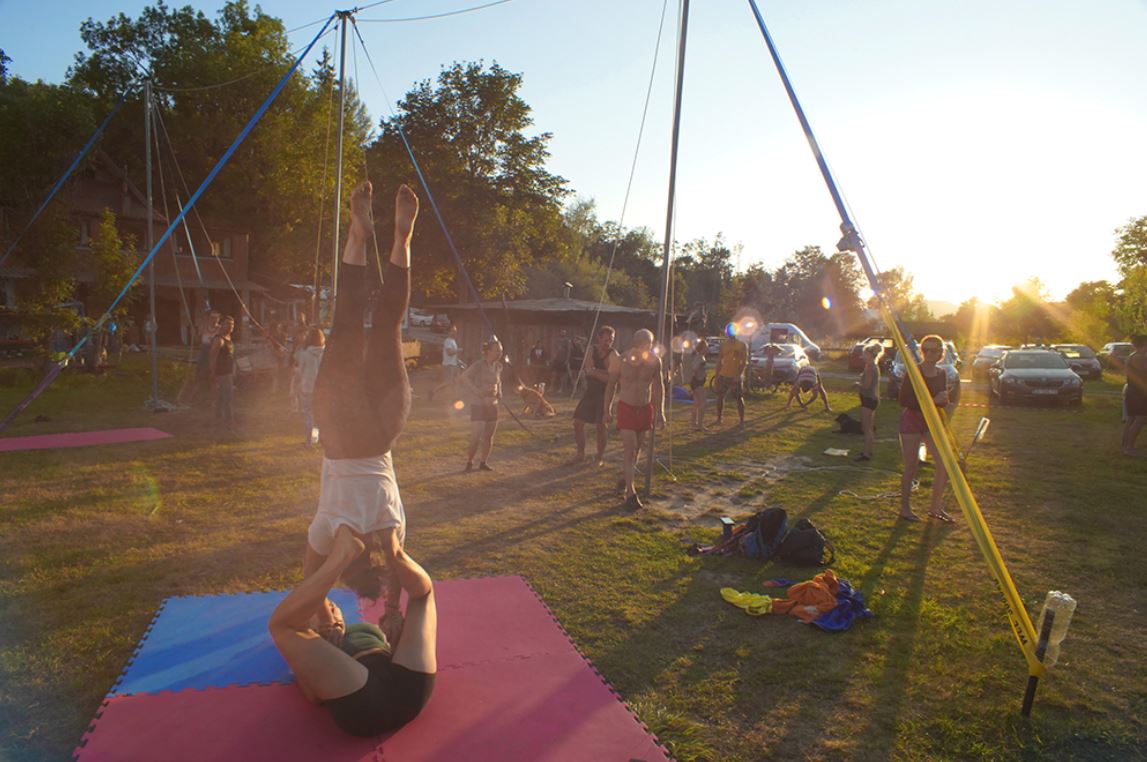 Our Festival
It's our 7th anniversary! 
We think we can definitely say this has been one of our favourite long-term committed relationships! And it has been one filled with lots of love that got us through some rough patches (looking at you Corona…). We love the support you all have been giving to us! We take so much inspiration from it, making us want to do better and be better. And we are excited to see what ideas you'll inspire in us for this year!
We keep on going in our 2-weeks format, less than that is just not possible anymore! "Why?" – you ask? Well, it gives you enough time to arrive, find your place in the world, meet all the people, train without the fear of missing out on things, take a break when you need one, visit the seaside, hike in the mountains, and to advance in your practice with smart and responsible progressions towards your body. We would love it if you'd feel at Acroatia as we do, at home.
During both weeks we have an intensive teaching schedule with simultaneous workshops for different levels. Standing acrobatics, L-basing, handstands, pre-breakfast yoga, conditioning, and floor acrobatics classes are all part of our two weeks! With safety longes to support those big high-flying dreams! And let's not forget the relaxing and restorative bodywork sessions in the evening.
Location
We don't think it's all about the location, but a lot of it is. So we decided to make it our tradition to have Acroatia at special places in the midst of nature, and Nature park Velebit really is one.
Velebit itself is the home to two national parks. Velebit is recognizable by its preserved biodiversity, the richness of the natural phenomena, and the experience of pristine wilderness. It is the stronghold of sustainable development for the surrounding local communities, which are based on traditional practices.
Acroatia takes place in the Camp Velebit, which is located at the Baške Oštarije settlement on the Velebit Mountain, only 20 min by car from the Adriatic Sea. We are surrounded by stunning mountains, wildlife, and raw nature. Open skies and starry nights here we come!
Teachers
Teachers at Acroatia are always people who inspire us, whose work we know first-hand, and who take their craft to the next level. It's a colourful box filled with acrobats, facilitators, circus artists, and movement devotees.
Wybren Wouda, Trudi Albert, Isaiah van Eetvelde, Jarno Biel, David Sanjuan, Caru Gonzales, Sytske Riphagen, Trevor Baxter, Jef Kinds, Danijel Dubicanac, Marie Luo, Tomas Gwynbleidd, Niko Douwes, Sara Kim Bauchmüller, Kerstin Oschabnig, Uwe Sattelkow