Circus Dance Lab 2021
July 18, 2021 @ 2:00 pm

-

July 24, 2021 @ 8:00 pm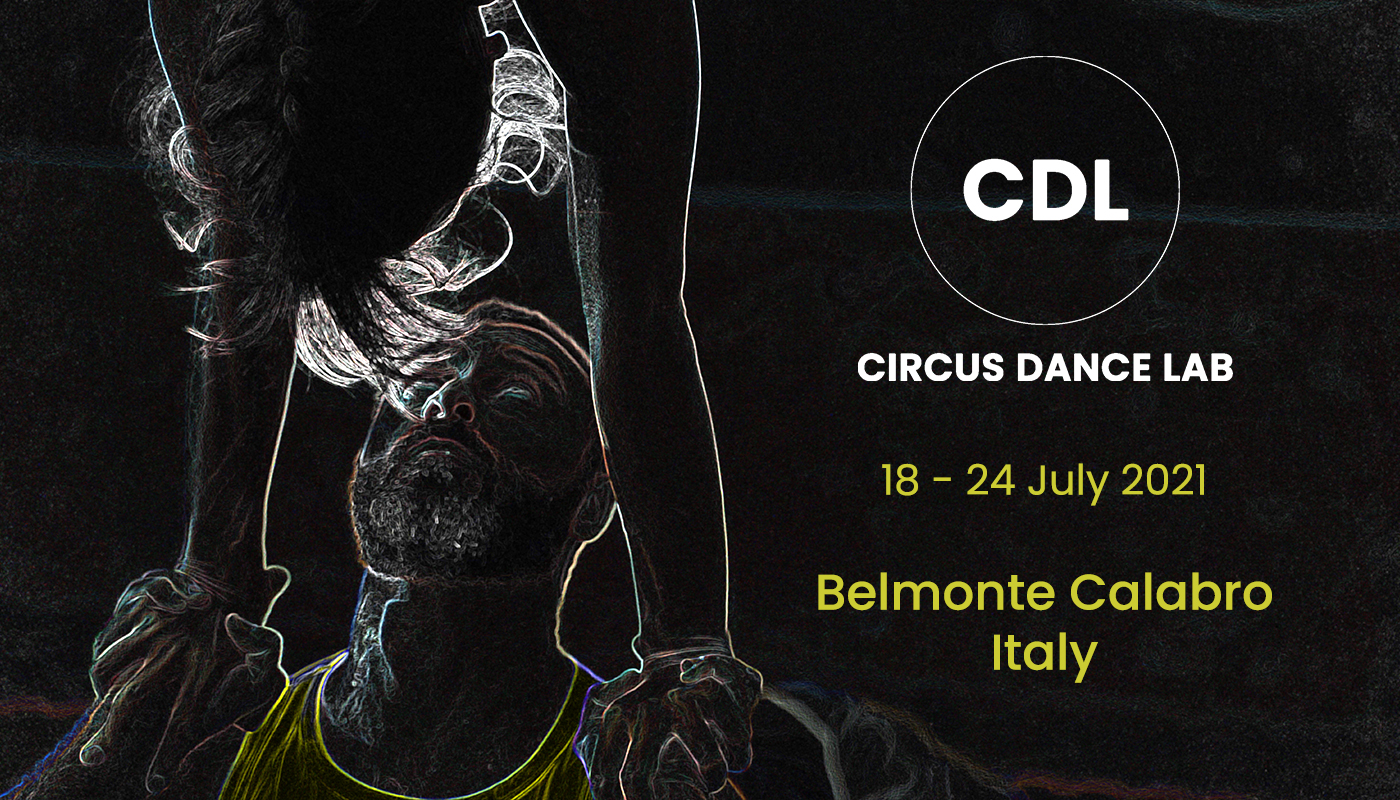 CDL is a one-week intensive program designed for enthusiast movers whose interests and skills span from dance to partner acrobatics. It's held in Southern Italy, in the stunning setting of Calabrian nature!
Over seven days, we will dive into physical movement and creative research with the intent to help all participants to develop their technique and explore the process of combining, Art and Skill to widen their range of movement, enrich their performance, grow in confidence,  and have lots of fun!
Each day, there will be simultaneous Floorwork, Contemporary Dance, Handstands, Acrobatics, and Partner Acrobatics classes.
For each discipline, the students will be divided into Intermediate and Advanced groups so that each one will get tasks that fit better with their level. We desire to create a safe environment and a committed and multidisciplinary space where each participant can grow and improve individually moreover in a community.
The program also includes Morning Yoga Flow and Thai Bodywork classes to nourish body and mind and prevent injuries.
𝐋𝐄𝐕𝐄𝐋: Int / Adv
We designed the program for enthusiasts (with at least two years of experience), pre-professional and professional circus and dance artists, and each of them can get the best out of it. The level we require in general goes from intermediate to advanced. If someone does not have experience in some of the subjects that we offer, it´s not a problem as long as there is a strong motivation to learn 🙂
TEACHERS & CLASSES
Nicoló Bussi:  Acrobatics / Partner Acrobatics (@Cie. ZeC)
Giacomo Corvaia:  Contemporary Dance / Contemporary Partnering
Marika Gangemi:  Floorwork / Cont. Partnering / Thai Massage
Magdalena Vicente Demaestri:  Handstands / Partner Acrobatics (@Cie. ZeC)
**For further information on teachers bio, class descriptions, and a detailed daily schedule, please visit our website: www.circusdancelab.com
VENUE
The venue that will host the second edition of CDL is an ex monastery of the Franciscans friars. Once convents were industrious laboratories of ideas and knowledge. Today, Ex Convento is a cultural organization based in southern Italy that organizes and supports events, productions, festivals, and educational projects.
Placed on top of a hill and surrounded by a scented Mediterranean nature, Ex Convento meets all our needs: an indoor space equipped for our practices, a large citrus grove, a big kitchen, an area to come together, and a beautiful shaded outdoor gym.
ACCOMMODATION
VAB – Villaggio Albergo Belmonte is only a 5-min walk away from the Ex Convento and a 15-minute walk away from the medieval historical center of Belmonte Calabro. With a spectacular sea view, 2 pools, and a green area, VAB offers accommodations in suites with two double beds (4 people in total), a shared double room, or a single room.
​
FOOD
There will be 3 delicious Italian meals a day with fruit and nuts available between classes for you to snack. The food is local and organic, and it will be mainly vegetarian. We can offer alternatives for allergy diets or vegan.
CONDITIONS OF PARTICIPATIONS
Once you are registered, you will receive a confirmed receipt of the application. Only after reviewing your qualification will we send you a second email with payment details.
Space is limited!
REGISTRATION FORM
To register, please, fill in the online registration form:
https://forms.gle/ugMPDhQs3DaKf4iw7
FEES
Our tickets include 6 classes a day, 3 meals a day, and 7 nights.
Early bird price until 31st of March | Costs for participants:
Water Ticket: 580€ early bird | 660€ regular | Suite with two double beds
Wind Ticket: 650€ early bird | 730€ regular | Double room
Fire Ticket: 710€ early bird | 790€ regular | Single room
Contact details: Email: info@circusdancelab.com
Phone/ WhatsApp: +49 (0) 1742007672