ACROYOGA MONTREAL TEACHER TRAINING 2022
October 10, 2022

-

October 23, 2022

€2250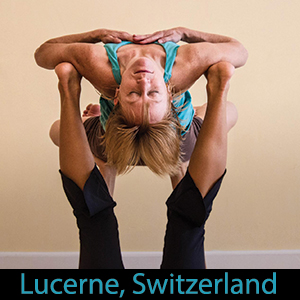 Acroyoga Montreal's 14-day, 100-hour residential teacher training will cultivate your technical, creative and interpersonal skills in the art of acroyoga, whether as a practitioner, teacher or a community leader.
Immerse yourself in acroyoga technique and flow, movement exploration, handstands, yoga, teaching methodology, teaching assignments, public teaching, creative process, games and restorative practices over the course of one or both trainings.
Workshops will cover safety, spotting, sequencing, classroom management, anatomy and injury prevention, communication, consent and safe spaces, business and ethics of acroyoga and introduction to social justice. We will take time to unpack the implications of the pandemic for the acroyoga practice. Together we aim to create a joyous, engaged space for physical, emotional and spiritual growth.
The Acroyoga Montreal Teacher Training has a rich history and is in constant evolution. Founded by Eugene Poku and Jessica Goldberg in 1999, Acroyoga Montreal connects human beings through the transformative power of collective movement and play.
The Level 1  Acroyoga Montreal Teacher Trainings are Continuing Education certified via Yoga Alliance.
For prequiesites click here -> https://www.youtube.com/watch?v=9dhzFBPjXgE
Health Measures
You will be asked to adhere to COVID sanitary measures in the week preceding, during and following the residency. We will have more information closer to the event. All local health standards & measures will be adhered to with the utmost precision. Your safety and the safety of your loved ones is our priority.