AcroSpirit Acroyoga Festival 2023
February 25

-

February 27

$130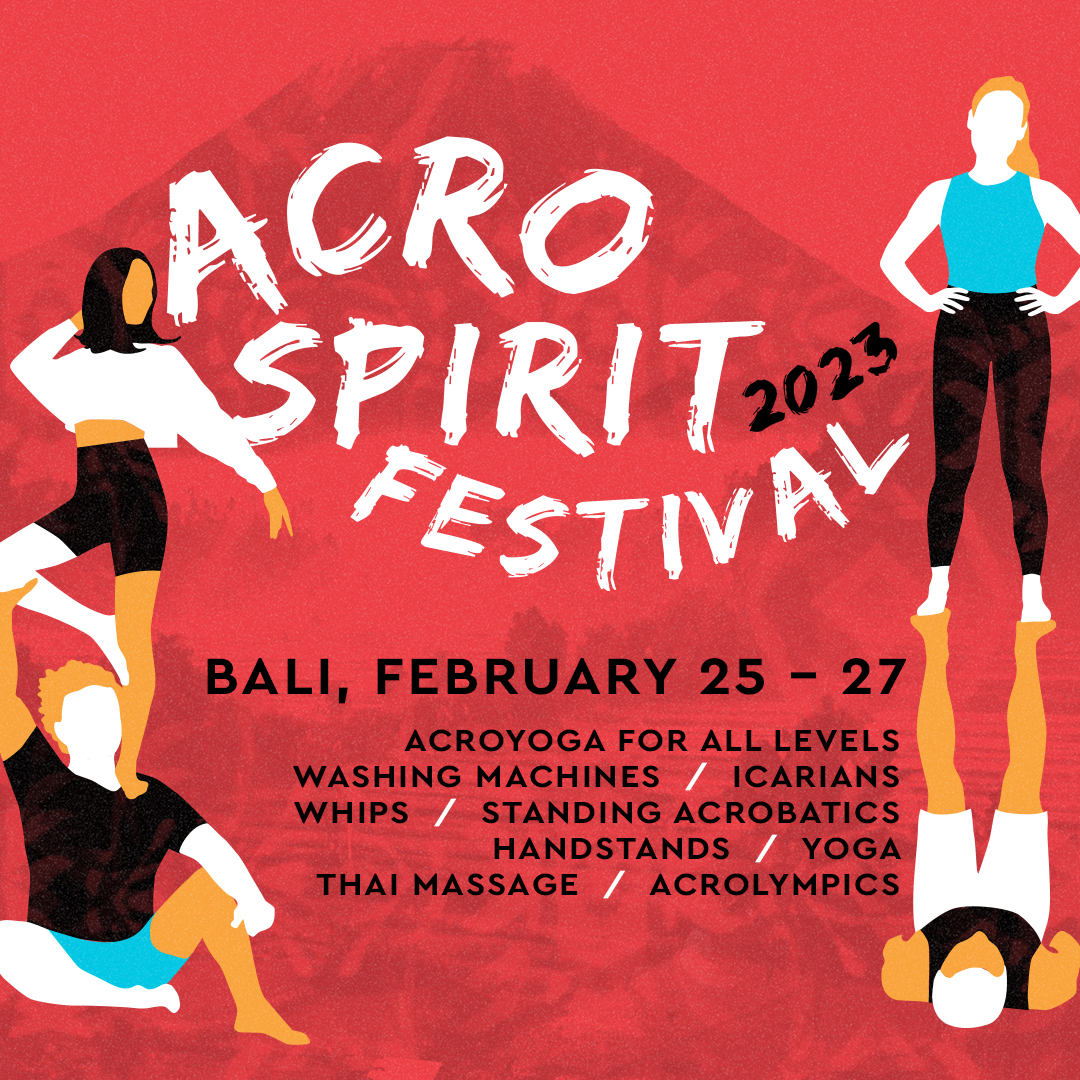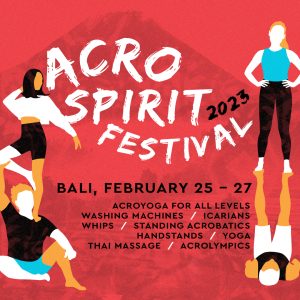 Are you ready to join Bali's biggest Acroyoga Event?
– 3 FULL days of Acroyoga!
– Over 30 workshops!
– Incredible international and local teachers!
– Suitable for ALL LEVELS – Beginners to Advanced
– Evening activities and prizes to be won!
This is going to be an incredible Acroyoga festival to bring the whole Bali and Asia community together, and a chance for everyone to learn, share, play and grow!
——————————————————————————-
WHO IS THIS FOR?
This is an all levels festival, so it is open to anybody who enjoys or wants to learn Acroyoga.
Whether you are a beginner learning your first bird, an intermediate working on your washing machines, or an advanced acroyogi throwing castaways and hand to hands, there will be a workshop to suit you in every session!
The Acro workshops will be split into 3 parallel streams, with the content tailored towards different levels of skill.
You don't even need to join with a partner, as it's a big festival there will be so many people to play with and make new friends and connections 
—————————————————————-————————
THE VENUE
We have secured a sports hall in central Ubud that we will be padding out with puzzle mats, crash mats and flooring to make it ideal for all the acro fun!
——————————————————————————-
THE TEACHERS
You will get to take part in workshops from an incredibly talented mixture of teachers…
There will be internationally recognised teachers coming from abroad to share their talents and skills.
Plus of course some of Bali's best teachers to share some of our communities knowledge.
And we will also have some local Indonesian speaking teachers to give some classes in Bahasa Indonesia to help inspire more locals to join this practice.
The full teaching line-up with exact names will be released in the future.
——————————————————————————-
THE TICKETS
Your festival ticket will include access to all the workshops on offer:
– morning warm ups
– pre-hab
– handstands
– acro workshops
– jam time
– evening activities
Plus you will get included with your ticket access to the evening entertainment both days, so you can take a break from acro and enjoy the full festival vibes!
To book your spot and get your ticket head to the website: