ACRO SPIRIT BALI ACROYOGA PRE-FESTIVAL INTENSIVE
February 22

-

February 24

$160 – $180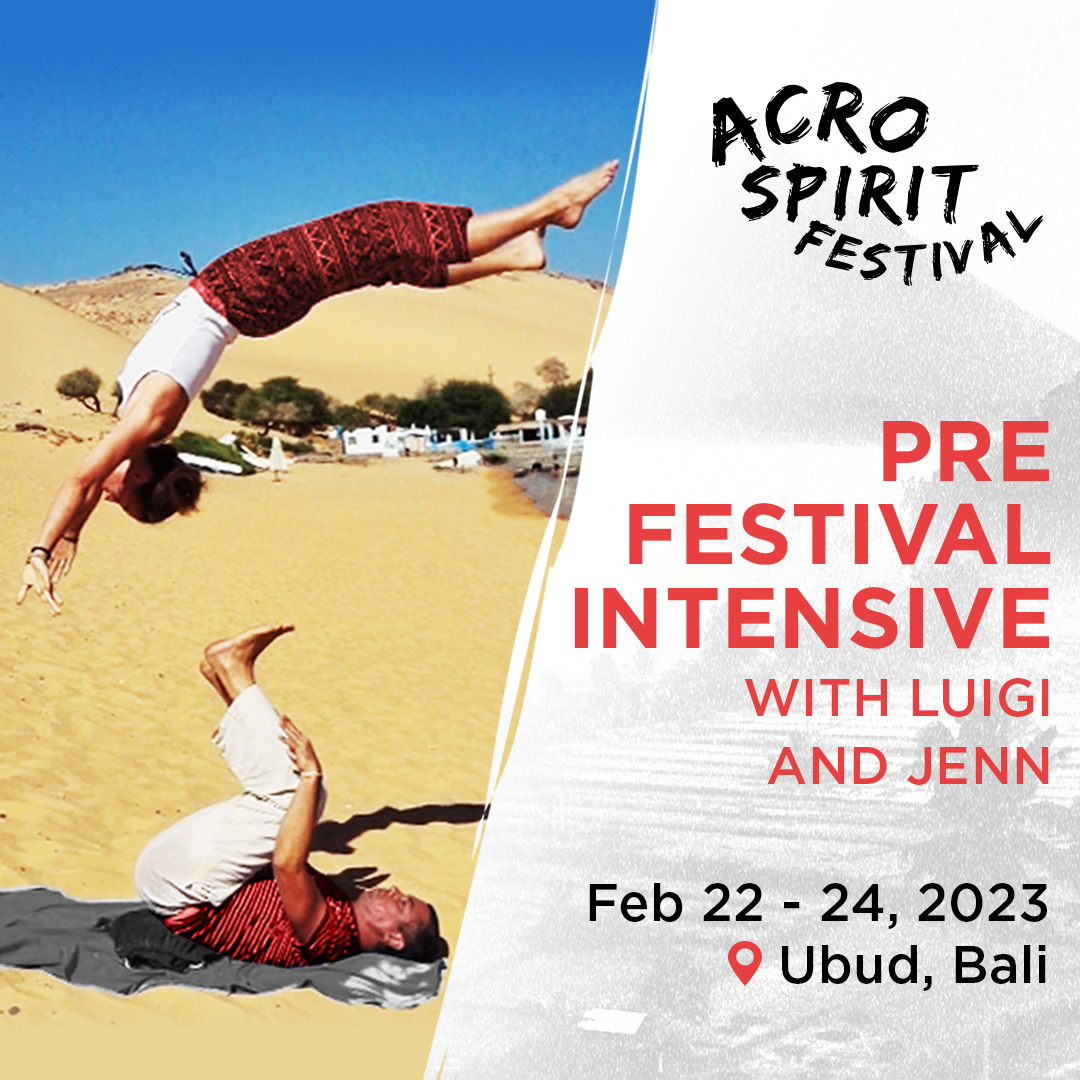 Level up your acro skills in this 3-day pre-festival intensive with 2 of the best acro teachers from Europe – Luigi and Jenn! 
This is a unique opportunity to learn from two halves of the highest level acro teaching duos from Europe
Luigi from (Luigi and Fra – @sicilyacro), and Jenn from (Prix and Jenn – @oh_jenns).
Luigi and Jenn both specialise in many high level acro skills, including pops, icarians, whips, whicarians, hand to hands, standing skills, flows and even more advanced tricks.
​Don't miss your chance to get their dedicated coaching and seriously improve your acro!
WHAT TO EXPECT
This Pre-festival intensive is designed for intermediate and advanced level students, and the pre-requisites to join are…
Stable in basic washing machines
Basic Icarian – Throne to Bird or Bird to Throne
Basic Whip – Tarzan​
You can expect 3 days full of adrenaline to improve your skills, your body awareness, your acrobatic skills, and your confidence while having fun!
​The program will be a balance between conditioning, technique, fun tricks with repetitions and smart progressions that will help you get to more advanced tricks (like castaway) with ease and fun. 
​These days will be intense in a harmonious workout, full of good feelings and emotions.
We will adapt to your level to let each one of you grow and develop your skills in a progressive way and at a steady pace. Safety is a must for both of us, so we will make sure to play and get crazy within a safe environment.