AcRolonie II. 2022
July 1, 2022

-

July 24, 2022

10€ – 25€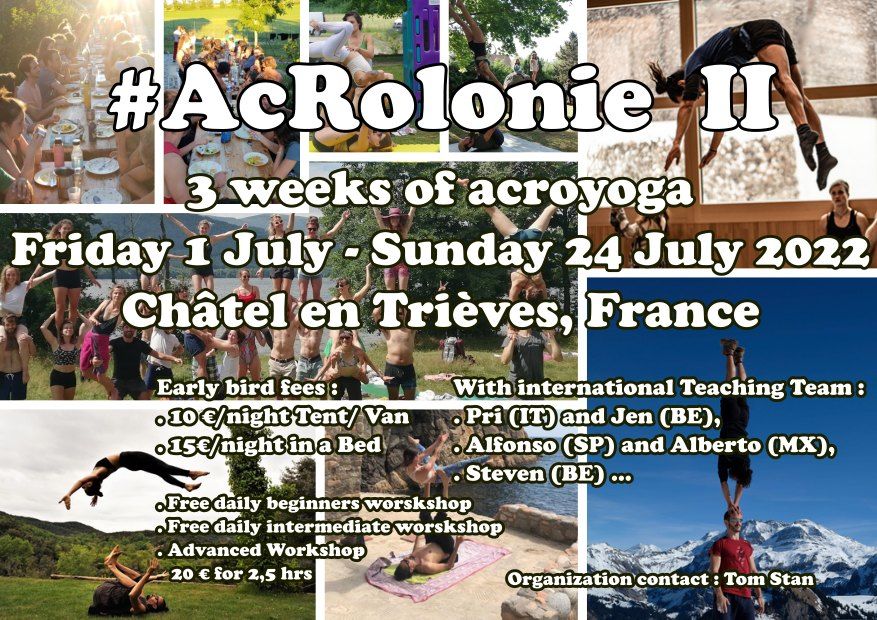 The event
Three weeks of ACROYOGA, YOGA and ACROBATICS in July in a summer camp only for us. This great event will be from Friday 1 July to Sunday 24 July 2022, in Châtel en Trièves, France ( 1h drive from Grenoble, 2h10 from Lyon, and 2h40 from Geneva).
Teachers
The top Acro workshop in Europe at this time will be available with the great advanced teaching teams : Pri (IT) and Jen (BE), and Alfonso (SP) and Alberto (MX), Steven (BE) … and more to come !
Pri and Jen will be teaching mostly Whips/whips-pops and flows and Alberto and Alfonso will teach mostly Icarian and Hand to hand/Standing Acro, but they are also quite flexible about that, Steven will propose Whips and flows.
Prices
Free daily Acro beginners workshops, Free daily intermediate workshops, Free daily morning wake up yoga and daily advanced Acro paying workshops (cost 20€ for 2,5 hours) will be available
Price for early birds will be 10 eur per night in a tent / van, or 15 per night in a bed (40 individual beds available). Even for only a few days, you are welcome to come.
Organic vegan evening diner + dessert prepared collectively at 5 eur / day.
Want to not only do Acro ?
We will have a lake for acro paddle and canoë (Sautet lake), great mountain hikes (Châtel, Obiou), 2 nd largest source of France (Les Sources des Gillardes), KiteSurf Spot (Monteynard), climbing, Via Ferrata and many more …