AcRolonie 2023, 2 weeks, European Acro Yoga Summer Camp & Acrobatics : 22/7 to 6/8/2023 !
July 22 @ 8:00 am

-

August 6 @ 8:00 pm

€18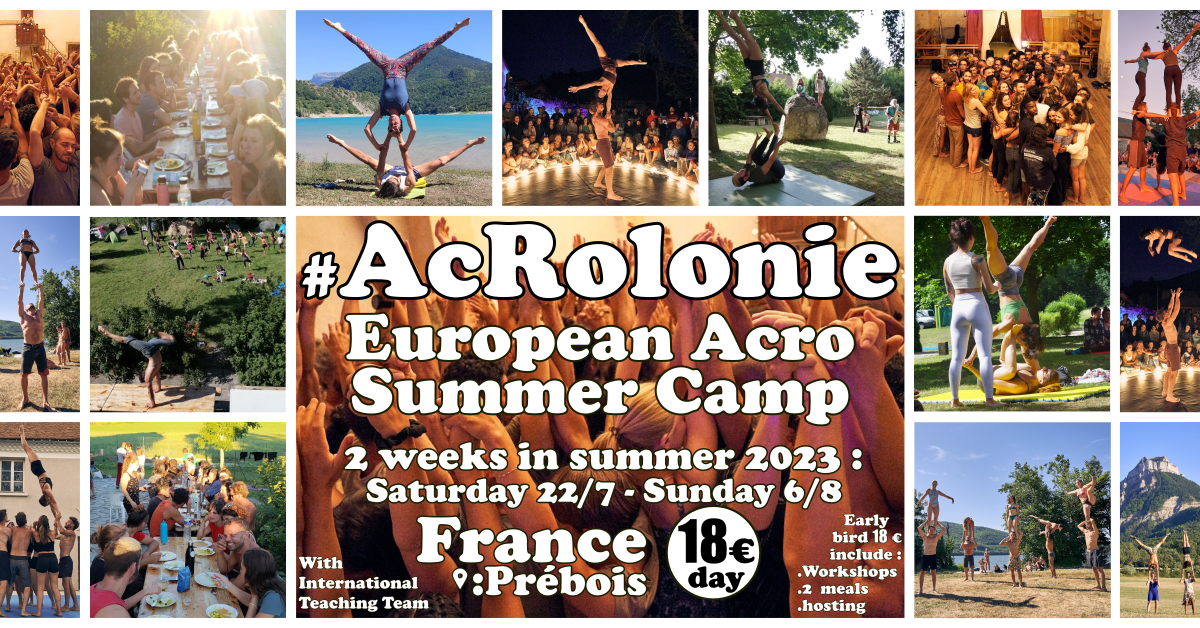 #AcRolonie ! European Acro Yoga Summer Camp, 2 weeks in summer 2023 : Saturday 22 July – Sunday 6 August. Place : Prébois, France. Early bird 18 €/day for :
. 6 hrs/day free Yoga, Acro, and AcroYoga Workshop
. 2 organic meals /day
. hosting
. fun and friends
Join us just for few days or full 2 weeks 😁.
Registration link for #AcRolonie : http://acrolonie.go.yo.fr/ticket/?l=23_acrocalendar&n=acrocalendar
[En français ci-dessous]
Discover Acro Yoga, the practice that combines strength, flexibility and coordination. This summer, join #AcRolonie the two-week summer camp, which will be held from Saturday July 22 to Sunday August 6, 2023. Come and immerse yourself in a universe of well-being, discovery and sharing, in the company of instructors experienced and passionate. Our complete program will allow you to discover the basics of acroyoga, to improve your skills in the most advanced positions and transitions, as well as to introduce you to various body well-being techniques. Whether you are a beginner or an expert, our event is designed to meet your needs and expectations. You will also be able to take advantage of free time to explore the region, meet other participants and share moments of conviviality. Our event will take place in an idyllic setting, with more than 20,000 m² of shaded land at our disposal, conducive to relaxation and rejuvenation. So don't hesitate any longer, register now for this unique and unforgettable experience!
To sum up : #AcRolonie 2023 ! Two weeks of ACROYOGA, YOGA and ACROBATICS in a summer camp only for us 🐒. This great event will take place from Saturday July 22 at 8 a.m. to Sunday August 6, 2023 at 7 p.m., in Prébois, France ( 1h drive from Grenoble, 2h from Lyon, 2h20 from Geneva, and 2h30 from Marseille). Best Acro workshops in Europe will be available with the greatest advanced teaching teams : (will be communicate soon) … and more to come !
Included. Discount price for early reservations will be 18 eur per day (normal price is 25 €/day) for :
– 6 hrs/day Free daily Acro beginners workshops, Free daily intermediate / advanced workshops, Free daily morning wake up yoga… and many workshops other than acro to come !
– 2 free Organic meals /day (suitable for vegan)
– free accommodation in a tent / van, or extra 6 € per day in individual bed (10 individual beds available).
Not included, only :
– morning breakfast (prepare your own breakfast). Fresh organic fruit and other products will be available for sale.
– optional daily workshop of Acroyoga expert level with the best European teachers of the moment (20€ per day).
Join us ?
=> If you want to get the benefit of an early bird discount price, please go to the below Registration link for #AcRolonie http://acrolonie.go.yo.fr/ticket/?l=23_acrocalendar&n=acrocalendar
Want to not only do Acro ?
We will have a lake for acro paddle and canoë (Sautet lake), great mountain hikes (Châtel, Obiou), 2 nd largest source of France (Les Sources des Gillardes), KiteSurf Spot (Monteynard), climbing, Via Ferrata and many more … and all that in less than 30 minutes !
Lots of new surprises, free of charge 😉 will also be added! In addition to all the great program described above:
– Every Saturday, Acrobatic Cabaret Evening !
– other surprises to come…!
See you soon !
Tom Stan
Contact for questions : Tom Stan https://www.facebook.com/tomhugostan
=========================
Découvrez l'Acro Yoga, la pratique qui allie la force, la flexibilité et la coordination. Cet été, rejoignez #AcRolonie le camp d'été de deux semaines, qui se tiendra du samedi 22 juillet au dimanche 6 août 2023. Venez vous immerger dans un univers de bien-être, de découverte et de partage, en compagnie d'instructeurs expérimentés et passionnés. Notre programme complet vous permettra de découvrir les bases de l'acroyoga, de vous perfectionner dans les positions et transitions les plus avancées, ainsi que de vous initier à diverses techniques de bien être corporelle. Que vous soyez débutant ou confirmé, notre événement est conçu pour répondre à vos besoins et à vos attentes. Vous pourrez également profiter de temps libres pour explorer la région, rencontrer d'autres participants et partager des moments de convivialité. Notre événement se déroulera dans un cadre idyllique, avec plus de 20 000 m² de terrain ombragé à notre disposition, propice à la détente et au ressourcement. Alors, n'hésitez plus, inscrivez-vous dès maintenant pour cette expérience unique et inoubliable !
Pour résumer : #AcRolonie 2023 ! Deux semaines d'ACROYOGA, YOGA et ACROBATIE dans un camp d'été rien que pour nous 🐒. Ce grand événement aura lieu du samedi 22 juillet à 8h00 au dimanche 6 août 2023 à 19h, à Prébois, France (1h de route de Grenoble, 2h de Lyon, 2h20 de Genève et 2h30 de Marseille). Les meilleurs ateliers Acro d'Europe seront disponibles avec les plus grandes équipes pédagogiques avancées : (sera communiqué prochainement) … et d'autres à venir !
Inclus. Le prix réduit pour les réservations anticipées sera de 18 eur par jour (le prix normal est de 25 €/jour) pour :
– 6 heures/jour Ateliers quotidiens gratuits d'acro pour débutants, Ateliers quotidiens gratuits pour intermédiaires/avancés, Yoga quotidien gratuit pour le réveil matinal… et de nombreux ateliers autres que l'acro à venir!
– 2 repas bio gratuits /jour (convient aux végétaliens)
– hébergement gratuit en tente/van, ou supplément de 6 € par jour en lit individuel (10 lits individuels disponibles).
Non inclus, uniquement :
– le petit-déjeuner du matin (préparez votre propre petit-déjeuner). Des fruits frais bio et autre produits seront disponibles à la vente.
– atelier quotidien optionnel d'Acroyoga niveau expert avec les meilleurs professeurs européens du moment (20€ par jour).
Nous rejoindre ?
=> Si vous souhaitez bénéficier d'un tarif préférentiel, merci de vous rendre sur le lien d'inscription ci-dessous pour #AcRolonie http://acrolonie.go.yo.fr/ticket/?l=23_acrocalendar&n=acrocalendar
Vous ne voulez pas seulement faire de l'Acro ?
Nous aurons un lac pour l'acro paddle et le canoë (lac du Sautet), de grandes randonnées en montagne (Châtel, Obiou), 2 ème plus grande source de France (Les Sources des Gillardes), Spot de KiteSurf (Monteynard), escalade, Via Ferrata et bien d'autres … et tout ça en moins de 30 minutes !
Plein de nouvelles surprises, gratuites 😉 seront également ajoutées ! En plus de tout le super programme décrit ci-dessus :
– Tous les samedis, Soirée Cabaret Acrobatique !
– d'autres surprises à venir…!
À bientôt !
Tom Stan
Contact pour les questions : Tom Stan https://www.facebook.com/tomhugostan