AcroEmotion Retreat #6
October 4, 2020 @ 3:00 pm

-

October 11, 2020 @ 11:00 am

€430 – €490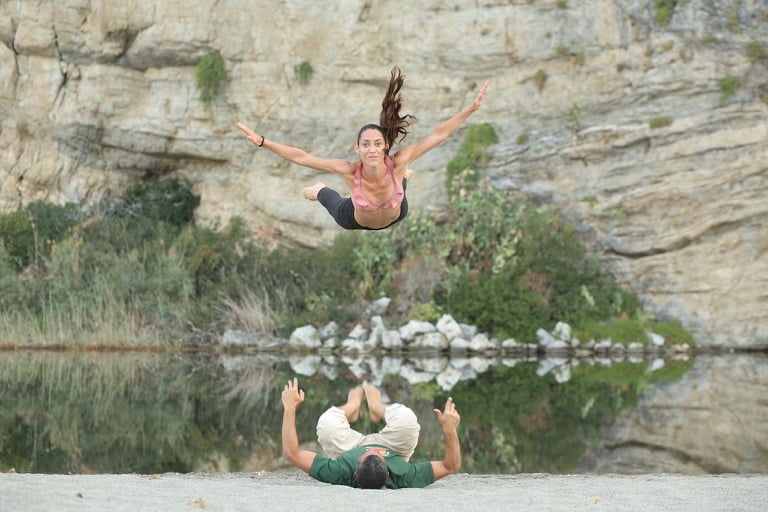 It is time to Live & Move again!
After a long break, for everyone, we are back to Jump, Fly, Base, Handstand, have Fun and Enjoy together!
If you already know AcroEmotion Retreats, always wanted to join or have been curious,
Here is the Sign up link 😀
https://forms.gle/iqGuP1qYPWJFTPym7
Celebrating the Magic of Life in a slice of Paradise.?
Waking up next to the Sea and surrounded by Sun, Trees and Friends.???
Playing Acro, practicing Yoga, Handstands, Conscious Movement, Dance & Music.?‍♀️
Having Fun, Laugh, being Silly, Sing around the Fire in the Evening and Sleep in Peace when day is done.?
Sing up here: ⏬
https://forms.gle/NYGdhxrBczoFXS6B8
The Schedule will look like this:
⬇️⬇️⬇️
?9 am Waking Up Session
Easy on the body, laughing theraphy, Yoga, Contact Dance, Playful Movement, Group Games to activate and energize.
☕10/10:15 am Fruits, Biscuits and Coffe time
?‍♂️10:15/11:30 Acro ( Acroyoga, Acrobatics, Handstand Session)
?12:30 Lunch: Delicious & Vegan, prepared by our Chef Tommy with care and love
?13:00 / 16:00 time for Beach, Siesta or whatever you feel like
?16/17:30 Afternoon Acro Session ( AcroSalsa, Standing Acro, Dance Lifts, Washing machine, Handstands, Pops, Icarians, H2H, F2H…)
?‍♂️?‍♀️17:30/18 Jam time with the facilitators!!! Practice, share and play together
?18/18:30 Massage, Bodycare, Self attention, Meditation, etc..
?19 Dinner watching the Sunset with Lounge music, following the natural rythm of nature, relaxing and enjoying the taste of healthy nurishing food. (Still made by Chef Tommy 🙂
At Night
?We gather around the Fire, singing, playing instruments (please bring your own Ukulele, Drum, or anything you play around the Bonfire), chatting and cuddling…sometimes drinking some Italian wine 🙂
?️Location:
A Village in the South of Italy (Capo Vaticano, Calabria) surrounded by Nature, with Sea, Sun, Earth, and Wind.
Accomodation:
?Houses:
1 Private Room with Shared Double Bed,
1 Private Room with two Single beds
1 Living Room with Shared Double Bed
1 Full bathroom
1 Extra Shower and Sink outside
Equipped Kitchen
Private Outdoor Patio (So Cute)
You can choose between: ?
Lobster House
Forest House
Sea House
Light House
(Max 6 People per House)
How to get here:
Airport: ✈️
Lamezia Terme,
then take a train from Lamezia to Ricadi (1 Hour ride along the Coast) we pick you up at the train station with our German Red Van Home 😀
Contribution:
* 490€ Single Bed in Double Room
* 460€ Shared Double Bed in Double Bedroom
* 430€ Shared Double Bed in Living Room
Optional Activities:
??️???️
– Going for Pizza
– Ice cream time
– Visiting nearby Cities, tasting Local Food
– 1 Day Cruise to the Aeolian Island visiting the local Volcano e tiny Island towns.
Sign up here:⏬
https://forms.gle/NYGdhxrBczoFXS6B8
Extra, only for Thirsty Readers
??
Exploring the possibilities of your body playing with other people, learning Acro Skills, Walking along the line of Your comfort zone and choosing to go beyond.
A safe space where to look inside yourself, sharing outside, recognizing self-imposed limitations and how to change what makes us suffer while transforming it in peace and joy.
Abandoning ourselves to the Care & Connection created by the Group and at the same time being that group that supports, creates and builds together.
Taking care of our own body through listening to its own Wisdom, Yoga, Conscious Movement, Dance, Games, Massage, Cuddles and Deliciously Healthy Food.
Ain't you signed up yet????
Fine here it is:⬇️
https://forms.gle/NYGdhxrBczoFXS6B8