Acro Fever 2022
June 20

-

June 26

365€ – 410€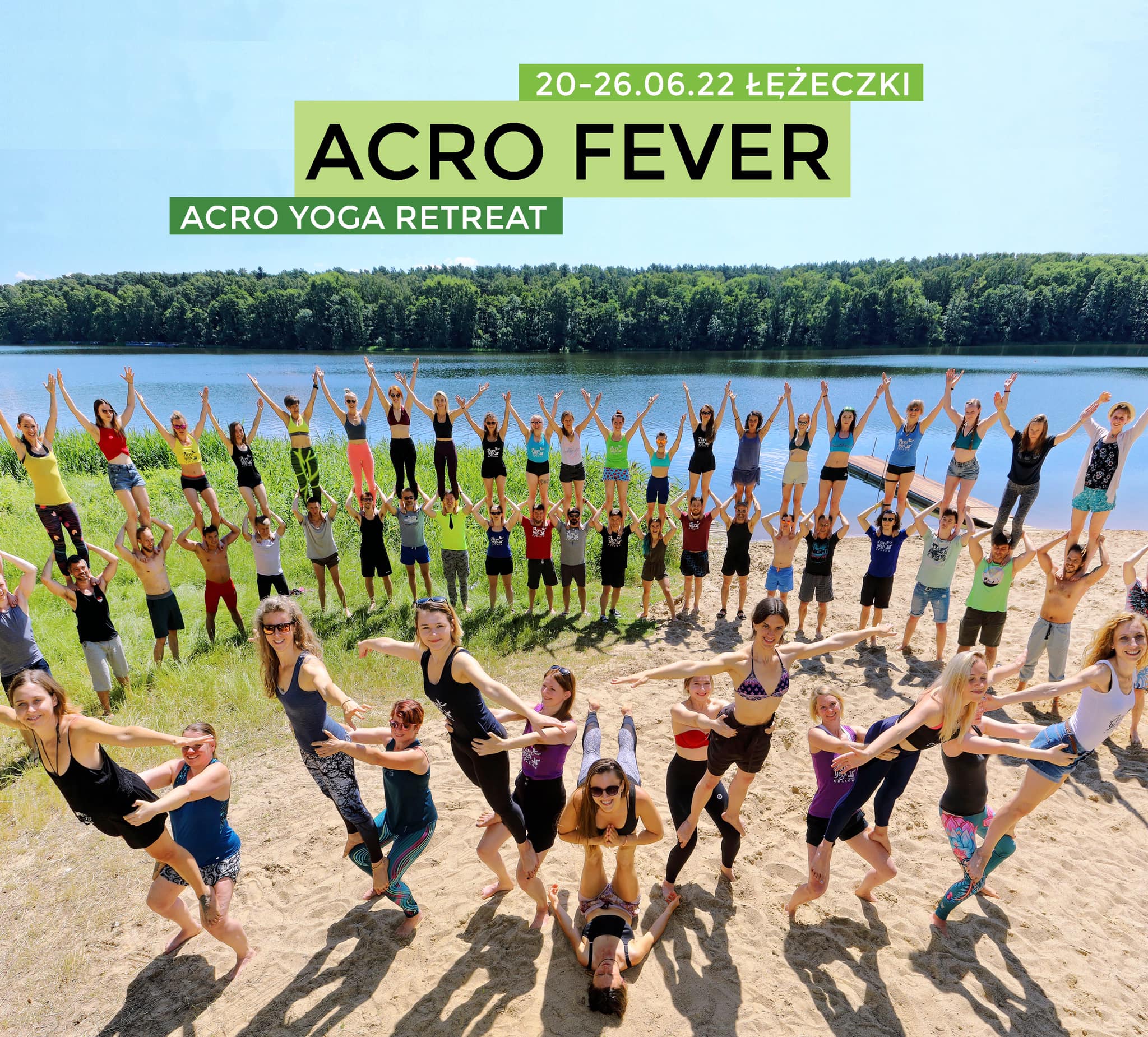 For the good beginning of the summer seson we invite you to Acro Fever.
Book your spot as soon as possible to be sure that you are already a part of this journey.
Surrounded by brethtaking nature you will discover with us new paths of acroyoga world and the most beautiful regions in Poland.
Once again we will take you to the land of vast forests, lakes and meandaring rivers to enjoy region of Wielkopolska.
We are open for people of all levels!
Get ready for:
– creative and experienced teachers from all over the world
-7 hot days with AcroYoga, Yoga, Thai Massage, Handstands, fun and delicious food in a surrounding of picturesque forest and lake at Wielkopolska
-3 levels of advancement (open, intermediate and advanced)
-1 big Acro Family!
We have everything under the sun to make your stay exciting:
AcroYoga workshops – 3 classes to choose from which in practice means even greater choice and better adaptation of classes to your preferences and advancement, handstands, yoga, acrobatics, spontaneous dance, acro jams, bodywork temple, bonfires, sightseeing, delicious vegetarian food and magical space next to the lake, with a pool, sauna, jaccuzi and beautiful nature around.
In the workshops plan:
– L-basing
– Standing Acro
– Icarian games
– Pitching
– Whips pops
– Acro Dance
– Thai Massage
– Yoga
– Handstand
LOCATION:
A our disposal we will have a beautiful facility located in a picturesque area of the Sierakowski Landscape Park with a unique postglacial area with ribbon lakes, moraine hills and forest ravines. The Warta River crosses its northern part. Pine forest and mixed forest provide favorable conditions for recreation. Near the village Łężeczki the vantage point offers a panoramic view of the Lake Chrzypskie with an area 322 ha.
Hotel Łężeczki has everything to make our event perfect. Beautiful surrounding of the forest far from the city and next to beach of the Lake Chrzypsk. Bonfire area, swimming pool, jacuzzi, finnish sauna and steam bath.
For crazy acro fun, we offer you 3 gyms:
156 m2/4,1 m high,
96 m2/3,75-4,30 m high,
80 m2/3,75 m high
The venue offers accommodation in nicely arranged rooms for 2, 3 or 4 people, all with bathrooms!
INVESTMENT:
Price includes accommodation in triple or 4 person rooms with bathrooms, food (3 meals per day) all workshops, classes, pool, sauna and all activities.
Pool 1 : 365 Euro / 1700 PLN – 15 tickets / SOLD
Pool 2 : 370 Euro / 1750 PLN – 20 tickets / SOLD
Pool 3: 390 Euro / 1800 PLN – 25 tickets
Pool 4: 410 Euro / 1900 PLN – 20 tickets
It is possible to book a double room with an additional fee:
25 Euro / 100 PLN per person per week!
The number of double rooms is limited, so the order of applications decides.