YogaSlackers First International Teacher Training
November 22, 2019

-

December 6, 2019

$3200.00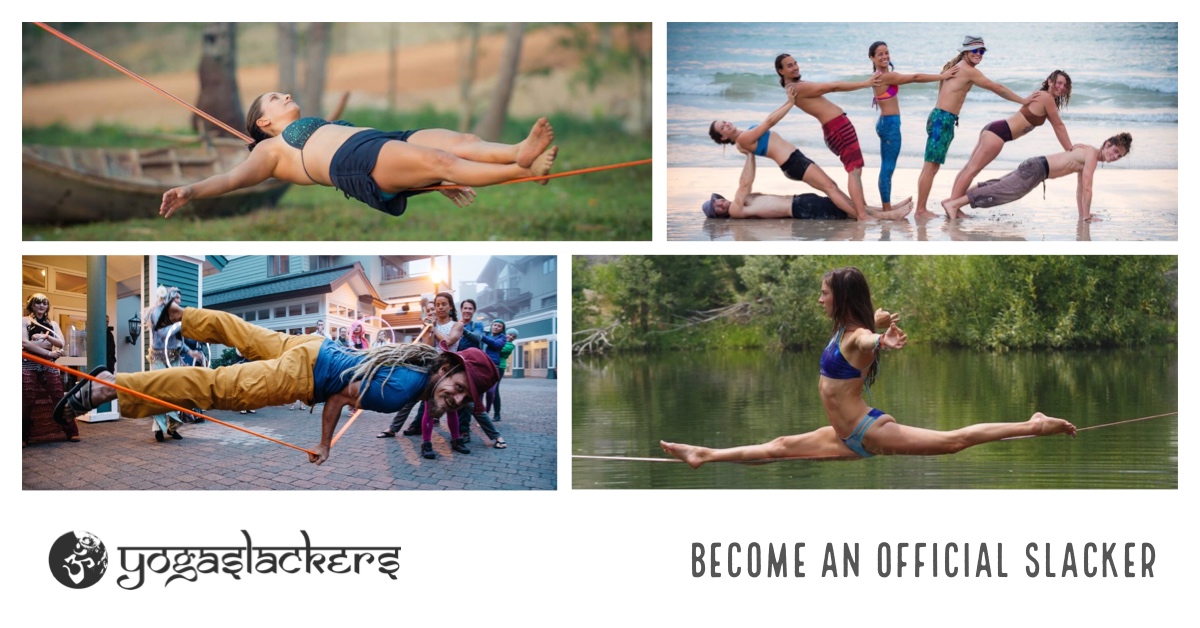 YogaSlackers Teacher Training
Chiang Mai, Thailand
Nov 22 – Dec 6, 2019
NEW longer training with a focus on Slackro!
With YogaSlackers Sam Salwei, Raquel Hernández-Cruz, and Emily Baxter in collaboration with Caitlin and Dane of Duo Die Acrobatics
ABOUT THIS TRAINING
Until this year, the YogaSlackers Teaching Trainings has been focused on sharing our teaching method directed mainly to the practice of Slackline Yoga. As the partner acrobatics community grows and with it the demand for detailed teaching and coaching programs, we decided that it is time to expand our teacher training to accommodate more time for partner acrobatics teaching methodology.
We are very excited to announce that we will be hosting this training in collaboration with Duo Die Acrobatics. After years observing our teaching and practice styles we came to the conclusion that our styles are very similar. While our practice (Slackro) and Duo Die's (Dynamic Acrobatics) is quite different, our approach is spot on. Our teaching and practice method are both based on safety, a strong focus on foundations and the understanding that a strong practice is developed by intelligent training, conditioning, and working together.
This two week training will kickstart your process on becoming a great teacher. While we cannot teach you everything you need to know about teaching in just two weeks – there are 4+ year college courses on this! –  we can start you in the right path, and help you along the way. Those interested in the training should know that the principal goal of the training is learning how to create plans, develop progressions, find a teaching voice and improve your coaching. We will have time allocated to improving your personal practice, but our main goal is for you to leave the training ready to teach others and yourself. It will be easy to apply your new coaching and teaching skills to other forms of movement based programs.
Cost
$3200 per person
$6000 for committed acro partnerships (Application videos must be with that partner)
Goals of the Training
Understand how to use foundations as the key to train higher level acrobatics
Learn and practice safe practice, teaching and coaching methods
Create progressive teaching and training plans (classes, workshops, series)
Practice different teaching and coaching styles
Develop writing, verbal and embodiment teaching exercises
Improve demos (verbal and physical ability)
Improve confidence in speaking to a crowd and facilitate movement based classes
Understand the process of breaking down skills and movements to their fundamental parts
Foster time management skills for classes and effective training
Skills that will be covered during the training
Slackline Yoga
Slackro
Hand to Hand
Foot to Hand
Icarian Pops
L-Base and Standing Acro
Conditioning
Take a moment to review the Teacher Training page. There you will find the full list of the information required for a successful application. After a thorough review, gathering all the necessary documents, then go ahead and apply.  We look forward to reviewing your application and welcoming you into the YogaSlackers.
Application deadline: May 1st, 2019 or after we receive 50 applications. Whichever happens first.