Winter Acro Festival 2020
February 22, 2020

-

February 28, 2020

€495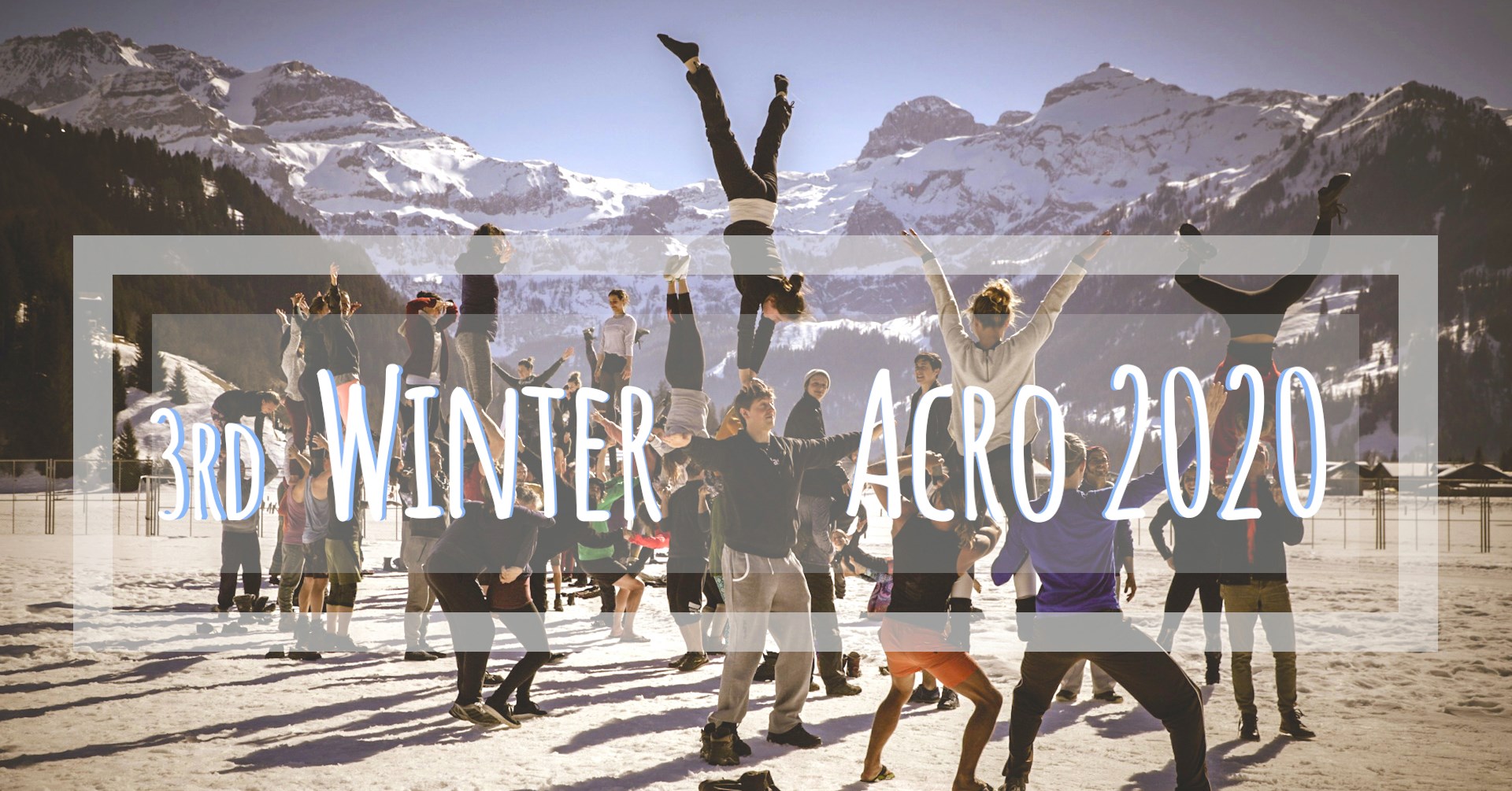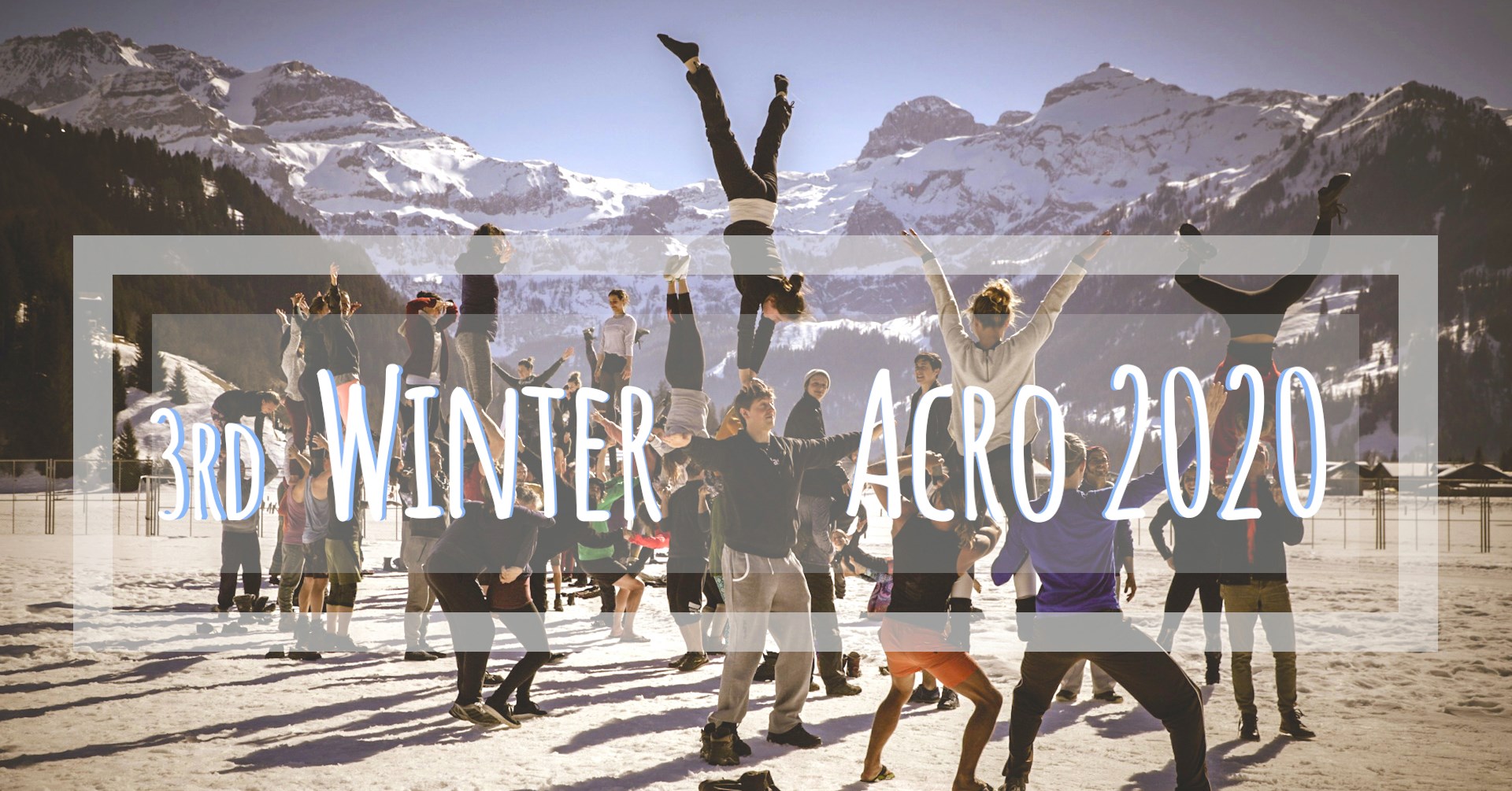 Welcome to the third edition of the Winter Acro Festival!
Here we are again, in the middle of the Swiss alps, a crazy but magic week! Acrobats, acroyogis, friends and artists will come together. Each individual brings a touch of love and happiness to this festival, we're looking forward to host you one more time.
The date is set:
22 till 28 of February 2020 in Lenk, Switzerland
But there are some news! With the experiences of this last years we made some changes: 7 days of festival, 12 rounds of acro workshops and handpicked teachers. There is space for a constant jam and several longes to train. Since we are in the mountains we will add some snow activities. Saunas and hotpots are ready for you to relax and enjoy.
· Location
This Festival takes place in Lenk, a small village in the middle of the swiss alps. A complete description on how to get there can be found in the following link: https://www.acrofestival.ch/winteracro/location#location
·Accommodation
We are again in the mountain lodge, 5 mins walk from the sport hall.
IMPORTANT: bring your own sleeping bag !
Check in the link for Upgrade possibilities
More important details: https://www.acrofestival.ch/winteracro/location#accommodation
·Workshops
There will be 12 rounds of workshops. A total from 42 Workshops to choose from. But, not only Acro!!: There are trampoline, Impro and Show development Workshops.
IMPORTANT: Previous experience in acro is important for your own enjoyment.
There will be no beginner workshops.
·Teachers
Confirmed Teachers:
· Alfonso Sabaidee & Bet-sinlao Malabartin (AcroWings) – Our Icarian and Head Balance Masters
. Baptiste & Celine – Handstand and a lot of cool little tricks
· Pri Pri & Jen – Whips masters
· Kaleidos (Carmen & Florian) – Damn we love how they work.
· Eulelia Blanc – The Trampoline girl ♥
· Bruno Ferrero – In-pro, clown and show host.
· Wybren & Trudi – Difficult tricks specialist
· Duo Zenzero e Canella (https://www.facebook.com/DuoZenzeroeCannella/)
· Kaaos Kaamos – Crazy Trio 😀
· Peter Hunter – Beloved yoga master
·Food
"We are what we eat"
Main dishes, healthy snacks and dessert are all organic, (mostly) local, vegan and cooked with love.
*Everyone will be asked to colaborate by doing some task in the kitchen.
Read more about our lovely kitchen soon at: https://www.acrofestival.ch/winteracro
·Snow Event
On Monday morning we will organized a snow event up on the mountain at the ski resort (If the weather is good ).
Bring warm clothes for outdoor acro. Free afternoon for ski, snowboard or free floor at the hall.
*As an EXTRA, we could organize ski tickets for you, write us ;).
·Sauna
Beaten up from the daily training ?
Daily sauna and hotpot under the stars !!
·Show
Thursday evening there is an open stage! There are some confirmed Artists already!
Do you have a show and want to participate ? Write us !
·Prices
· 7 Days Pass: CHF 545.- | EUR 495.-
· 7 Days Pass: CHF 410.- | EUR 380.- (without accommodation)
· Single Day Ticket: CHF 85.- | EUR 75.-
· Bed in double room*: CHF 15.- | EUR 13.- Double room supplement per night / person
· Bed in four bed-room*: CHF 10.- | EUR 9.- supplement per night / person
* Double rooms and four bed-rooms are in the newer building. Toilets and showers on the corridor.
We will send you the bank details after you send us your registration FORM by email. If another payment method is needed for any special reason please ask us directly.
*Note that there might be a fee included.
·Refund conditions
Before 5 of January 2020: 70% refund. After: no refund, but you can happily sell or give your ticket to someone else. Let us know about the name change per your registration email.