The Art Of Flight & Flow With Andrea Macia & Joey Adams
February 29, 2020 @ 10:00 am

-

March 1, 2020 @ 5:00 pm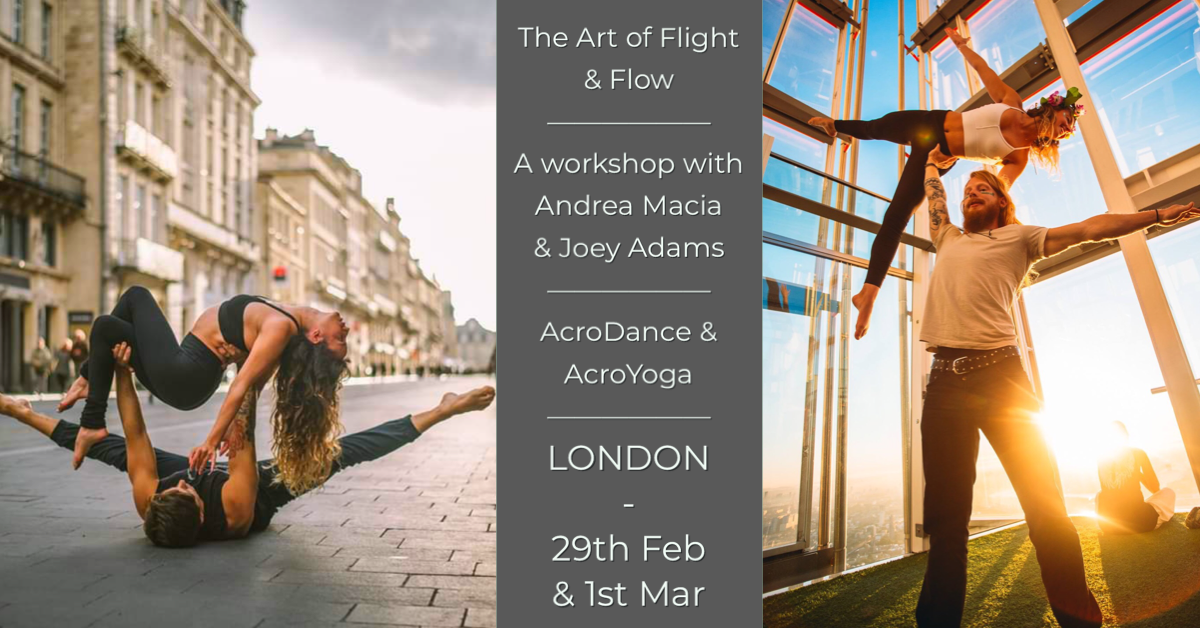 ~ The Art of Flight & Flow ~
A creative, weekend intensive of AcroYoga and AcroDance with Andrea Macia & Joey Adams.
———————————————————
~ Event Information ~
The open levels workshop is especially structured in that participants are able to explore and evolve their acro in their own unique way, allowing people to work at their level.
SATURDAY:
6 hour full daylong workshop – open levels.
We will cover a wide range of exciting acroyoga content, explore new ideas and movements including transitions, sequencing and dance acrobatics.
Progressions will be adapted to each level.
Saturday is for those who are starting to explore the practice of acroyoga, and also for those who already have an established practice.
SUNDAY:
6 hour full daylong workshop.
If you have a regular, well established practice in AcroYoga, or if you attended our full day workshop on Saturday, this workshop is for you!
We will delve deeper into the art of fluidity in your acroyoga – exploring tempo, precision and pace, to bring effortlessness and ease to your movement.
The flows, washing machines, AcroDance, sequencing, tricks and transitions will have an strong emphasis on creativity, communication, synchronicity and precision.
———————————————————
~ Dates & Times ~
Saturday 29th February:
10:00 – 13:00 & 14:00 – 17:00
13:00 – 14:00 (lunchbreak)
Sunday 1st March:
10:00 – 13:00 & 14:00 – 17:00
13:00 – 14:00 (lunchbreak)
———————————————————
~ Pre-requisites ~
Saturday:
Have completed at least 6 teacher-led acroyoga classes and be practicing weekly.
(If you are unsure you meet this, we have made it so that there is plenty of time for you to prepare between now and our intensive, making it accessible for all).
Lists of teachers in your area can be provided.
Sunday:
– Side Star
– Tick Tocks – Cartwheels
– Free Shoulderstand (holding bases forearms)
– Star/shoulderstand on feet
– Reverse Star/rev shoulderstand on feet
(You should be able to do these poses/tricks without assistance – spotter may be present but no touching)
———————————————————
~ The Investment In Your Practice ~
FULL WEEKEND:
First 8 Spots (2 PLACES REMAINING) until 1st December – £75
Next 8 Spots until 1st January – £90
Next 8 Spots until 1st February – £105
Next 8 Spots until 29th February – £120
1 DAY (Saturday or Sunday):
£60
* No partner required
* Limited places
* Places are Non-Refundable
———————————————————
~ How To Book ~
https://buytickets.at/evolutionacrobaticsyoga/315066
———————————————————
~ About Andrea & Joey ~
Andrea founder of Acroyoga International BCN has been formed in the Acro community of Vancouver and San Diego. She´s an acro revolution and VanCityAcro teacher and teaches Acrobatic Dance & AcroYoga in Barcelona.
She currently continues to offer workshops in Barcelona and teaches internationally offering intensives and courses at festivals such as AcroLove (San Diego), AcroLove World ( Portland) the Vancouver Acro Fest, Israel Convention, Granada Acrobatic Convention etc.
Her style is clearly a theatrical and exotic fusion of movement acquired by different cultures.
Joey's life of movement began through throwing himself off cliffs, stair sets and into big waves from a young age….
It was this surf/skate/snowboarding that quickly set the foundations of body awareness, and understanding of weight and balance.
Injuries led Joey to rehabilitation through yoga, acroyoga then standing acrobatics. Which offered him not only recovery and deeper body awareness, but also a conscious understanding of bodily mechanics and his natural ability to coach fine details in movement.
Having been teaching intensively for some years and studied from highly skilled teachers from all over the world, Joey now expresses his own style through weekly classes, workshops and conventions in the UK and throughout europe.
Joey always strives to bridge all disciplines of acrobatics, blurring the boundaries of standing acrobatics, dance inspired movement and acroyoga.
Expect technique focused tuition, detailed methodology and playful attributes. All in a supportive and positive environment.
Together, their acrobatic knowledge and experience brings together many disciplines offering a unique style and experience.
Web:
www.andreamacia.com
www.facebook.com/evolutionacrobatics
Instagram:
@acroyogajoey
@andrea_acroarts
Facebook:
https://www.facebook.com/evolutionacrobatics
https://www.facebook.com/AndreaMaciaOfficial/
Vimeo:
Andrea AcroArts: https://vimeo.com/user48695049
For any questions, do not hesitate to get in contact with us:
andrea.acroarts@gmail.com
jadamsvw@gmail.com