Sydney AcroYoga Solar Acrobatic Immersion with Mimi & John
October 26, 2019 @ 8:00 am

-

October 29, 2019 @ 5:00 pm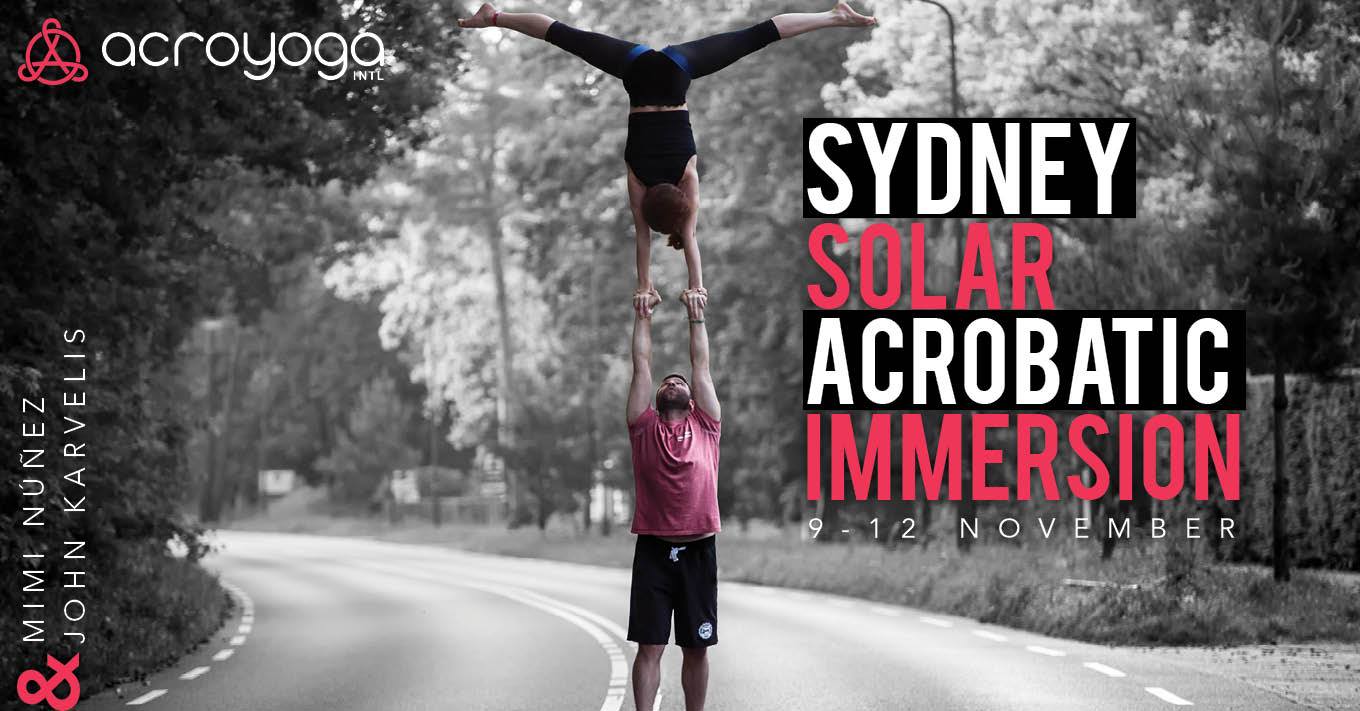 SYDNEY AcroYoga SOLAR ACROBATIC IMMERSION
with Mimi Núñez & John Karvelis (and friends!)
November 9-12, 2019
➻➻REGISTRATION LINK:
https://goo.gl/forms/5uq9oSU1y9B1YFd32
The Solar Immersion empowers students to realize their potential through the powerful embodiment of acrobatic partnership.
Join Millette Núñez and John Karvelis, with an amazing assisting team, for 4 full days of Acrobatic Solar training, connection & playful transitions. We are not just about achieving tricks (although we will most certainly do just that) but we are also very keen on creating a container for everyone to feel empowered, embodied and fully supported. This is the second ever solar immersion in Sydney!
Linear progressions and an emphasis on the art of spotting make learning advanced acrobatics safe, accessible and fun. Confidence and coordination are developed in strength training and inversions, which pave the way for ease and grace in partner acrobatics. After refining foundations, we will train more precise acrobatic work, such as foot-to-hand, hand-to-hand and standing acrobatics.
Get ready to lift beyond your goals in a fun and safe environment.
****This course fulfills an immersion pre-requisite for the AcroYoga teacher training application.****
➻➻ SKILLS COVERED
● Solar AcroYoga Asana sequence
● Strength training elements
● Alignment, balance and endurance in inversions
● Spotting techniques
● Specialized Acrobatic flying groups
● Pops & Tempos
● foot-to-hand, hand-to-hand & 2-High acrobatics.
● L-basing and Standing acrobatics
➻➻PREREQUISITES
https://www.youtube.com/watch?v=nUxIyCJrOtQ
…and if you are not sure if you are ready, just ask us and we will support you and find a way to get you ready!
➻➻LOCATION:
To be announced very soon
➻➻SCHEDULE: (this might slightly change according to the venue availability)
9-10 Asana and inversions
10-10:30 snack break
10:30-1:30 am session
1:30-3 lunch
3-6 pm session
➻➻INVESTMENT:
– Super Discounted price: First 10 tickets $580 AUD
– Discounted price: Second 15 tickets $640 AUD
– Regular price: After first 25 tickets $730 AUD
– 3 Days drop in: $550 AUD
– Weekend drop in: $370 AUD
You DON'T need to pay the full amount!
To secure your spot, you send either the full amount or a non refundable deposit payment of $180 AUD to the account below, with "your name + SYDNEY SOLAR" as reference, and pay the balance upon arrival to the immersion.
Register here: https://goo.gl/forms/5uq9oSU1y9B1YFd32
If this option doesn't work for you, please email us for further support:
Stephanie: info.adagioyoga@gmail.com
John: johnkarvelisyoga@gmail.com
Cancellation Policy:
Although you are welcome to give your spot to someone else at any time, the deposit is not refundable.
After payment of full amount, cancellations before 29 Sept = full refund, minus $70 AUD processing fee.
Cancellations between 29 Sept – 1 Nov = 50% refund.
After 1 Nov or during the event, no refund and no exceptions.
About the facilitators:
Mimi has been traveling and sharing her love for acro worldwide since 2012. A seasoned teacher, she understands the importance of setting high standards while simultaneously building people's beliefs in their own capacities. She creates an environment in which students are challenged, feel safe to take risks and are supported to learn. Known for her positive demeanor, high energy and encouraging style of communication, Mimi loves to have fun and remind others how awesome they are. She is a teacher trainer and immersion/intensives teacher for both AcroYoga and PartnerAcrobatics.com. She loves Hello Kitty and good coffee.
John met and introduced to the world of yoga accidentally by a friend while working in engineering in Athens. Since then his life changed completely. He is a certified Acroyoga.org Level 2 and Immersion teacher, Certified yoga teacher (Hatha yoga and Vinyasa krama), Thai Yoga massage therapist trained by the Sunshine network and co-founder of the AeriaLife training. He loves to combine the strong elements of acrobatics, the healing arts and the people's connection in groups, with the best contact quality in body and mind.
Living in Athens, he has been traveling through Europe, Asia, Middle East, Mexico and United States, sharing his passion, teaching trainings and connecting with different communities.