Puerto Rico Lunar Solar AcroYoga Immersions
December 7, 2019 @ 8:00 am

-

December 14, 2019 @ 5:00 pm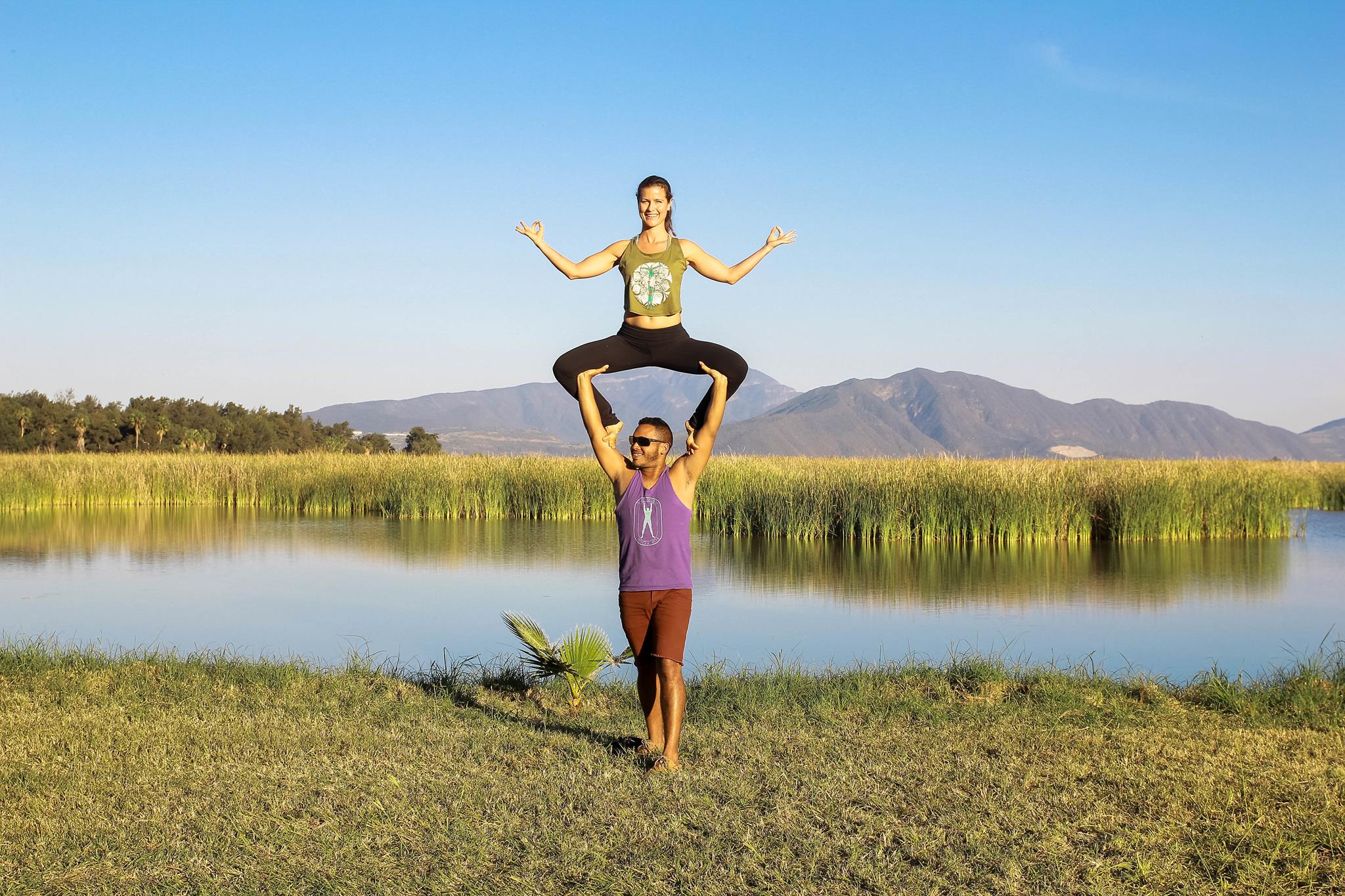 #PRLunarSolar Bilingual Lunar and Solar AcroYoga Immersions in San Juan, Puerto Rico (Español abajo)
This December gift yourself a Yogic vacation in the Enchanted Island of Puerto Rico!
For the first time in Puerto Rico the AcroYoga Lunar and Solar immersions combine in this unforgettable event, and all are welcome in beautiful Puerto Rico. We will celebrate these two international courses together with three of the most experienced and passionate teachers in the AcroYoga community – Laura Velázquez from Puerto Rico, Justin Caruso from New York and Millette Núñez from Puerto Rico.
During 8 days we will dive in to open possibilities to cultivate your infinite potential – First we will develop sensitivity and connection through the Lunar arts of Thai Massage and therapeutic flying. Then, via progressive exercises we will catapult your personal practice with the empowering Solar universe.
In the Lunar Immersion with Justin Caruso and Laura Velázquez you will learn healing arts including Thai Massage, therapeutic flying, and Asana sequences that connect you with your inner healing energy. In a safe and supportive environment explore and build your ability to give, receive and live in love. This immersion also teaches invaluable tools for yoga teachers, massage therapists and physical therapists who want to heighten their ability to heal with their hands.
The Solar Immersion with Justin Caruso and Mimi Nuñez empowers students to realize their infinite potential through the powerful embodiment of acrobatic partnership. Linear progressions and an emphasis on the art of spotting make learning advanced acrobatics safe, accessible, and fun. Confidence and coordination are developed in strength training and inversions, which pave the way for ease and grace in partner acrobatics. After refining foundations, we will train more precise acrobatic work, such as L basing, handstand training, Hand to Hand, pops, washing machines, acrobatic sequences and standing acrobatics. To take the solar immersion it is best to have prior experience, review and practice this material to get the most out of the solar immersion: https://youtu.be/nUxIyCJrOtQ
Get ready to push past your own personal limits in a fun and safe environment!
Both courses fulfill an immersion pre-requisite for the AcroYoga teacher training application.
SKILLS COVERED in the Solar Immersion:
– Solar AcroYoga Asana sequence
– Strength training elements
– Alignment, balance and endurance in inversions
– Spotting techniques
– L- basing transitions including washing machines, pops and more
– Specialized Acrobatic flying groups (2 bases, 2 flyers)
– foot-to-hand, hand-to-hand & 2-High standing acrobatics.
SKILLS COVERED in the Lunar Immersion:
– Lunar Asana Sequence
– Thai massage in Supine, Prone, Side Lying, & Seated positions and transitions between them
– Forward, Backward & High Flying Whale Flying Therapeutics
– Therapeutic Flying Flow Sequences
– Thai-to-flying-to-Thai passive transitions for receivers
– Partner stretching flows
✈ DAILY SCHEDULE:
Lunar Immersion: December 7-10 9:30am – 4:30pm
Solar Immersion: December 11-14 Wednesday and Thursday 9-4pm, Friday 9-6pm, Saturday 11-5pm
✈ LOCATION:
Lunar Immersion:
El Estudio
1511 Ave Ponce de León, Suite 5 La Ciudadela
Santurce
Www.yogailoveyou.com
Solar Immersion:
SOS GYMNASTICS
Carr 695 Calle Madrid Doraville Bo.
Higuillar, Dorado 00646
✈ INVESTMENT:
One immersion until November 1st: US$395
One immersion after November 1st: US$495
Both immersions until November 1st: US$650
Both immersions after November 1st: US$800
Per day of either immersion: US$150
✈ REGISTRATION:
Please fill out this form: Https://forms.gle/aGtHDymCGHhNx5Lj9
PRLunarSolar@gmail.com
Whats App: +1 (787) 671-8075
About Justin Caruso:
Instagram: @justincaruso
Facebook: www.facebook.com/justincarusoyoga
Justin feels the body to be a reflection of life: an ecstatic temple, a work of art, and a vehicle for connection. Just before the financial crisis Justin made a timely exit from Wall Street to return to yoga, a practice he began over eighteen years ago. A New York native, Justin has spent the past ten years traveling extensively through South America, Asia and the US, teaching and studying yoga, AcroYoga and bodywork with many of the world's master teachers.
About Laura E. Velázquez LMT:
Instagram: @laurathailove
Facebook: https://www.facebook.com/LauraVelazquezMassage Passionate about the human body and its functions. Thai Massage Therapist and Trainer. Continuing Education Provider approved by the National Certification Board of Massage Therapists and Bodywork, USA. Licensed massage therapist graduated at the 1,000hrs level of Puerto Rico Massage & Bodywork Institute. She has traveled the world studying and teaching since 2006. AcroYoga Pioneer in Puerto Rico and the Caribbean. As a professional massage therapist, Laura's passion is to help people improve their range of motion in the body, and to inspire all to enjoy a healthy lifestyle.
About Mimi Nuñez:
Instagram: @mimiacro
Facebook: https://www.facebook.com/acroforthepeople
With 15 years of teaching experience, Mimi understands the importance of setting high standards while simultaneously building people's beliefs in their own capacities. She strives to create an environment in which students are challenged, feel safe to take risks and are supported to learn. Currently, Mimi serves as part of the teacher training team at Partner-Acrobatics.com and also works on teacher trainings at AcroYoga®. She offers workshops, immersions and classes at studios and festivals worldwide.
Cancellation policy:
1 month prior full refund minus $100 processing fee.
Within 1 month to 2 weeks before (6-22 November)= 50% Refund
2 weeks before or during the event, no refund, no exceptions.
———————————————————-
Este Diciembre regálate una vacación yogica en la Isla del Encanto: Puerto Rico
Por la primera vez en Puerto Rico la AcroYoga Inmersión Lunar y Solar se juntan, y todos están bienvenidos a la hermosa Isla del Encanto. Celebramos estos cursos internacionales juntos con tres de los mas experimentados y apasionados profesores de la comunidad de AcroYoga: Laura Velázquez de Puerto Rico, Justin Caruso de New York y Mimi Nuñez de Puerto Rico
Durante 8 días vamos a compartir un intensivo que abrirá la posibilidad de desarrollar tu potencial infinito: Primero se desarrolla la sensibilidad y la conexión a través de las artes Lunares de Masaje Tailandés y vuelos sanadores. Luego a través de ejercicios progresivos se dispara tu practica personal de la empoderosa practica Solar.
En la Inmersión Lunar con Justin Caruso y Laura Velázquez aprenderás de las artes curativas, incluyendo masaje tailandés, vuelos terapéuticos, y secuencias de asanas que te llevan adentro para conectarte con tu energía sanadora. En un ambiente seguro y cálido explora y crece tu capacidad de dar, recibir y vivir en amor. Esta inmersión también enseña herramientas invaluable para maestros de yoga, masajistas y fisioterapeutas que quieren desarrollar su capacidad de manipular otro cuerpo y a sanar con sus manos.
En la inmersión Solar con Justin Caruso y Mimi Nuñez veremos progresiones lineales que hacen que el aprendizaje de acrobacia avanzada sea seguro, accesible y divertido. La confianza, coordinación y el control se desarrollan en el entrenamiento de fuerza e inversiones abriendo el camino para la acrobacia en pareja. Hay pocas cosas en el mundo que inyecta con tanta felicidad y adrenalina como hand-to-hand (parado de manos en manos), acrobacias de pie y washing machines (lavaropas). Y todo es posible en un ámbito seguro, compartido, y inspirador. *Para tomar la inmersión solar es mejor tener experiencia previa. Mira este video para ir preparando: https://www.youtube.com/watch?v=nUxIyCJrOtQ]
Prepárate para sorprenderte. No se necesita compañero.
*Cada una de estas dos inmersiones cumple una de los requisitos para el AcroYoga Teacher Training
✈ ¿Cuando?
Inmersión Lunar: 7-10 Diciembre de 9:30am a 4:30pm
Inmersión Solar: 11-14 Diciembre miércoles y jueves 9-4. viernes 9-6. sabado 11-5
✈ ¿Donde?
Inmersión Lunar:
El Estudio
1511 Ave Ponce de León, Suite 5 La Ciudadela
Santurce
Www.yogailoveyou.com
Inmersión Solar:
SOS GYMNASTICS
Carr 695 Calle Madrid Doraville Bo.
Higuillar, Dorado 00646
✈ ¿Cuanto?
Una inmersión completa hasta 1 Noviembre: US$395
Una inmersión completa después del 1 Noviembre: US$495
Ambas inmersiones hasta 1 Noviembre: US$650
Ambas inmersiones después del 1 Noviembre: US$800
Solamente el primer dia de una inmersión: US$150
✈ INFORMES E INSCRIPCIÓN:
Por favor llena este formulario: Https://forms.gle/aGtHDymCGHhNx5Lj9
PRLunarSolar@gmail.com
Whats App: +1 (787) 671-8075
Elementos de la inmersión Solar:
– Secuencia de AcroYoga Asana Solar
– Ejercicios de fortalecimiento, alineamiento y equilibrio
– Vuelo acrobático especializado
– Resistencia en invertidas
– Técnicas de cuidador
– Grupos de trabajo especializados (2 bases y 2 voladores)
– Pie a mano, mano a mano y acrobacias en doble altura
Elementos de la inmersión Lunar:
– Secuencia de AcroYoga Asana Lunar
– Refinamiento detallado de las técnicas eficaces de un masaje tailandés
– Masaje Tailandese en supino, prono, sentado y acostado de lado (sidelying)
– Estiramientos deliciosos de yoga en pareja
– Sutil análisis de lo que hace mágico un vuelo terapéutico
Política de cancelación:
Si cancelas tu asistencia hasta un mes antes de la inmersión te devolveremos 100% de tu dinero menos US$100.
Si cancelas hasta dos semana antes del comienzo de los eventos (hasta el 22 noviembre) te devolveremos el menor de US$100 o 50% de tu dinero
Si cancelas dentro de dos semanas antes del comienzo de los eventos no hay devolución del dinero.