Pre-convention to the Dutch Acrobatics Festival 2022
May 28

-

June 3

180€ – 580€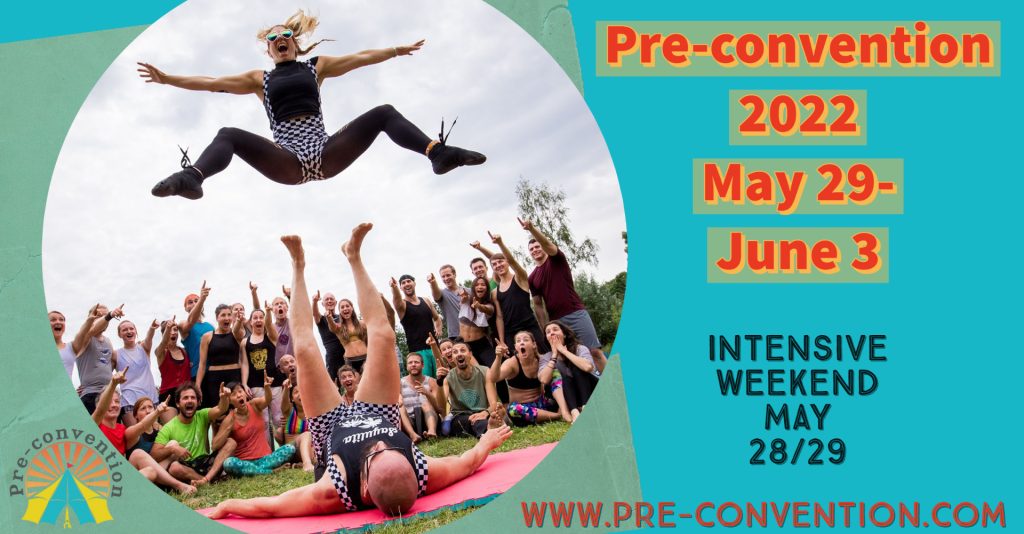 The 9th edition of the Pre-convention to the Dutch Acro will be held from May 29th. – June 3d 2022
Pre- Convention 2022 Weekend Intensive May 28 & 29th.
Pre-convention is a five day training leading up to the dutch acrobatics festival. Be coached from professional acrobatic teachers from around the world. We offer 3 or more Workshops in intermediate and advanced per Workshop round and always enough space for your own training. We have longes set up inside and outside. Inside training is in a circus top. As we kept on being told the festival is to short we added on the Intensive Weekend (always the weekend before Pre-convention) for those who can just not get enough of training and learning. Your ticket comes with food and camping.
You love training acrobatic skills in a safe and professional way? You are a intermediate/ advanced acrobat meaning you fly or base and spott? You like to be technical and enjoy to work with progressions. You love to be out in nature with good food and sauna, hot tub and campfire. Training all day makes you happy? You enjoy hanging out with a international crew and love to connect and learn from different styles of acrobatics? Then come join the Pre-Convention Festival and/ or the Intensive Weekend.
The Weekend Intensive will include camping from Saturday to Sunday and meals from Saturday lunch to Sunday lunch. It also includes 6 hours a day of training.
The Pre-convention ticket includes all workshops warm up, handstand, partner acrobatics and more. There will be special evening offerings like massage, campfire, etc and of course sauna and Hot Tub! Three delicious vegetarian meals a day and camping (with your own gear) at the location!
Arrival for Pre-convention is Sunday in the afternoon,with the welcome workshop and departure is Friday after breakfast.
If you want to stay in a real bed you can book a hotel nearby. On airbnb.com I found farmhouses and home stay options near Beuningen. Last year they were easy on lending out a bicycle which people used to get to our event grounds.
!Your ticket is only confirmed once we have received your deposit, you will get a confirmation mail with all the details! Deposit is non refundable!
"Combi Ticket" Preconvention and Intensive Weekend price: 580,-€
"Preconvention" Ticket price: 430,-€
"Intensive Weekend Icarian Games" price 180,-€
"Day Ticket Intensive Weekend" Icarian Games price: 180,-€