Hungarian Acro Convention 2022
August 12, 2022

-

August 20, 2022

320€ – 395€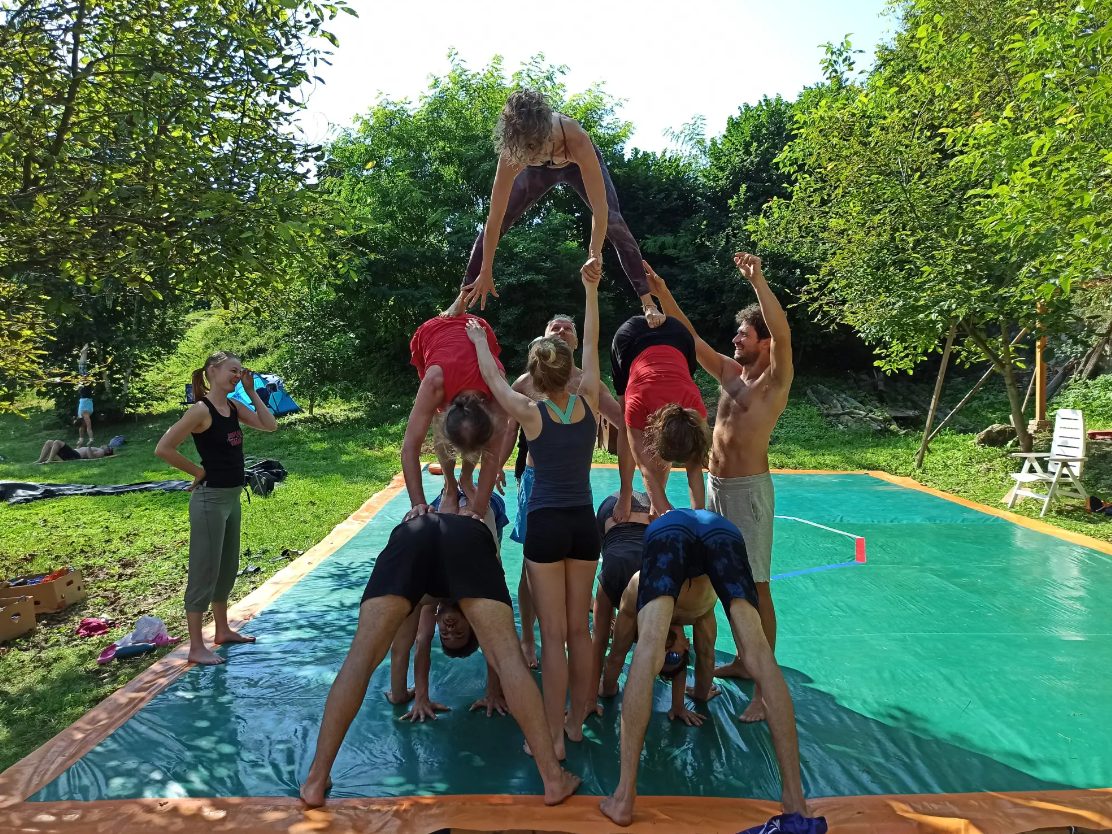 The fifth Hungarian Acrobatic Convention (5th HAC) will be held from august 12th – august 20th 2021, for acrobats and acro yogis of all levels, beginner or (very) advanced.
Arrival: wednesday evening august 11th or thursday 12 before 12.00h
Last day: thursday august 19th.
The 20th= st. Istvan, national holiday;  you are invited to stay and do a show on the village square if you like).
Departure thursday evening or friday  .
There will be a new big roof to do acrobatics out of rain and sun!
The convention includes:
Workshops from renowned teachers : Noël, Wybren, Trudy, Uwe and Martina
Training outside, with and without longe
Training inside in the community house if the weather is bad
Beautiful camping place on the hill
Freshly cooked vegetarian food (optionally vegan or carnivore)
Wifi
Free use of bicycles
We will have a sauna this year!!
Disciplines and techniques
In the workshops we will address a variety of acrobatic disciplines and techniques including building and pitching, handstands, washing machines, flows and sequences, lifts and balances, Icarian and trio tricks.
Skill level
This training week is open for anyone. You will receive personal instruction to your skill level. If you like, you can attend with your dedicated training partner, but everybody will also switch partners during the training, since this will give you a deeper understanding of acrobatics. Upon registration let me know if you're preferred role is base or flyer (or both).
Program
Our convention will have 7 days with workshops (at least 28 workshops) and there is always a free training floor. There will be workshops every day, except for sunday. This day is for other kinds of leisure; a walk in the beautiful environment, a bicycle ride (there are bikes at the venue) up the Bükk mountains, or a visit to the famous Lippizaner horses in Silvasvárad. The ancient town of Eger is also nearby with its fortress and thermal bath.
Accommodation and food
Nestled in a shady cool tree forest, lies the campground. Please bring your own tent, mat and sleeping bag. Sanitary facilities are basic but sufficient (toilets and showers). There will be three vegetarian meals a day, freshly cooked for you. Our kitchenmaster can cook meat/fish or vegan food on request. You are expected to lend a hand in small tasks like cleaning the tables.This year we will have a professional cook from Mikófalva plus one from the Netherlands.
Prices
Regular price: € 395 (food and camping included)
Early bird price: € 320 (until June 15)
Discount: participants of the acro-building holidays, in whatever year, can join the whole week for 270 euro
To make the Fifth Hungarian Acrobatic Convention more Hungarian, acrobats from Hungary can join for the reduced price of €320
You can already subscribe now. Your place will be secure once you have paid. Contact us for payment details.
The number of participants is limited to 35