Egypt Acro Convention 2023
October 22 @ 1:00 pm

-

October 28 @ 3:00 pm

€371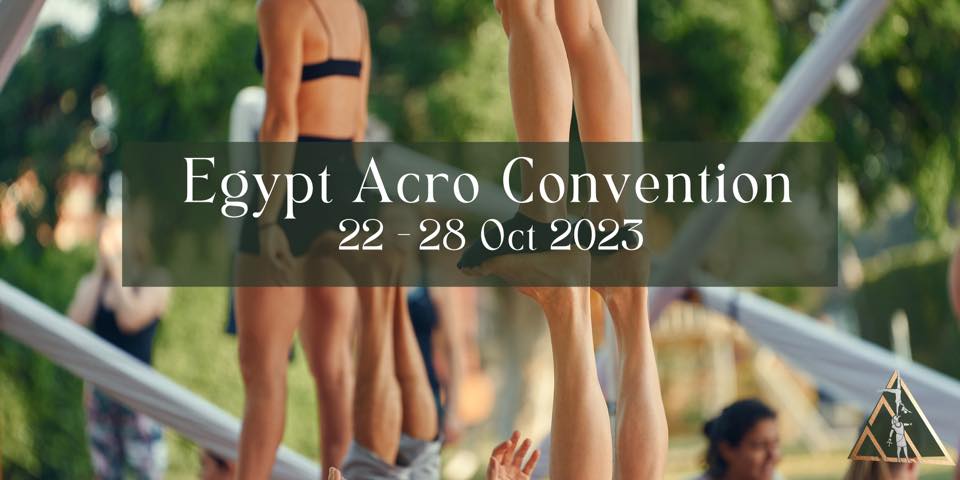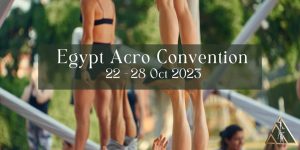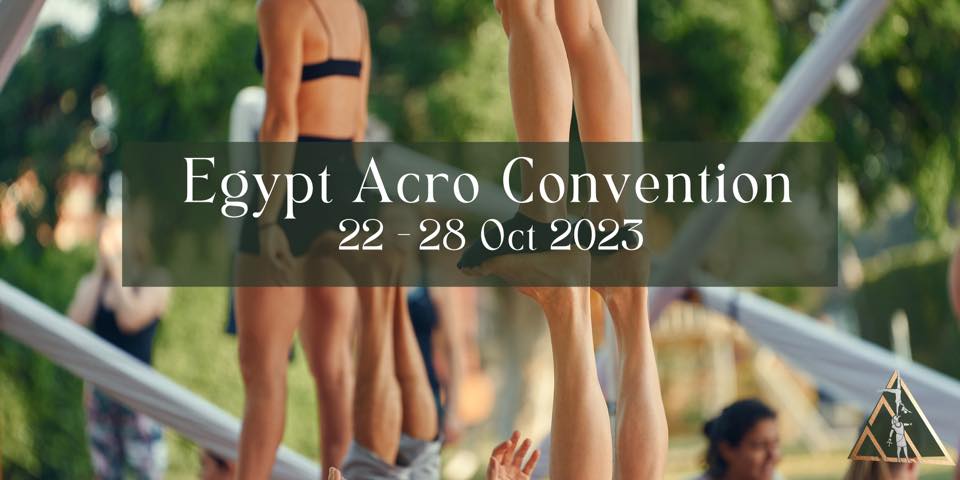 🗓 When? 22nd – 28th of October 2023
We will start on Sunday 22 October, after lunch: you can arrive on Saturday or Sunday morning. And the convention will run for a full week until next Saturday 28 October, after lunch: you can travel or stay an extra-night.
🌍 Where? Well, in Egypt! We're in a large and beautiful venue with great amenities. Nested on the rich soil of the Nile delta, at the edge of the Desert, overlooking with the ever present testimony of time and wonders of the ancient world, in the land of the gods and pharaohs.
For the second edition, we keep all the good stuff that made the first EAC a great success. Plus we'll polish the sharp edges and add what we learned in the process!
🕊️ This will be another gathering of acrobats and travelers from all around the Mediterranean, Europe, the Middle East, Africa…and the world
🌴 What to expect:
☀️ 4-6 hours of acro workshops every day, with 3-4 workshops in parallel each round
☀️ Morning Movement sessions and Evening Therapeutics workshops
☀️ All disciplines, suitable to all levels, from beginner to advanced
☀️ Accommodation in rooms or tents
☀️ Full board: food and water included
☀️ 400sqm puzzle mats to train + chill areas
☀️ Sand dunes to wander and enjoy sunsets with a peek of the pyramids!
☀️ Pool to chill and restore
Prices of the Egypt Acro Convention 2023 !
🛌 Double room: 538€ / person
🛏️ Triple room: 489€ / person
🏕 Camping Area: 371€ / person
We've been hitting hard on the abacus to shrink-fit the prices of the convention, and make them as accessible as possible. These prices include everything you need for the convention from 22 till 28 October.
☀️ 7 Days of Acro workshops, Yoga, Handstands, Therapeutics, Stretching, safety lines
☀️ Breakfast, Lunch, Dinner and snacks, every day!
☀️ Water refill stations throughout
☀️ Two half-day cultural trips, including entrance to the Pyramids!
☀️ Exclusive access to the facility pool
Please notice that for the camping area, you should preferably bring your own tent and sleeping gear. There will be the option of renting a double tent from us for 42€/week.
There are limited double and triple rooms available – be quick to get yours! Please note that all people sleeping in the same room should be registered in order to book the room.