Dutch AcroYoga Festival Spring 2022
April 29, 2022 @ 5:00 pm

-

May 8, 2022 @ 7:00 pm

75€ – 685€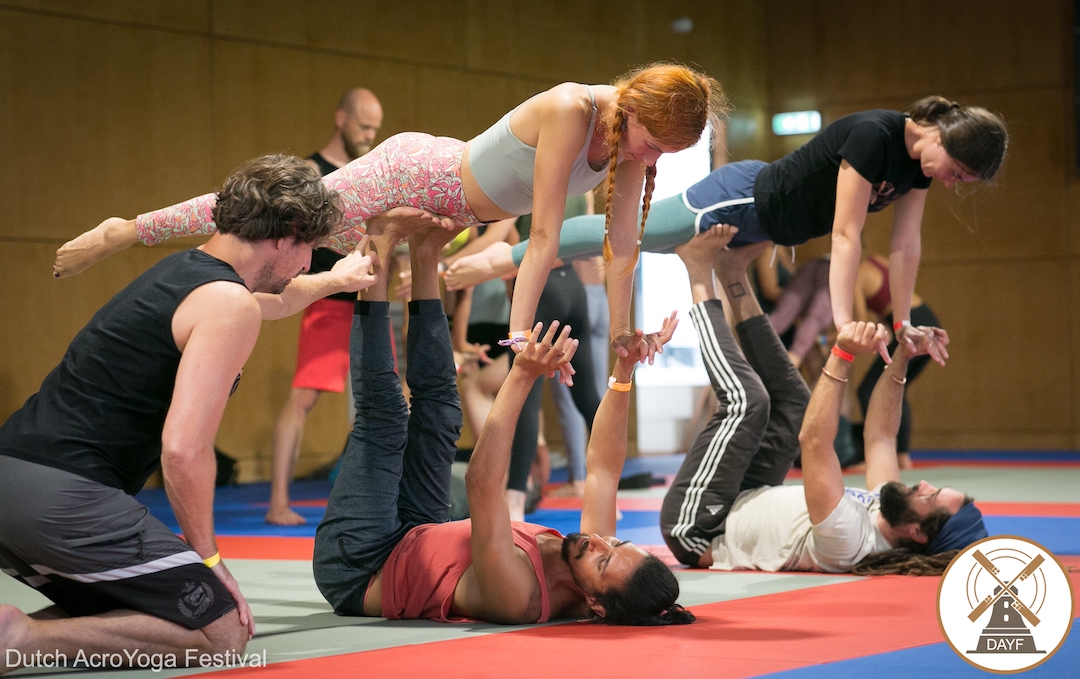 Another brand new festival edition is coming up: the Dutch AcroYoga Festival Spring 2022 which will be held on April 29 – May 08. It will be 9 full days of Acro with many national and international teachers.
It's an all level festival and so for everybody. You will find experienced AcroYogi's and acrobats doing amazing stuff, but also beginners that make their first flights, as we have beginner workshops every round.
The Dutch AcroYoga Festival Spring 2022 will be held on April 29 – May 08 at the beautiful and easy-reachable sports centre ActiveStay in the Goirle (The Netherlands). This awesome place has a big separate halls fully floored with tatami (400m² & during afternoon we have one or two extra halls of 200m²).
There will be lines and belts (longes) and the possibility to jam all night long.
There is the possibility to book your ticket including a 2, 6 or 8 person dorm, with nice and soft beds. You could also come with your camper (limited spots available), or camp at a campsite on a 10 minute walk.
Confirmed teachers
Wybren Wouda (NL)
Luigi & Francesca (Sicily Acro , IT)
Mati & Paulina (CL)
Marysia and Julian (PL)
Jordán & Catalina (CL)
Amir and Yska (IL)
Evan Josef Cohn (USA)
Trevor & Sytske (NL)
Pacôme & Caroline (FR/BE)
Nenad & Jelena (RS)
Lennert & Yvonne (NL)
Paulo & Ammanda (BE / DK)
Katrijn & Isaiah (BE)
Natalia & Joshua (PL)
Oriane (IL)
Adrian & Aylish (FR, NL)
Inez & Luca (NL/IT)
Marije & Tjebbe (NL)
Bart Bendie(NL)
Food is included in the ticket price.
Sleeping You can book a 2, 6 or 8 person dorm or sleep somewhere else (caravan spot behind the building is free).
Karma yogi's will get € 15 discount each day (for exact prices see table). You will have about 1,5/2hr karma work a day.
Early Bird sold out already.
Regular ticket full price: 515 €