AcroYoga Montreal Teacher Training Level 1
December 3 @ 8:00 am

-

December 16 @ 5:00 pm

Mex Pesos25,000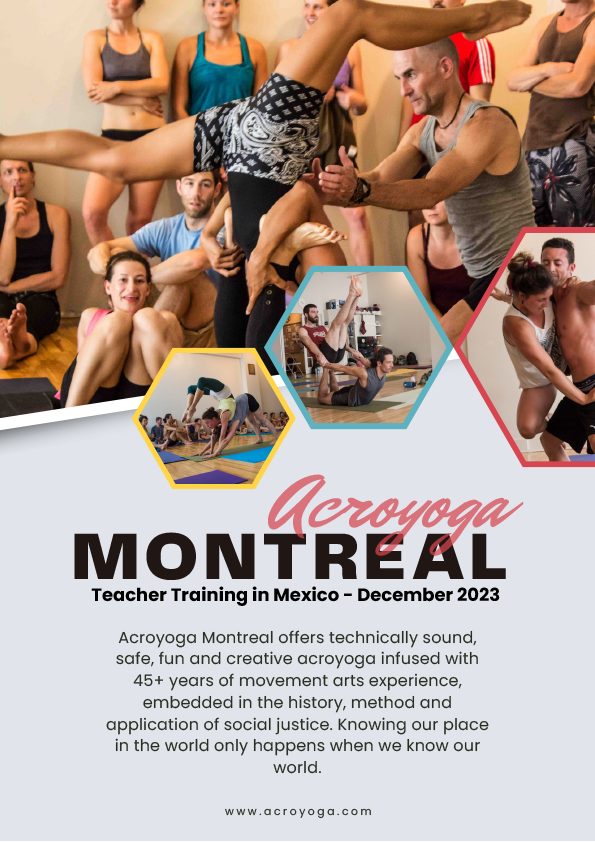 The Art of Teaching Acroyoga
Acroyoga Montreal Teacher Training Level 1
with Jessie Goldberg, Eugene Poku, Jill Campbell and Heidi Blais.
Organized by La Casa Del Acro
From December 3-16, 2023
Merida, Yucatan, Mexico.
AcroYoga Montreal will arrive in Mexico in December 2023 to offer its Level 1 teacher training.
This 14-day TT (100 hours) introduces us to fundamental to advanced techniques to cultivate your technical, creative, and interpersonal skills as a practitioner, teacher, and community leader.
This will be the Second  Teacher Training to be offered in Mexico. You will be immersed in acroyoga technique and flow, movement exploration, handstands, yoga, teaching methodology, teaching assignments, public teaching, creative process, games and restorative practices over the course of both trainings. Workshops will cover safety, spotting, sequencing, classroom management, anatomy and injury prevention, communication, consent and safe spaces, business and ethics of acroyoga and introduction to social justice. We aim to create a joyous, engaged space for connection, shared touch and meaningful discussion. Your emotional and physical safety are paramount.