Acroyoga Lovers Workshop with Amir & Yska
November 30, 2019 @ 9:00 am

-

December 1, 2019 @ 5:30 pm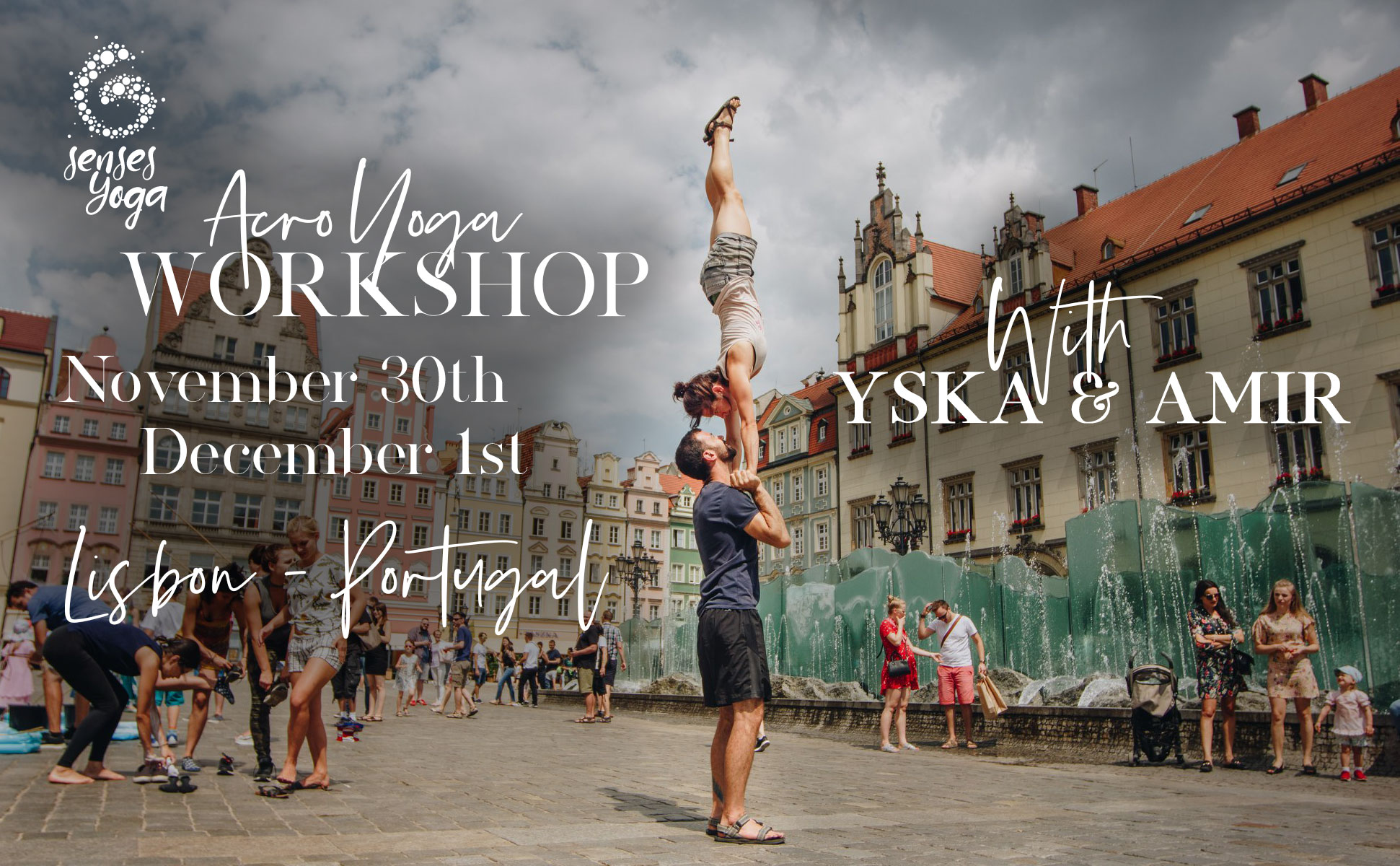 6 senses yoga is proudly to bring to Lisbon for the first time Two to Acro, an exquisite duo of acroyogins, acrobats and circus artists with a huge personal charm and exceptional pedagogical talent.
The workshop will be held in English with the possibility of translation into Portuguese. Several different techniques will be held in this intensive workshop, from L-Base, Flows, Icarians, Standing Base or H2H, depending on the attendees skill levels. Yska and Amir knowledge will allow to have different skills levels and adapt to each other.
More information about the workshop and teachers can be found below.
NOTE: There will be some yoga mats available but we strongly suggest for you to bring your own yoga mat.
ABOUT THE TEACHERS
Amir and Yska – partners in acro and life. Both of us have studied in different circus schools, but we acquired most of our abilities and knowledge from practicing independently, mostly by going to workshops, jams though exploration of our bodies and learning to flow together.
Acro for us is much more than just a physical practice. It is a great opportunity to meet new amazing people. We can travel around the world and have a place to stay and people to meet wherever we go.  From time to time it happens that the people we practice with, become a big part of our lives.
On the other side, acro is also a space where we can deal with our fears, insecurities, and self judgement. People sometimes ask us – how can you manage being a couple and also practicing together? That's a good question and the true answer for us it is that acro is a major part of our relationship, despite the fact that for many other people it's not always goes together. If something is not working in our practice, we know that we have to figure out and fix something between us. When we connect with our bodies for a practice it's almost impossible to hide our feelings, therefore we have no other option but to stay sincere with each other.
Our approach for practice itself is to try to use our bodies' natural gifts. We believe that is what makes the practice more authentic and flow. Each of us has a one unique body of his, with special features and very different needs. We want to listen to those requests and work with them. We are taking inspiration from various methods of bodywork and movement such as acrodance, Ido Portal Method, acrobatics and yoga. We like to combine it to our practice, to make it more holistic to the body and soul 
AGENDA
Schedule for Saturday, November the 30th:
09:00 – 11:00 – Workshop
11:00 – 12:00 – Lunch Break
12:00 – 14:00 – Workshop
Schedule for Sunday, December the 1st:
10:00 – 13:00 – Workshop
13:00 – 15:00 – Lunch Break
15:00 – 17:30 – Workshop
INVESTEMENT
Super early birds (until September 30th):
65€
Early Birds (until October the 31st):
85€
Normal price:
95€  
FOR GROUPS: 10€ of discount per person
Contact and registration:
6sensesyoga.life@gmail.com