Acroyoga and Funky Wellness Retreat in Auvergne (Center of France)
June 8, 2020 @ 4:00 pm

-

June 14, 2020 @ 5:00 pm

370420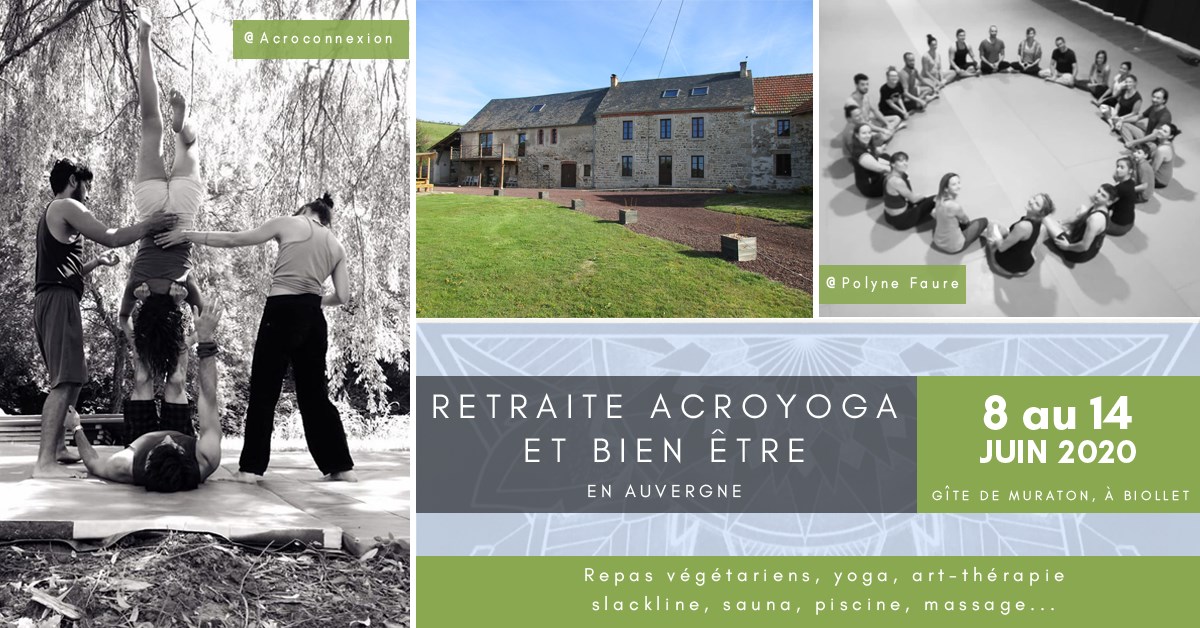 ===> French below<===
What about a full power week that brings together acroyoga and fun workshops stimulating the child inside you?
We have got a full week to recharge your batteries, take care of yourselves and share knowledge in the energy of a small group. Discover or deepen your practice of acroyoga, a perfect mix between spirit and body, developing dynamic games leading to acrobatic skills, surrounded by body expression and Thai massage. It also opens up your soul to new thinking mechanisms by discovering new practices and activities. Also take advantage of this week of full immersion in France to practise this old rusty language you might have heard in school, a few times.
 ✿On the programme are:
➤ At least 12 hours of acroyoga workshops : solar to overtake you and lunar to let go (personalized courses adapted to each level). Depending on the group's energy it could be more!
➤ Yoga every morning
➤ Guided massage every evening
➤ Walks to discover wild plants
➤ Many fun workshops encouraging the transition to a healthier and alternative life (DIY cosmetics, plant harvesting and processing, lactofermentation, etc.)
➤ Activities to restore balance and inner peace (art-therapy, ecstatic dance, slackline, …)
➤ Healthy, original and inspiring vegetarian meals to discover a cuisine rich in colours and flavours
➤ A weekend to meet other acroyogis to put into practice what you learnt the whole week
 ✿Where?
In the Auvergne region, this volcanic area in the center of France. We welcome you in an old renovated farmhouse transformed into an all comfort cottage, with unusual and bucolic rooms, with a huge living room where the height under the ceiling can become source of inspiration and creativity (why not standing acro?). The guesthouse, surrounded by large green spaces, is filled with well-being surprises, a swimming pool and a sauna.
 ✿Sleeping facilities?
☼ You'd like to sleep in a dorm ? (4/5 beds in simple or dobble bed) → 50 €
☼ You'd like to share a room with 2 other poeple? (simple bed and dobble bed) → 70 €
☼ You'd like to share a room with another person ? (dobble bed) → 100 €
☼ You d'like to have a room just for the 2 of you ? (un lit double) → 180 €
* Price per person for 6 nights
** There are 14 spots in the whole cottage, so think about contacting us soon to be abble to choose the best option for you.
Here is the website if you like to check the rooms with pictures
https://www.gite-de-muraton.com/
✿Prices?
Before May 1st : 370 € (Early-bird)
☼ 3 full organic vegetarian meals per day (+ fruits, the and coffee as much as you want)
☼ Daily personnalizedYoga and acroyoga
☼ Fun and creative workshops
Before May 15th, you can cancell with deduction of 50 euros
After June 1st, you will be reimbursed uptill 50% of the price of the retreat  according to the price of the option room chosen.
After June 1st, there won't be any reimbursement.
Offcourse if confinment is still mandatory we will reimburse you 100% of the retreat.
 ✿Who are you with?
To take care of you, a caring and creative and versatile team*; certified teachers who are happy to pass on their knowledge and awareness by sharing their life and travel experiences, adapting to each others' levels to make you spend the stay that will renew you and make you go beyond your own known limits.

*See the description of each team member in the "Facebook Discussion" tab of the event
===>En Français c'est bien aussi<===
Envie d'un séjour réunissant acroyoga et ateliers ludiques stimulant l'enfant qui est en vous ?
Nous vous proposons une semaine pour se ressourcer, prendre soin de soi, pratiquer l'acroyoga, et découvrir ou partager de nouvelles activités.
➤ De l'acroyoga tous les jours (adapté au niveau de chacun)
➤ Des ballades à la découverte des plantes sauvages
➤ Des ateliers ludiques et/ou encourageant la transition vers une vie plus saine
➤ Des activités pour retrouver l'équilibre et la paix intérieure (art-therapy, slackline, …)
➤ Une cuisine végétarienne bio riche en couleurs et en saveurs, des mets originaux et inspirants
➤ Un week-end avec d'autres acroyogis et d'autres professeurs pour pratiquer avec de nouvelles personnes.
En Auvergne au cœur des volcans, entre prés et forêts, à proximité d'un magnifique temple bouddhiste. Nous vous accueillons dans un ancien corps de ferme rénové, aux chambres originales et bucoliques, disposant d'une pièce à vivre immense où la hauteur sous plafond est source d'inspiration. Le gîte bordé de grands espaces verts est rempli de surprises propices au bien-être, d'une piscine et d'un sauna.
 ✿ Pour l'hébergement plusieurs options* en fonction des disponibilités** :
☼ Tu veux dormir dans le dortoir ? (4/5 couchages en lits simples ou double) → 50 €
☼ Tu veux partager un chambre à 3 ? (un lit double et un lit simple) → 70 €
☼ Tu veux partager une chambre à 2 ? (un lit double) → 100 €
☼ Tu veux une chambre juste pour toi ? (un lit double) → 180 €
* prix par personne pour 6 nuits
** Il y a 14 places dans le gîte, pensez à nous contacter rapidement pour avoir la chambre de votre choix.
N'hésitez pas à visiter le site internet du gîte pour découvrir les chambre en photos.
https://www.gite-de-muraton.com/
Avant le 1er Mai : 370 € (Early-bird)
☼ 3 repas complets bio et végétariens par jour (+ fruits, thé et café à volonté)
☼ Les cours de yoga et d'acroyoga quotidiens personnalisés
☼ Les ateliers ludiques et tous le matériel nécessaire
☼ L'accès à la piscine et au sauna
Avant le 15 mai, vous pouvez annuler avec une retenue de 50 euros.
Avant le 1er juin, vous serez remboursé 50% du prix du séjour choisi en fonction du prix de la chambre.
Après le 1er juin, il n'y aura pas de remboursement.
Evidemment si le confinement est toujours d'actualité nous vous remboursons à 100%.
Un groupe 15 personnes maximum. Et pour prendre soin de vous, une équipe polyvalente bienveillante et créative:des professeur(e)s certifié(e)s et diplômé(e)s heureux(ses) de pouvoir transmettre leurs savoirs et leurs connaissances en partageant leurs expériences de vie et de voyages, en s'adaptant aux niveaux de chacun(e) pour vous faire passer le séjour qui vous renouvellera et vous fera vous dépasser.
* Dans l'onglet "Discussion" de l'événement retrouvez les portraits de chaque membre de l'équipe ainsi que plus d'information et des photos sur le gîte, la région, les activités et les repas.
Mail : auvergneacroyoga@gmail.com