Acro Spring Break Tenerife
May 12, 2020 @ 2:00 pm

-

May 19, 2020 @ 5:00 pm

€450 – €630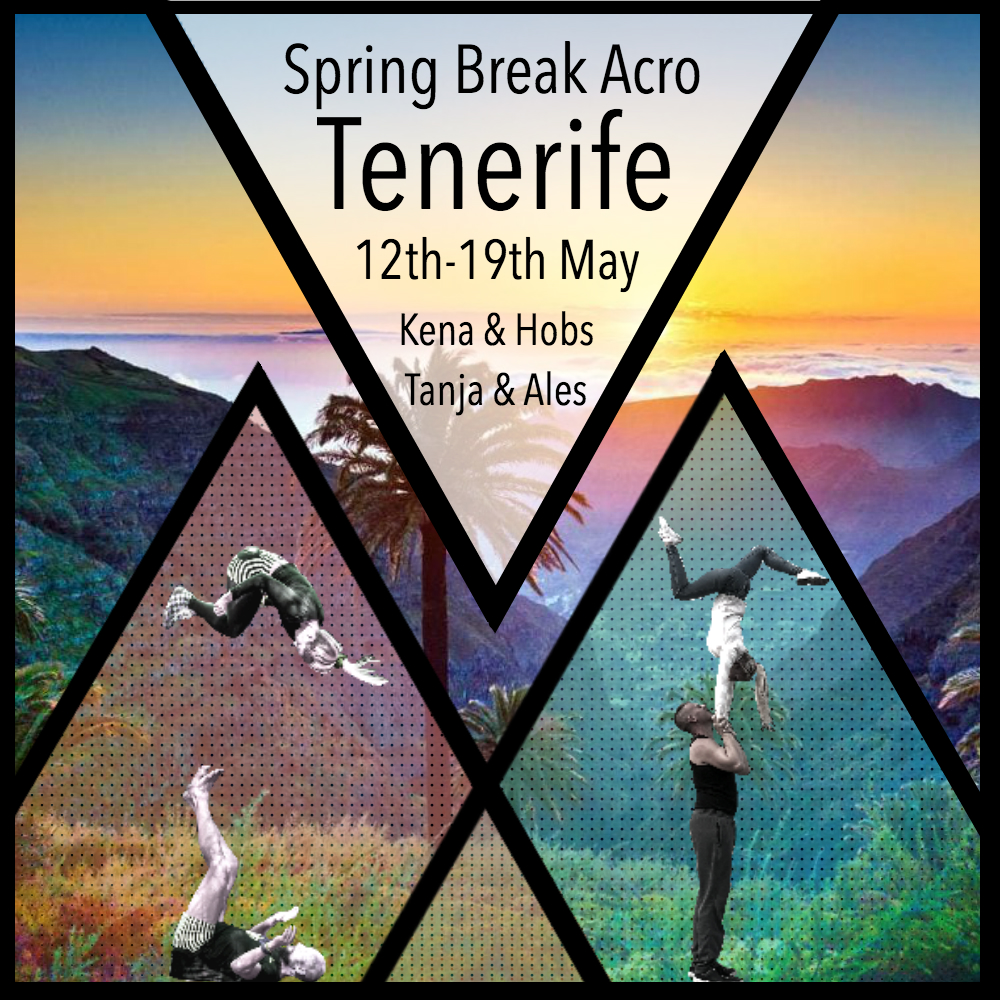 Surrounded by amazing landscapes, the sea breeze and lots of other adventures, think of this as going on holiday to magical vulcano island with your acro friends.
Join us on an island of eternal summer for some serious acro upgrade!
What's the plan?
——————
-Around 6 hours of acro and hanstand training a day, divided between fundamentals, skill training and free training with teachers. -We plan to see groups level on firs day and than make tailored program that will help everybody to unlock their maximum potential.
-We will also leave you some time to jump in the pool or have a siesta to recharge.
-We plan to run two workshop in each time slot and catering for all experience levels. We have 2 training grounds, one is in a big old water tank.
-In the middle we'll have a rest day(afternoon) to let your body recover or to experience the other activities the island has to offer.
You'll be taught by Kena & Hobs from Acro Revolution and Tanja & Aleš from SAFE acrobatics.
Is it for me?
————–
Everyone is welcome to join us – we'll be keeping the group quite small so that we can specialise for each participant and provide you with challenges to take your acro to the next level. We'll run workshops specialising in icarian and pitching, standing and Lbase acro, handstands, some therapy and we'll work with you to develop the skills you want to learn.
Sleeping
———
We'll be staying at the beautiful Spirit Lodge, a comunity retreat centre surrounded by nature in an isolated location in the south of Tenerife. There are lots of options for accommodation to suit your budget – you can chose between cave dorm room, double room, shared dorm, glamping tent and own tent to suit every individual's needs and budget.
The Spirit lodge has a pool, beach volleyball court, slackline park, eco garden with amazing beach 15 min away and you can find kitesurfing, windsurfing, climbing and bouldering in the area.
Eating
——–
We will provide 3 vegan and vegetarian meals per day mostly made from local products.
So what's the deal?
——————–
Prices below include workshops, accommodation and meals for 7 days (7 nights) from Tuesday 12th of May to Tuesday 19th of May.
Early bird is on offer to the first 15 people to register and send their deposit which is €150 no matter which option you choose.
Accommodation options
————————–
–Bring your own tent
Early bird – €453, Late bird €496
–Bed in dorm Glamping tent
Early bird – €495, Late bird – €543
–Bed in a Dorm(room/cave)
Early bird – €540, Late bird – €592
–Bed in Double room
Early bird – €579, Late bird – €635
–No acomodation and food only event pass
Early bird – €260, Late bird €310
This sounds amazing…where do I book????
——————————————–
Right here: https://forms.gle/EHbWviEzJ2sZmbq8A
Payment and Cancellation policy
———————————-
We need to receive your deposit within 2 weeks of registering. Your place (and your earlybird price) isn't confirmed until we receive your deposit.
If you need to cancel, we'll return your deposit as long as you get in touch before 1st March.
If you need to cancel later on, unfortunately we won't be able to return your deposit but you're welcome to find someone to swap with, and if we have a waiting list we'll help you find a swap.