50HR ACROYOGA TRAINING (LEVEL 1 – FOUNDATIONS)
March 12

-

March 18

$1000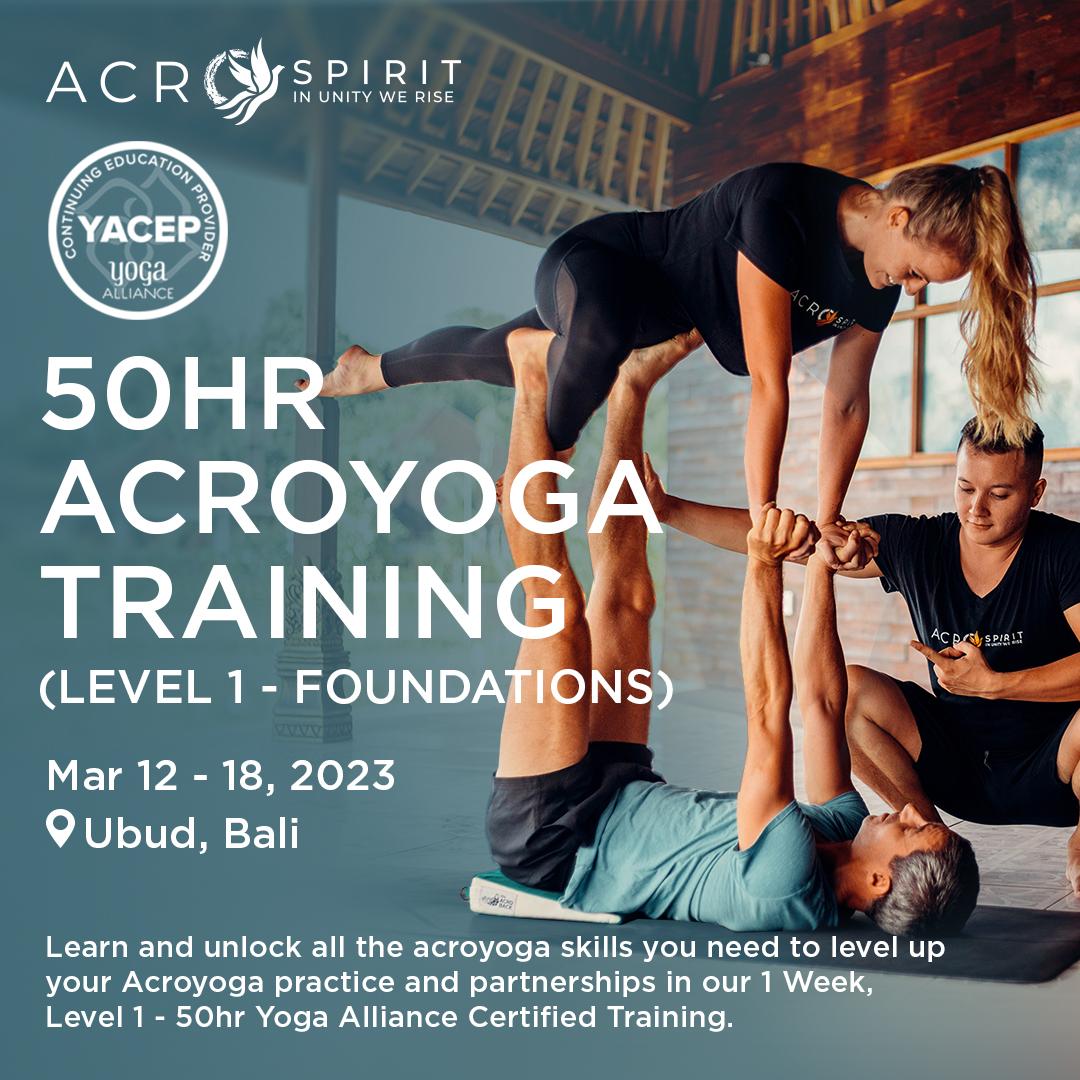 Join us for a journey that will unlock your full acroyoga potential, have you flying high, and lifting your friends to new heights.
​You will learn key acroyoga techniques, partnership/teamwork, communication skills, safety essentials, and build your trust and confidence in a community of new friends.
This training will give you the tools, techniques, and experience to achieve all of this and more!
At the end of this 1 week you can expect to become a solid and skilled AcroYogi!​
You will be experienced enough to become a valued acroyoga training partner.
Plus you will be confident and comfortable collaborating with Acroyogis.
Then you can grow your acroyoga skills with the foundations you learn during this training.
WHAT'S INCLUDED
AcroSpirit Level 1 Manual – (100+ color pages with detailed information and pictures to help your practice).

AcroSpirit goodie bag

AcroSpirit t-shirt

The full teaching course content

2 meals per day provided at the venue
Professional photoshoot during the course

Personalized coaching, tips and advice from our Lead teachers

Certificate upon successful completion (accredited with Yoga Alliance as 50hrs continued education)

Accommodation at the venue during the training (options available if needed)
THE COURSE
We have carefully crafted and developed this training to guarantee that you'll walk away with a solid foundation in your Acroyoga practice.​
The content we have selected is designed to teach you the foundational techniques of all the different aspects of Acroyoga. As well as sharing the non-physical skills this practice will unlock for you.
WE FOCUS ON:
Teaching and practicing supportive and positive communication.

Teaching correct alignment and technique. 

Practicing all roles (base, flyer, spotter) in Acroyoga.

Safety and the art of good spotting.

L-base Acroyoga Poses, Therapeutic Acroyoga Poses, Acroyoga Theory, Handstands, Thai Yoga Massage.