VIVAcroyoga 2017
June 23, 2017

-

June 25, 2017

$CAD250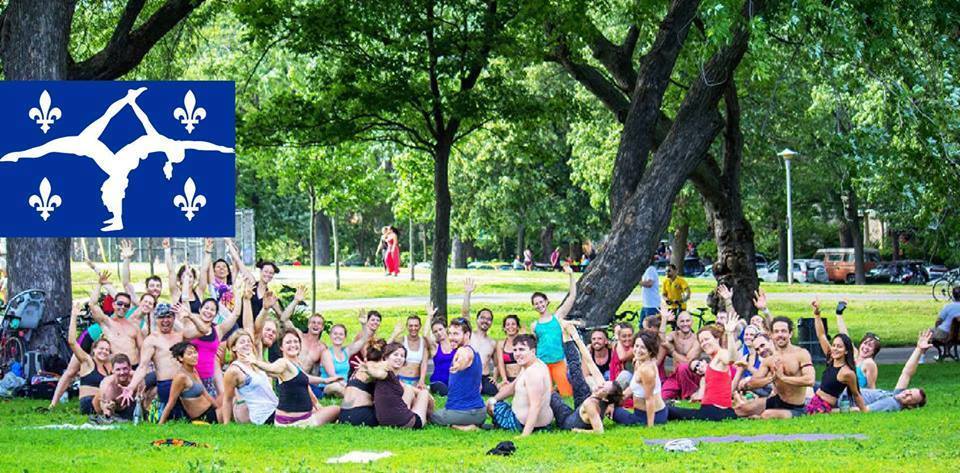 "You have only one life, use it to lighten to lives of those around you."
Felix Leclerc
This June 23rd, 24th and 25th: AcroYoga.
We offer a three-day experience with an array of the forms and shapes AcroYoga can take. Calibrate, balance, twist and spin during 21 sweet workshops conceived to indulge the advanced beginner and satiate the experienced pro.
SCHEDULE
9:00 – 10:20 Advanced Workshop
10:30 – 11:50 Advanced Workshop
12:00 – 1:20 Advanced Workshop
12:00 – 1:20 Beginner Offering
2:30 – 3:50 For Everyone
4:00 – 5:20 For Everyone
5:30 – 6:50 For Everyone
7:00 – 9:00 JAM LIBRE for everyone
LOCATION
We propose to practice at Parc Jarry. Meeting place on the South edge of the park near Rue Gary-Carter. Here is a map:
https://www.google.ca/maps/place/219+Rue+Gary-Carter,+Montréal,+QC+H2R+2V7/@45.5343198,-73.6251931,17z/data=!3m1!4b1!4m5!3m4!1s0x4cc91911c82d5869:0x19949eb88622b37b!8m2!3d45.5345938!4d-73.6232625
If the day turns grey and rain is a possibility we will be indoors at Espace 215 (215 Rue Jean Talon Ouest, 3ieme étage, http://www.espace215.com/). Please refer to the Facebook Event page at 9am daily if the weather is questionable, we will announce whether we will move indoors or keep the event outdoors.
COSTS
Before June 15th
Weekend Pass $250
After June 15th
weekend Pass $300
Day Pass $ 110
Three Classes $ 55
One Class $ 20
Reserve Online:
https://clients.mindbodyonline.com/classic/ws?studioid=345533&stype=-8&sTG=45&sVT=45&sView=day&sLoc=0