Vancouver Acro Fest – Winter 2019
Event Navigation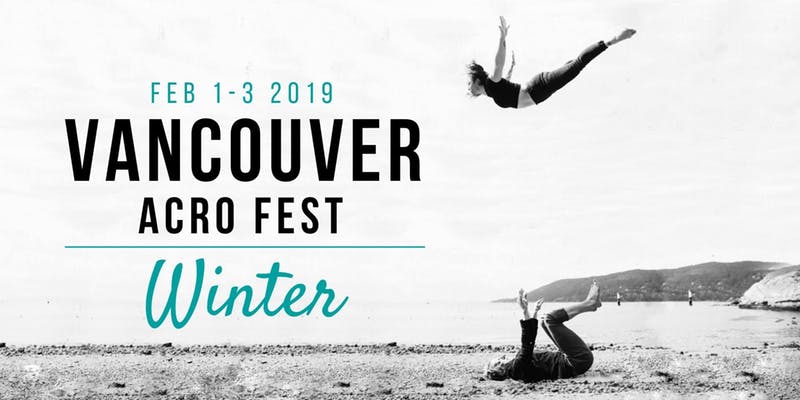 We are back with the third annual Vancouver Acro Fest – Winter Edition!
Tickets on sale at 12pm PST on October 9.
This year you can expect an internationally renowned teacher lineup, amazing people from all around, and the quintessential playful Vancouver acro community vibes that we all know and love.
As requested by you, we have built in a lot of jam/training time into the weekend! There will be a wide variety of classes catered to ALL experience levels, including new original L-base content, standing acrobatics, Icarian games, handstands, therapeutics, and more.
We have a MAXIMUM CAPACITY THIS YEAR, so be sure to get your ticket early as the event will likely sell out!
Let's spend Saturday evening together watching curated performances made up of different movement modalities, music, and other unexpected entertainment.
Want to submit an act to the show? Send us a message on Facebook on Instagram!
TEACHER LINEUP (We are still adding many teachers to the lineup. Check back periodically for an updated list):
$220 – EARLY BIRD: Full Festival Pass (until Nov 30)
$175 – EARLY BIRD: Two Day Pass (until Nov 30)
$270 – Full Festival Pass
Tickets on sale at 12pm PST on October 9.
Hosting or staying with fellow festival attendees is a great way to forge new lifelong friendships and connect with people you may not have otherwise gotten to know.
If you are from out of town and looking for a place to crash or if you have space to offer people, please post in our hosting group: https://www.facebook.com/groups/1610004295711849/
Although we have not yet finalized the schedule, here is a general outline to give you an idea of the weekend's flow.
Friday: 2pm-10pm (lots of jam time, 2x acro classes, dinner break)
Saturday: 10am-11pm (3x acro classes, 2-hour lunch break, evening performances/community event, evening jam)
Sunday: 11am-6pm (2x acro classes, 1-hour lunch break, jam time)