SummerFly: 4th Edition Upstate NY AcroFest
August 24, 2019 @ 10:00 am

-

August 25, 2019 @ 4:30 pm

$150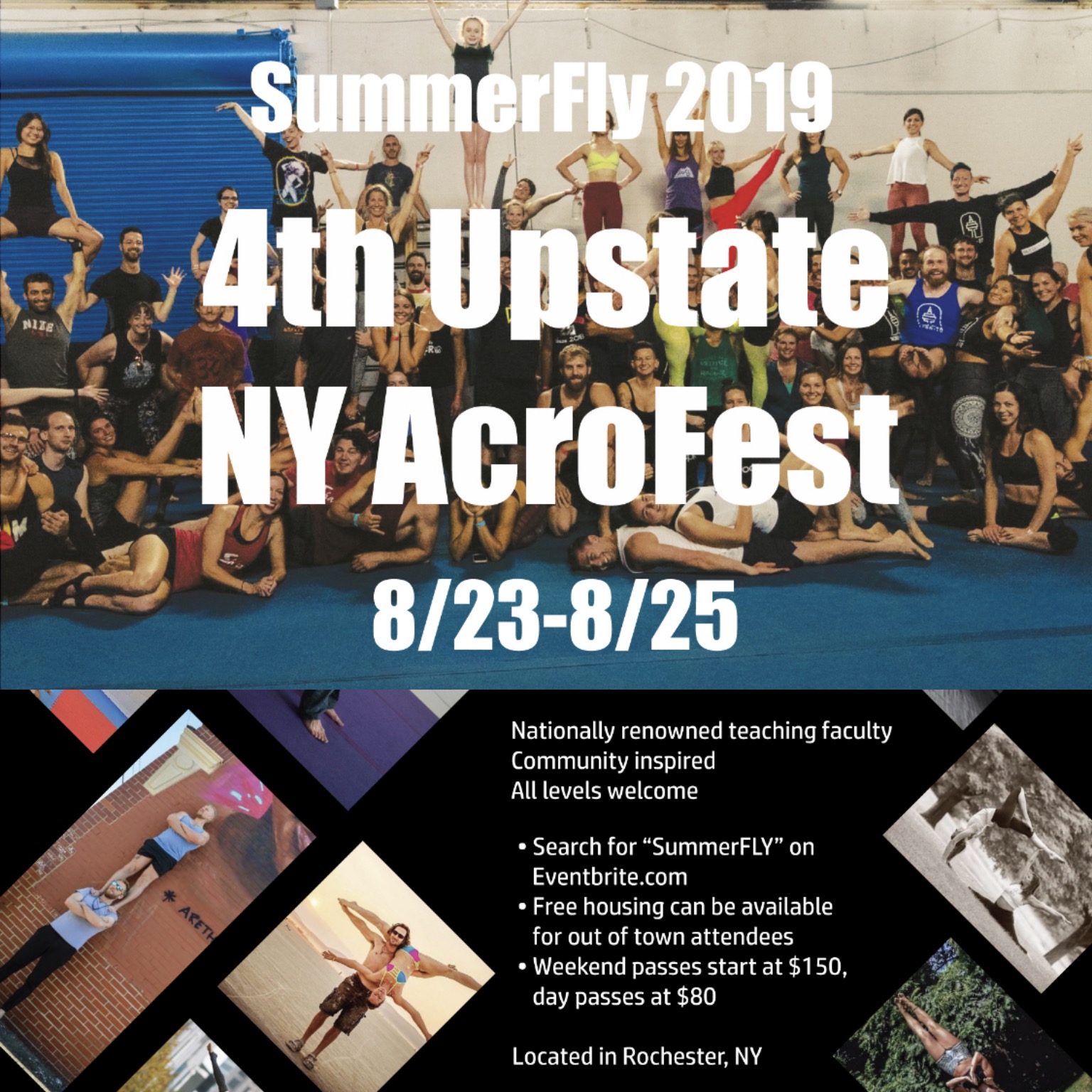 Want to FLY high this summer? I'm excited to bring you some acrobatic fun with our 4th edition of the Upstate NY Acro Fest here in Rochester, NY, covering our Niagara, Ontario and Finger Lakes Region!
The fest celebrates unity, diversity, approachability, responsibility and community in acro and related movement arts. It's intention is to skill share while building sustainable and supportive relationships that nourish and nuture hearts.
Tickets are affordable with day passes (starting at $80), single passes (starting at $150), duo passes (starting at $290) available. Tickets can also include free housing if needed.
We have ALL levels, ALL styles, from ALL types of training schools. Over 15hours of acrobatics, over 25 available classes in the weekend. Multiple classes running at once approachable to variety of acrobatic levels and desires. We have skill focused from mastering foundational acro poses to tumbling and handstands, to washing machines, icarian, pops, whips/whops, standing acro, banquine/tosses/baskets, group acro/trios, cheer acro, dance lifts, contact dance, handbalancing and more!
Headliners this year include Max and Liz (www.maxandlizacro.com), Jacob and Debbie (www.JacobandDebbieacro.com) and Ryan and Cassie (www.Pitchcatchcircus.com)!
For full list of teacher bios, please go to Facebook: (https://m.facebook.com/events/352358628721775/?acontext=%7B%22ref%22%3A%2229%22%2C%22ref_notif_type%22%3A%22plan_user_joined%22%2C%22action_history%22%3A%22null%22%7D&notif_t=plan_user_joined&notif_id=1562513869663745&ref=m_notif) or Eventbrite ticket link provided.
Rochester is in the heart of the beautiful Finger Lakes and Niagara Region. It's easily accessible by car, train, bus, and plane.