Second Hungarian Acrobatic Convention
Event Navigation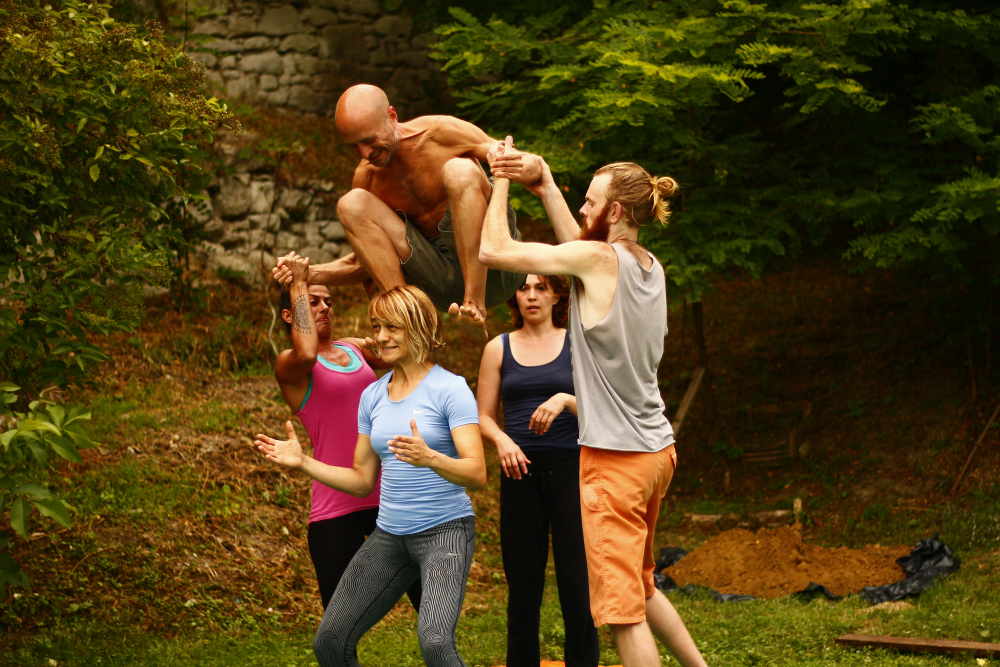 The Second Hungarian Acrobatic Convention will be held from august 16th – august 23d 2018, for acrobats and acro yogis of all levels, beginner or (very) advanced. This includes:
Workshops from renowned teachers : Noël and Wybren and Hugo
Training outside, with and without longe
a shade net above the playground
Training inside in the community house if the weather is bad
Beautiful camping place on the hill
Freshly cooked vegetarian food (optionally vegan or carnivore)
Wifi
Free use of bicycles
Disciplines and techniques 
In the workshops we will address a variety of acrobatic disciplines and techniques including building and pitching, handstands, washing machines, flows and sequences, lifts and balances, Icarian and trio tricks.
Skill level
This training week is open for anyone. You will receive personal instruction to your skill level. If you like, you can attend with your dedicated training partner, but everybody will switch partners during the training, since this will give you a deeper understanding of acrobatics. Upon registration let me know if you're preferred role is base or flyer (or both).
Program
Our convention will have (at least) 22 workshops and there is always a free training floor. There will be workshops every day, except for sunday. This day is for other kinds of leisure; a walk in the beautiful environment, a bicycle ride (there are bikes at the venue) up the Bükk mountains, or a visit to the famous Lippizaner horses in Silvasvárad. The ancient town of Eger is also nearby with its fortress and thermal bath.
Accommodation and food
Nestled in a shady cool tree forest, lies the campground. Please bring your own tent, mat and sleeping bag. Sanitary facilities are basic but sufficient (toilets and showers). There will be three vegetarian meals a day, freshly cooked for you. Our kitchenmaster can cook meat/fish or vegan food on request. You are expected to lend a hand in small tasks like cleaning the tables.
Registration
Regular price: € 290 (food and camping included, drinks not included)
Early bird price: € 260
Single day: € 55
Discount: participants of the acro-building holidays, in whatever year, can join the whole week for 235 euro
The number of participants is limited to 30

Your place will be secure once you have paid. Contact us for payment details.
About the teachers
Noël Spauwen:
holds regular acrobatic classes in his home town, Nijmegen
teaches workshops across Europe and the United States
teaches at acrobatic conventions and festivals
gives personal coaching on demand to artists all over the world
initiated and organised many conventions and training events
typical quote: "…focus on what you can do"
Wybren Wouda:
Dutch and Swiss champion acrobatics gymnastics
Acrobatics teacher at Codarts Academy for Circus and Performance
Art Trainer of acrobatic duo's
Hugo Hanssen:
holds regular acrobatic classes in Apeldoorn
teaches workshops across Europe at acrobatic conventions and festivals
initiated and organised several international acrobatic conventions, like the IAC in Italy and the New Year's Acro in Beek, The Netherlands
initated truuk.nl, a database of acrobatic tricks
typical quote: "…no fun, no acro"
The First Hungarian Acrobatic Convention took place from august 5 – august 12 2017,
The cooks of 2017: Lilian and Annalies. This year we will have a professional cook from Mikófalva.

Pictures by Catalin Munteanu, Ishine Gape and Helene Stafleu