Pre-Festival zum 3.Grazer Akrobatik-Festival
October 9, 2017 @ 9:00 am

-

October 13, 2017 @ 1:00 pm
Event Navigation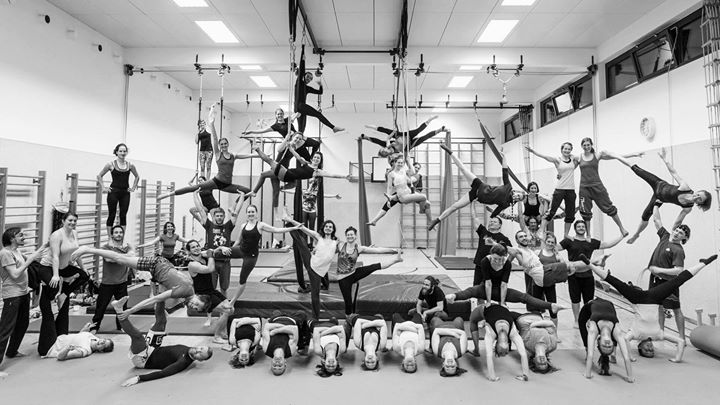 REGISTER HERE: http://bit.ly/2ugpNXG
Accompanying the 3. Grazer Akrobatik-Festival we are for the first time organizing a Pre-Festival. While the festival is great for exchange and a big variety of input, the aim of the pre-festival training is to work on specific acro related topics. What you may expect:
* About 25 hours of training on 5 days (monday to friday)
* Handstand training on all levels
* All kinds of partner acrobatics on different levels
* A small group
* Excellent teachers
* Lunch every day
PREREQUISITES
To be able to participate you should have some background in partner acrobatics, acro yoga or similar movement practices. We expect you to be familiar with the following excercises as a base OR a flyer (optional: both): Shoulder stand on hands and feet (star), Foot2Hand in L-Base, high bird or a similar standing trick, handstand against a wall for 15 seconds. Please contact us if you're not sure if you meet the requirements. We do not want to exclude any highly motivated people – so if your in doubt, just ask us.
CONFIRMED TEACHERS
Martin Kvist and his partner Vanille Siméon – Flying High Acrobatics, extensive background in sport science, hand balancing and partner acrobatics.
More to be announced.
PRICE:
250,- regular
230,- for early birds (until August 15th)
Accomodation is not included, but we will help you to find cheap options.
—– GERMAN —–
Erstmals anlässlich des 3. Grazer Akrobatik-Festival organisieren wir ein Pre-Festival! Während das Festival hervorragend für Austausch und weit gestreuten Input ist, bietet das Pre-Festival-Training die Gelegenheit, intensive an spezifischen Themen zu arbeiten. Was euch erwartet:
Zirka 25 Stunden Training an 5 Tagen (Montag bis Freitag)
Handstand-Training auf allen Levels
Verschiedenste Arten von Partner-Akrobatik auf verschiedenen Levels
Eine kleine Gruppe
Hervorragende internationale Lehrer
Ein Mittagessen jeden Tag
VORAUSSETZUNGEN
Um sinnvoll teilnehmen zu können, solltet Erfahrung in Partner-Akrobatik, Akro-Yoga oder einem verwandten sportlichen Background haben. Wir erwarten, dass ihr mit folgenden Übungen vertraut seid (als Base ODER Flyer – optional: beides): Schulterstände auf Füßen und Händen in L-Base (Star, etc.), Foot2Hand in L-Base, High Bird oder Ähnliches im Stehen, Handstand gegen die Wand für 15 Sekunden. Kontaktiert uns bitte, falls ihr bei den Vorraussetzungen nicht sicher seid. Wenn ihr sehr motiviert seid, wollen wir euch keinesfalls ausschließen. Fragt und im Zweifelsfall einfach!
LEHRER
Bis jetzt fix dabei sind Martin Kvist und seine Partnerin Vanille Siméon – Flying high acrobatics – Experten auf den Gebieten Handstand, Partner-Akrobatik und Sportwissenschaften. Die anderen werden demnächst angekündigt.
PREIS:
250,- regulär
230,- für Early Birds (bis 15. August)
Die Übernachtung ist nicht inkludiert – wir helfen euch aber gern, günstige Möglichkeiten zu finden.