Pitch Catch Circus: School of Acrobatics 9-Week Spring Intensive
February 26 @ 8:00 am

-

May 4 @ 5:00 pm

$3,800
Event Navigation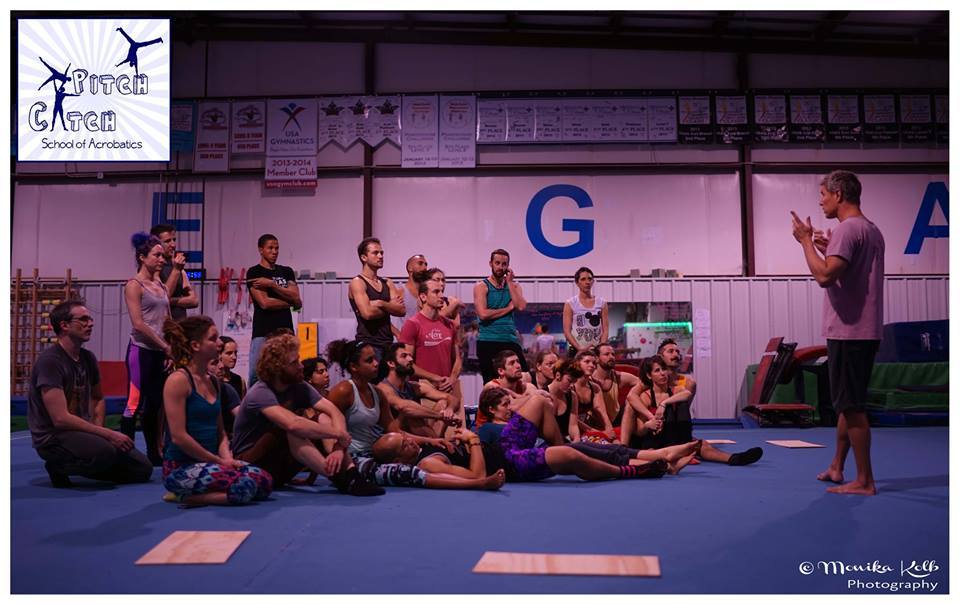 Teachers: (Rotating) Niko Douwes, Ellio Blox, Aaron Lind, Christine Moonbeam, Cassie Drew, Ryan Hamity
Location: Albuquerque, NM, USA
Dates: Feb 26- May 4 2017
Level: Intermediate/Advanced
Time: 9:30am- 5pm M-F plus two additional evenings of open training
Pre-Requs: Standing Hand to Hand, Standing Foot to Hand, Two High with the base walking, 1 min handstand (free or supported)
Apply: www.pitchcatchcircus.com
Apply before October 15 2017 for the Early Bird Discount (Save $350 off the complete program)
Students may come for the full 9-weeks or 2,3,4,5,6,7 training blocks also available.
This is a full-time 9 week partner acrobatic immersion for intermediate to advanced acrobats.
Weeks 1-3: Standing Style Dutch Acro: Dynamic hand-to-hand, foot-to-hand entrances/exits etc.
Weeks 4-5: Trio/Group work: Banquine, Toss the Flyer, Group Stacks
HALF TERM (one week no school)
Weeks 6-7: Ikarian pops and whips
Weeks 8-9: Adagio: Dynamic dance lifts, transitions and standing flows
Optional week 10: REUNION JAM WEEK. One week for past Pitch Catch Students to reunite, reconnect and train hard in a safe environment. Coaches will be on site to offer feedback/spotting but no new instruction will be offered.
Additional instruction in: Handstand training, tumbling, active flexibility, conditioning, dance
Who should apply: Intermediate-Advanced acrobats or circus professionals who are looking for a supportive immersive environment to level-up; work hard and play hard. Those interested in working collaboratively rather than competitively. Movers and shakers with dedication, a willingness to fail, a passion to try again.
Love Discounts:
BYO Partner: Buy one at standard price, get one %25 percent off
Early Bird: Apply before Oct 15 and save $350
Returning students: save %10
Scholarships also available!