Morocco Adventure Retreat
Event Navigation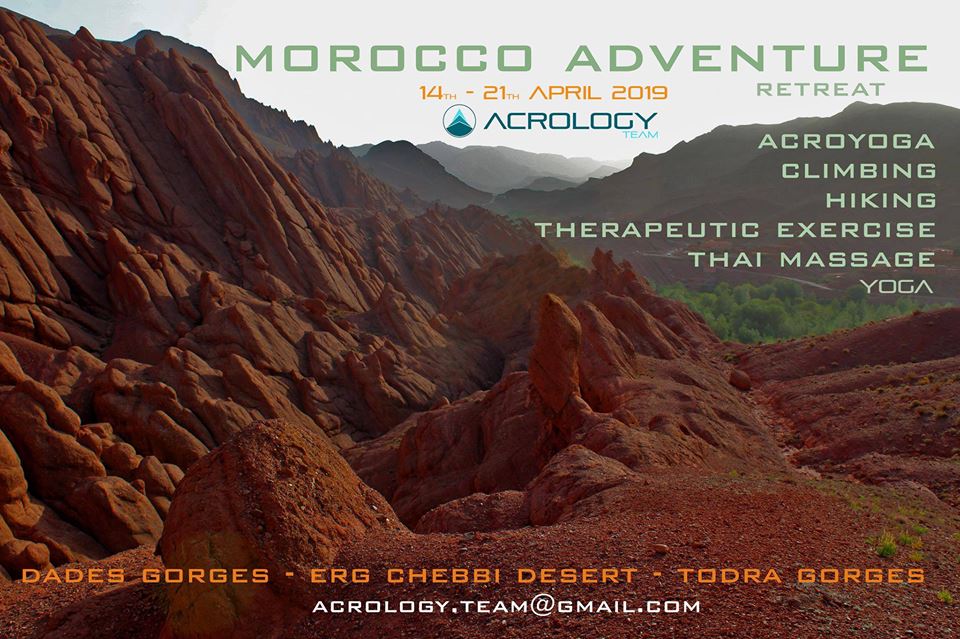 Morocco Adventure Retreat with Acrology 5th Edition
Dades Gorges, Erg Chebbi Desert and Todra Gorge.
AcroYoga, Climbing, Hiking, Yoga, Therapeutic Exercise and Thai Massage
14th to 21st April 2019
An unforgettable week (8days) in Morocco. Enjoy a very different holiday, discovering new and emblematic places, like the Ait ben Hadou village, the Dades Gorge, the Merzouga desert, and the Todra Gorge, an abrupt rocky canyon, with vertical walls of up to 300m, and a beautiful river that flows through a valley filled with palm trees, agriculture fields, and ancient adobe villages (Kasbah).
Discover this amazing country while you practice activities like AcroYoga, climbing, hiking, Yoga, therapeutic exercise, Thai massage… all surrounded by a friendly atmosphere, guided by a group of professionals that will make this holiday so fun and memorable. As well as all these programmed activities, you will have the chance to enjoy the delicious Moroccan and Bereber cuisine, famous for its high quality and taste, get to know the native community, observe the beautiful scenery and the amazing stary desert sky, see nomad Berber camps, and much more…
Come and share a different holidays in Morocco, in a pretty, traditional home of the local people. Submerge in the Moroccan culture and practice sports in the outdoors, discovering mountains, rivers, villages, locals…
You will also have free time to climb, hike around the mountains and gorges, enjoy camel trails in the desert, and discover the Moroccan and Berber culture.
SCHEDULE AND PRICES
For more info write us to acrology.team@gmail.com
————-ACROYOGA—————–
AcroYoga mix the wisdom of yoga, the dynamic force of the acrobatics and the loving kindness of fine arts. These three lines give the base to a practice that cultivates trust, play and community.
AcroYoga use in play, group interaction, trust and security, sharing and flow. Flying is one of the bold and fun aspects that we can experiment with the support of all. Connect and live in the present is our greatest gift.
Join and be surprised by your own capabilities. You do not need previous experience.
————–HIKING————–
We walk through the Dades Gorges, a spectacular canyon 25 km long with beautiful landscapes where the houses blend with rocks and where the Dades river runs slowly from the high plateaus of limestone. We will travel to Desert Erg Chebbi, near Merzouga, with the possibility of ascending to the Great Dune, and view from above the vast expanse of desert on the border with Algeria. We will continue on to the Todra Gorge, located on the east side of the High Atlas Mountains of Morocco. These Gorge are famous world-wide for being one of the most amazing rocky canyons. Its waters are crystal clear, fresh and clean. You will be able to explore this area on foot and enjoy the magnificent, rich landscapes, as well as various Kasbahs, settlements and ruins.
————-CLIMBING————
The Todra Gorge forms a canyon with 300m high walls, well known for its high quality rock for climbing. The canyon is formed by red limestone rock, so adherent you can place your feet without the fear of ever slippling. Down in the valley, the river flows through the oasis of the Todra with palm and olive trees growing on its shores, as well as other crops. A great place to climb because of its wide range of difficulty and level, allowing beginners and experts to enjoy the ascents and spectacular views from the top.
—–YOGA AND THERAPEUTIC EXERCISE—–
Wake up each morning to some therapeutic exercise, guided by a physiotherapist, to revitalise and face the fun-packed day with healthy joints and muscles. Body mobilisation, stretching, pair exercises, breathing, massages, and specific exercises for AcroYoga and Climbing.
—————DESERT—————
We will visit the desert, near Merzouga, pretty village on the border with Algeria, to meet the Erg Chebbi, where we visit the dunes, riding camels and introducing a night in the desert to sleep in Haimas (Tradicional Dessert Tents) in a very special place to share with the Berbers its rich tea with mint, practising some acroyoga and enjoying the sunrise over the dunes and feeding of rich traditional moroccan food.
——— ABOUT THE COUNTRY ———-
Morocco is the closest African country to Europe, only 14 kilometers separates Africa from Europe, but probably the 14 kilometers of the world where more changes are a cultural, religious, culinary, social and economic level. Although it is a country that is developing rapidly, it is a place of contrasts, where new technologies are found while still many people go in the donkey, nomadic children and / or live in caves. It is a place that offers a lot of different landscapes from forests and mountains to deserts and long and beautiful beaches. Touring your geography, meeting locals and visiting their villages is a very enriching experience and full of learning, you will love it 🙂
WHO WHE ARE?
Carú González
Bachelor of Education, massagist, climber, traveller, lover of sports, nature and all its creatures. He has done several training courses and workshops related toacroyoga, yoga, acrobatics, capoeira, massage and body work. Acroyoga certified teacher with the school Partners Acrobatics.
His passion is to do what he loves and sharing it with others, with a social and humanitarian vision, inspiring and sharing his practice and experience with other teachers from different places and taking his practice to places such as hospitals, prisons and youth centres. Since 2015 he has been organizing and participating in workshops, classes, retreats festivals and trainings all over the world.
David Sanjuan
Physiotherapist, Technician conducting physical activities and sports in the natural environment (TECAF) Technician in superior physical-sports activities l, (TAFAD). Professor of Acroyoga with the International School Partner Acrobatics.
He has taught courses and workshops Acroyoga, juggling, slackline, Psychomotor, Sports games, postural re-education, therapeutic exercise … climber and nature lover. He loves to share his passions like climbing and Acroyoga with everybody; For him, it is the game where you become children again, where emotions play a fundamental role, to deliver the fun and enjoyment, knowing our body through movement. fascinates him as confidence in people makes them realize what they are capable of.
David Worrow
Bachelors in Fine Arts, certified Cambridge English teacher, and AcroYoga teacher at Partner Acrobatics.
"I have always had eclectic passions and interests. The knowledge and experience I have acquired in the different disciplines I practice (be it visual arts, movement arts, massage therapies, languages…) relate in strange ways and nourish one another. Eventually I found the common thread of all these: education; transmitting what I know to others, which ties all of them together. My objective is to merge the rigorous and efficient ""Cambridge"" language teaching methods with the fun and communicative Acro teaching techniques, and add a creative edge from my arts education. Out of all of these, Acro has been by far the one which has most taught me about myself and others. It is a huge pleasure to teach this awesome, fun discipline, and to keep learning so much from my peers and students, no matter what age, background, or capacities they have."
———- CONTACT AND RESERVATIONS ———-
acrology.team@gmail.com