Malaysia AcroYoga Lunar Immersion
March 23 @ 6:00 pm

-

March 27 @ 2:00 pm
Event Navigation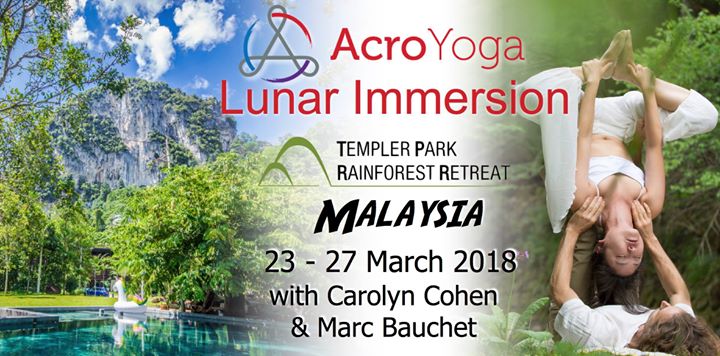 *** 5 Days of Pure Therapeutic Delight ***
We are excited to go to Templer Park Rainforest retreat center, a hidden oasis near Kuala Lumpur's urban jungle. We will dive in their gorgeous pool as well in the practice of Lunar (therapeutic) Acroyoga! Join us in the supportive atmosphere of an AcroYoga Immersion in the sweetness of Malaysian hospitality!
*** All details & booking: http://www.acromarco.com/malaysia-march-2018.html
This Lunar Immersion focuses on the healing, relaxing and rebalancing practices of Thai massage and therapeutic flying. The Lunar Asana Sequence teaches basic body mechanics with a focus on self-love cultivation, in preparation for the dance of Thai massage. The techniques learned on the floor are then translated to the flying work, using the element of gravity to amplify the healing flow of prana (life force). Often, we will work in teams of three or more for safety and support, and everyone will have the opportunity to base and fly, heal and be healed.
All levels welcome… this is your chance to step up to YOUR next level, in a supportive and joyful atmosphere.. and receive yummy treatments, recharge and refresh yourself! If you are ready to go deep, this 30 hours program offers invaluable tools for yoga teachers, massage therapists, and energy workers who wish to develop a new dimension of healing touch for students or clients.
Treat yourself to 5 days of learning, relaxing, and connecting with a sweet international group of acrolove monkeys!
*** Basic Pricing Details (in USD):
Super Early Bird: $395 (Deposit of $190 by JAN. 31 to secure)
Early Bird: $445 (Deposit of $190 by FEB 28 to secure)
Regular Price: $495
*** Certificate of Completion included
*** More details regarding accommodation and meals at: http://www.acromarco.com/malaysia-march-2018.html
Skills Covered:
* AcroYoga Lunar Asana Sequence
* Thai massage in: Supine, Prone, Side Lying, & Seated positions
* Therapeutic Flying transition and sequences in: Forward,
* Backward and Inverted flyer position
* Partner Yoga flows for wellness and connection
* Movement practices for making floor-based bodywork feel good & sustainable for the giver
Please note:
* This immersion is residential, meal options and a range of accommodation are available
* Arrival: anytime Friday afternoon, we start with 6pm dinner & a welcome sessions
* This immersion fulfills a prerequisite for AcroYoga Teacher Training applications.
* Space is limited, get on the starting blocks to book your spot! ~:>
Lead teachers:
Marc Bauchet and Caro Lyn met over 10 years ago at the very beginnings of acroyoga… and are looking forward to share their passion for the therapeutic touch of Thai massage and the power of therapeutic flying, enriching the program from their diverse backgrounds and playful interaction.
Assistants:
Vivien Oles (certified Level 1 teacher), Junko Kominami & Foo Jong Hau (certified Level 2 teacher) actively teach yoga and acroyoga in Kuala Lumpur. Our assistants are also in service of the group and are excited to share their experience by joining groups, practicing with participants, answering questions and making sure your have the richest experience!
All details & booking: http://www.acromarco.com/malaysia-march-2018.html