MAAC 2017 – Manchester Aerial & Acrobatics Convention
April 28, 2017 @ 12:00 pm

-

April 30, 2017 @ 9:00 pm
Event Navigation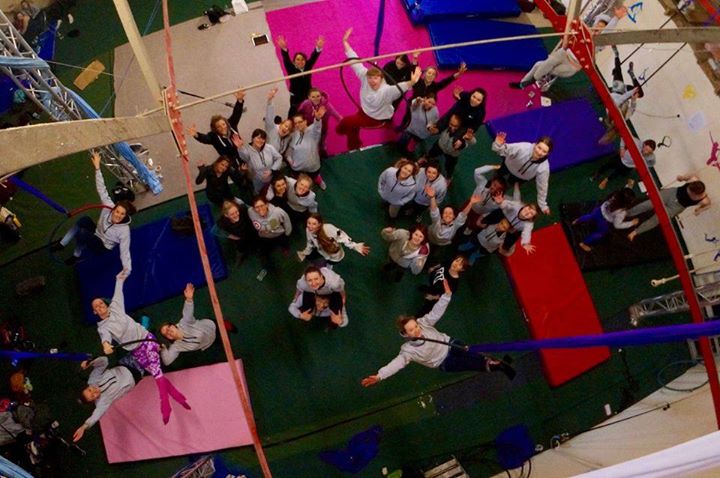 The ticket link is manchesteraac.co.uk. DO NOT TYPE www. first, just exactly as above. There are 200 tickets and once they're gone they're gone. Tickets are non-refundable for any reason but you're welcome to sell your ticket on.
GO BIG OR GO HOME! After the overwhelmingly positive response we had to our first convention in April, we decided to go massive this time.
We're hiring out Bowlers Exhibition Centre for the whole weekend so we can host more workshops, more teachers and of course more amazing students!! We anticipate being able to host 200 students this time, quadrupling our capacity from 2016. The space has a few thousand square feet so we'll be able to host an amazing six classes at once, giving you more choice and more variety.
The venue has an amazing 8m of height so we'll be able to rig all the usual silks, trapezes, ropes and hoops as well as new aerial equipment such as cloud swings, aerial nets and maybe something bungee related!
With the additional floor space we're also looking at running cyr wheel workshops as well as your favourite floor workshops from last time, including hula hoop, stilt walking and of course acro acro acro!
The level of teachers last year was amazing, the calibre of students was incredible and the atmosphere was indescribable. So let's do it all again!!
Obviously this is a good few months away so at this stage we're in early planning and we'll release details of workshops and teachers as we get them.
Teachers so far:
Colm & Mona from Newton's Ladder teaching rope, rope doubles and counterweighting
Kat Clark from Rogueplay teaching rope
Kit from Cloud teaching aerial beats and floor gymnastics
Will Duncan from Pendragon Circus teaching trapeze
Jo Jordan from DirtyFeet teaching aerial hoop
Julie from Rockahula teaching hula hoop
Scott & Michaela teaching acro workshops, hand to hand and standing tricks
Ed Swift teaching silks
Brendan from Cloud teaching aerial net
Kris Madden teaching Cyr Wheel
Forma Fortis teaching acrobalance
Amy Capper teaching hoop
Kim Charnock teaching silks
Andi ActiveCherry teaching weird & wonderful aerial apparatus
Belinda Grantham teaching yoga and aerial yoga
Andi Semeseriasu teaching straps and handbalancing
SAVE THE DATE RIGHT NOW AND SPREAD THE WORD! MAAC 2017 is going to be insane.