Irish Acro 2018
May 24 @ 3:00 pm

-

May 27 @ 3:00 pm
Event Navigation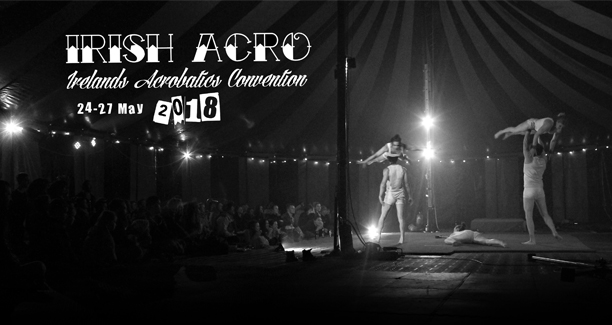 For the third year Irish Acro: Ireland's Acrobatics convention will take place just outside of Dublin. Irish Acro runs from Thursday 24th to Sunday 27th May with a packed schedule, including workshops in:
Standing Acrobatics, L basing, Hand to Hand, Acroyoga, Dance Acro, Toss the Girl, Banquine, Handstands, Minitramp, Tumbling, Performance
All this, a Saturday evening show and the usual amount of craic you'd expect at an Irish acrobatics convention!
Teachers:
Duo Die acrobatics (USA)
Dion & Verena (DK, GER)
Hugo Hanssen (NL)
Deirdre Murphy (IE)
Kat & Jared (FIN, AUS)
Ali Stanger (UK)
Tony Mahon (IE)
Gracie May Marshall (IE)
All food is included for the whole weekend ticket price as well as camping in a beautiful garden area.
The show this year is 'Resonances' by Woven Circus Collective. An Irish based, new upcoming circus collective!
Prices:
Early bird (until 15th March): €130
Price after 15th March: €160
Register to secure your spot: https://goo.gl/forms/YhCIpXry9nnOT5FW2
See how much fun we had last year: https://www.youtube.com/watch?v=TNPd55GDQu0
More updated info: https://www.facebook.com/events/1594293377304963/
Schedule:
Thursday
16:00 Convention Opens
16:00 – 19:00 Open Training
19:00 Dinner
20:00 – 21:30 Workshop
Friday
08:30 Early morning Handstands/Yoga
09:00 Breakfast
10:00 Warmup
10:30 – 12:00 First round of Workshops
12:00 Lunch
13:30 – 15:00 Second round of Workshops
15:30 – 17:00 Third round of Workshops
17:00 – 19:00 Free training
19:00 Dinner
20:30 Showing of new work from national and international performers
Saturday
08:30 Early morning Handstands/Yoga
09:00 Breakfast
10:00 Warmup
10:30 – 12:00 First round of Workshops
12:00 Lunch
13:30 – 15:00 Second round of Workshops
15:30 – 17:00 Third round of Workshops
17:00 – 19:00 Free training
19:00 Dinner
20:30 Show "Resonances by Woven Circus Collective" – Live music – Party
Sunday
09:00 Breakfast
10:00 – 11:30 Warmup & Workshop
11:30 – 12:30 ACROLYMPICS
13:00 Lunch
13:30 – 15:00 Cleaning up