Handstand Workshop Barcelona with Room 21 Balancing
August 31, 2019

-

September 1, 2019
Event Navigation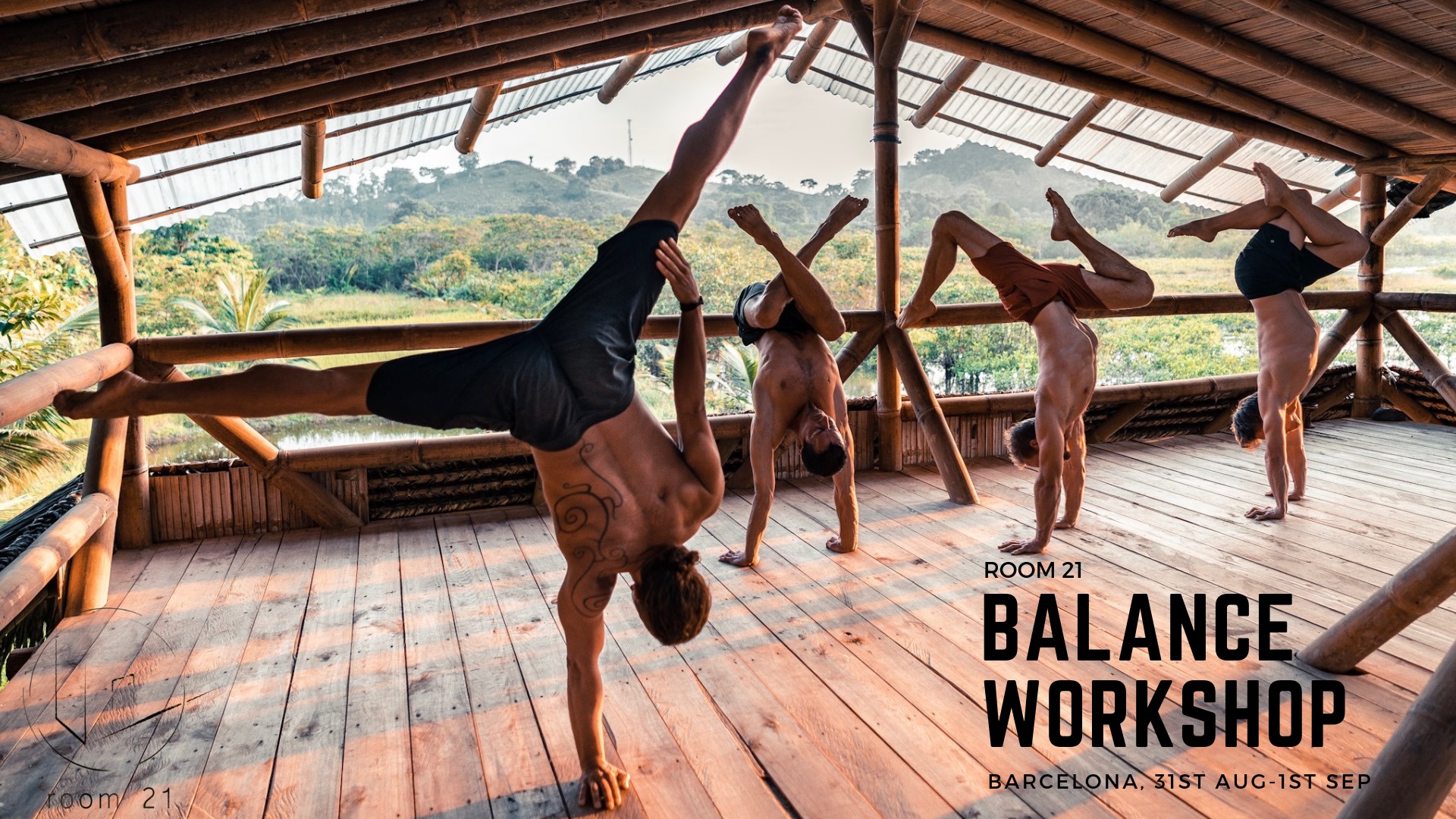 Workshop Description (Hablamos español tambien!)
Beginner's Workshop
The beginner's workshop is aimed for people who have little, or no experience at all with handstand practice. The main focus is in establishing a safe way to practice the body's balancing mechanisms and creating positive training patterns that lead to consistent progress. We pay a lot of attention to making sure that the participants understand the correct balance between flexibility, technique and strength training, something which is critical in the beginning stages of a balancing journey.
Other topics covered among many are:
. How to assist and train with a partner (spotting)
. Injury prevention.
. Training consistency and planning.
. Cross training with other sports / physical disciplines etc.
The Beginner's workshop addresses a lot of the drills already introduced in the Room 21 Online Course in a more indepth manner.
There are two experienced teachers in this workshop, contributing to more individual attention and assistance.
Prerequisite: Some experience in physical activity and an injury free body
Intermediate / Advanced Workshop
The Intermediate / Advanced workshop is aimed for practitioners who are already more seriously engaged in balancing practice, or have a background in a discipline such as gymnastics or acrobatics.
The main focus is establishing a solid foundation for one-arm balancing practice. Additional work includes advanced overall body balance fine-tuning drills, head positioning drills, presses and descents and long dynamic sequences combined with static positions, all aimed at enhancing your sense of balance, control and technique.
We also address routine creation and periodization between different surfaces for more efficient practice and progress.
There are two experienced teachers in this workshop, contributing twice as much to individual attention and personal assistance.
Prerequisite: 30-second free-standing handstand
Company intro / background story
Room 21, aka Andrey Moraru and Jaakko Tenhunen are the creators of the most comprehensive online balancing courses made to date. Jaakko and Andrey originally met in Kiev, in one of the most iconic hand-balancing and Physical Art schools in the world, which later became synonymous with exceptionally skilled and creative balancers.
Both have worked for more than a decade as professional hand-balancers (in performance and teaching in different countries) and have dedicated almost 40-years in total to the study of hand-balancing in it's different forms.
Workshop pricing:
Beginner's: 135€ / Early Bird 115€ !
Intermediate/ Advanced 159€ / Early Bird 139€
Both Workshops: 200€
(Early Birds available until end of June)
To book a place, please e-mail us at: info@room21.net
Date: 31.8 & 01.9.2019
Time:
9.00 am – 12.00 am (Beginner both days)
2.00 pm – 5.00 pm (Intermediate both days)
Location:
Espai 3Temps
Plaça d'Herenni, 11
Barcelona, 08014