German Kula Celebration 2017
July 6, 2017 @ 4:00 pm

-

July 9, 2017 @ 2:00 pm
Event Navigation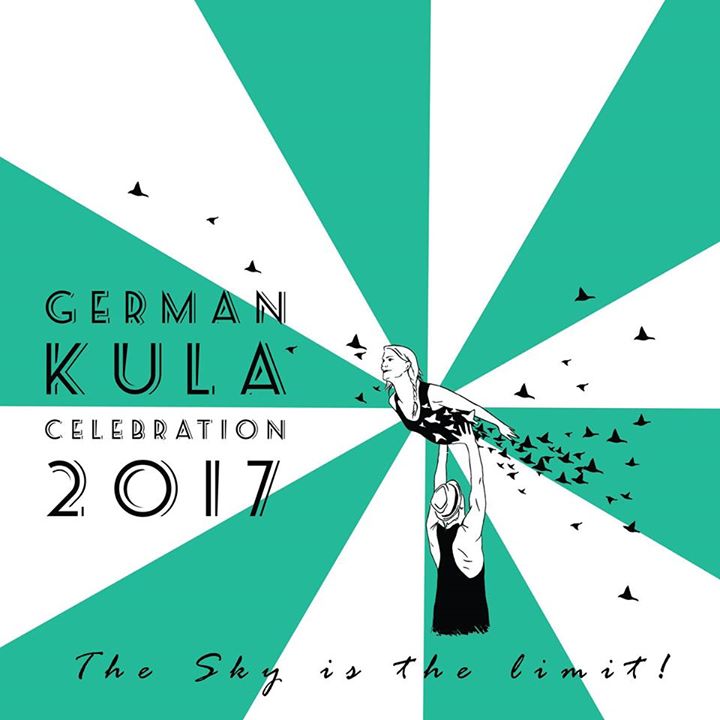 From 6th till 9th of July 2017
Get ready to enjoy workshops with an international teaching crew, dance-night, concert, kids program, handstand-privates, NATURE, Bodywork & Dessert Party, trees & elves, good food and much more.
TEACHERS & ARTISTS confirmed so far:
ALU – Airlines = Almuth Kramer & Lucie Beyer, Lulu & Mischka, Julia Weis, Niko Douwes, Farina Schnell, Fridolin Schuster, Lea Zubak, Henrike Grolik, Anja Trötchen, Kilian Trenkle, Didi Melnik Porat, Jasmin Geissler, Igor Hurgin, Nina Reidel, Lea Zubak, Alica Khan, Sergej Kuhlman, Tatjana t'Felt, Afia Joy, Jules Tollkühn, Christian Gieger and more to be announced!!!
We are so looking forward to celebrate the abundance of togetherness, fun playtime and pure delight with all of YOU!!!
Save the date and be a part of it.
LOCATION:
Am Windberg 1, 99625 Beichlingen (Thüringen)
ENERGY EXCHANGE:
– the price includes program, three organic & vegetarian meals per full day and accommodation!
TICKETS & PRICES UNDER:::
https://www.germankula.com/tickets/
KIDS:
up to 4 years: free
age from 4-11: 30% of the price
age from 12-18: 50% of the price
PLEASE NOTICE:::
We are not sending an extra ticket out to save paper & effort. Once you booked & transferred you are appearing on the Kula Love List 😉
You can see some pictures of the location here:
http://windbergev.de/bilder/raeume.html
Much Love,
Almuth & Lucie
>>>>> ♥ <<<<<<< How to get to the German Kula Celebration: Venue: Windberg e.V., Am Windberg 1, 99625 Beichlingen closest airport: Airport Leipzig/Halle closest train station: Kölleda Shuttle from Kölleda train station: there will be a 2€-car-shuttle from "Kölleda"-train-station to the Kula Celebration 6th -Thursday between 14.30 - 18.30 h 9th - Sunday between 14 - 16 h - please notice, that we only offer shuttles during the announced times! call a taxi/ cab: 03635- 401166 (Kölleda) or 03634- 609780 (Sömmeda) If you are searching a lift or if you have one to offer: https://www.facebook.com/groups/571033816412428/