Duo Die Acrobatics in Copenhagen
June 7 @ 5:00 pm

-

June 10 @ 5:00 pm

EUR190
Event Navigation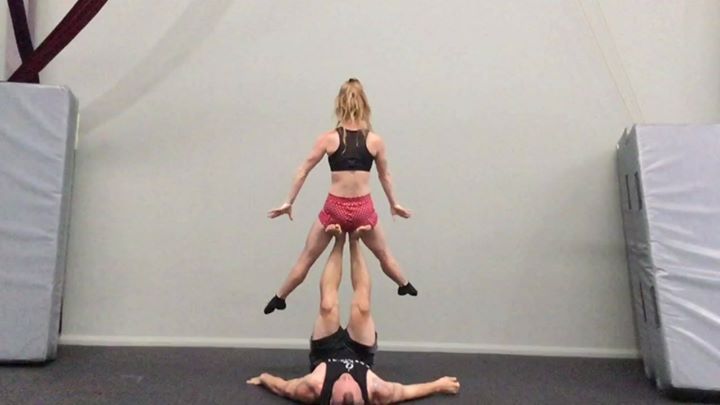 We welcome you for this four day training with world class teachers Caitlin and Dane aka. Duo Die Acrobatics .
Event link: https://www.facebook.com/events/1549233588446388/
There will be 18 hours of high quality acro workshops, and you won't want to miss any! The event starts Thursday 7th of June and ends Sunday the 10th of June.
Emil is helping to organize the event, and he will also organize some social activities and shared meals during the days here.
Furthermore we would like to arrange a shared accommodation close by the venue with indoor and camping options, which also will help to make your stay in Copenhagen a whole and great experience.
The workshops will be perfect for you if you are interested in dynamic acro with a focus on pops, Icharian and tempos. We will also be working with hand-to-hand and more.
Prerequisites.
We strongly recommend that you to sign up with a partner or group for maximum benefit of the workshops.
Comfortable with Two High and L-basing foot to hand. Flyers and Bases able to hold 10 second freestanding handstand OR 30 seconds on the wall. Comfort with simple popping transitions.
Workshop timetable (exact times can still change a little)
Thursday 19-22
Friday 14-17 & 19-22
Saturday 10-13 & 15-18
Sunday 11-14
I (Emil) am personally super excited to host these two lovely people, and I am happy to give you the chance to meet them. I have been taught by Caitlin and Dane at three different events, and I can honestly say that the best high level workshop I ever participated in was taught by these two!
There are 15 early bird tickets at 1200 DKK (165 Euro) SOLD OUT.
15 early bat tickets at 1400 DKK (190 Euro).
Late whale tickets are 1600 DKK (215 Euro).
Refund policy: If you cancel earlier than 21 days before the event, we offer a full refund minus 200 DKK.
Register here: https://goo.gl/forms/O6EPLABnqUiOXzlB2