DAPC – Dutch Acro Post Convention
May 21, 2018

-

May 26, 2018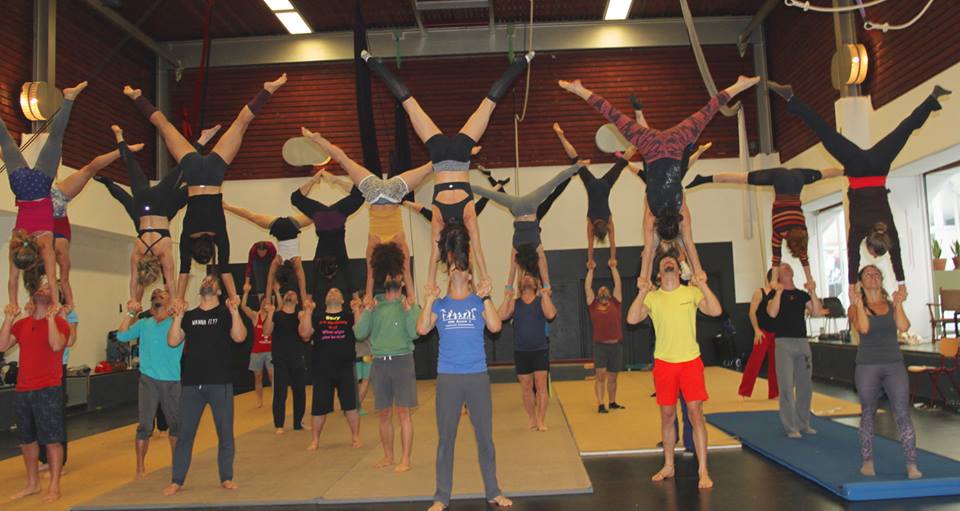 DAPC 2018
Dutch Acro Post Convention 2018
May 21st – May26th 2018
Circus Studio ODEON, Rotterdam Netherlands
WHAT
The second edition of this convention will be organized directly after the Dutch Acro Convention 2018. Again we will offer a five days intensive partneracrobatics convention, with workshops from Fons (Bennink), Wybren (Wouda), Paul (Griffioen), Trudi (Albert) & Bart ('Acro' Venne). There will be daily handstand classes plus three blocks with 2 different workshops per day. In the morning the workshops mainly will focus on developing skillsby offering drills and principles; in the afternoon the workshops will bemore playful and focused on tricks and variations. Subject of the workshops will be set considering the participant´s wishes. Besides the workshops there´s always place for free training. We have a maximum capacity of 50 – 55 participants.
WHERE
The Post Convention will take place in the Circus Studio "ODEON" in Rotterdam. https://www.facebook.com/circusstudiorotterdam
In the hall we will have multiple longes, enough mats, a cozy place to sit together, showers and a kitchen. The studio is in the center of Rotterdam, 10 minutes walk from central railway station. There is a separate (theatre-) room for sleeping inside the building. It's not possible to camp outside, but there are lots of BNB-places nearby and a camping in the city of Rotterdam. Parking car or mobile home near the venue is possible, but is very expensive (3€/hour). Look at https://www.prettigparkeren.nl/embed/?key=31fa42ef69fa43e9b06335d248203af1#!Rotterdam////initLayers:onstreet// to find free parking places outside the center.
FOR WHOM
The Post Convention is a partner acrobatics event. So we will not teach aerials, acro yoga, tumbling etc. But of course you are very welcome to practice these activities during free training hours. The workshops will be at an intermediate and (very) advanced level, depending on level of the participants. To be sure that everybody can join the workshops we ask for the following Required Skills:
1 L-Base step upto F2H
2 L-Base free shoulderstand with flyer holding arms at body
3S-Base lift to high front bird
4 S-Base H2H for minimal 10 seconds (some small steps allowed)
On You Tube: https://youtu.be/3Hon7aXqxGk for a video of these skills.
TEACHERS 2018
Paul – `the swiss army knife of acro´ –Griffioen
Paul is the creator of Ravioli Circus. Performing since 1989 and giving workshops worldwide. Paul specializes in teaching icarian acrobatics, and has a special love for basing kurbets, cascades and one arm handstands. He teaches from his experiences both as base and flyer. Paul's classes are always full of happy students, bouncing, throwing, catching and smiling with the challenges of Paul's instructions.
Wybren – `the serious skill supervisor´ – Wouda
Wybren is one of the best known teachers in Europe, currently teaching at Codarts Circus Arts, Rotterdam. He has been involved in Sports- and Circus Acrobatics alike since he was a child, and has become world-renown for analyzing dynamic skills, his demanding drills and attention to minute detail. He has the ability to break down the most complex tricks and instruct students step-by-step in the pre-exercises that lead up to it. The rumor goes he sometimes even gives compliments 
Fons – `the friendly veteran´ – Bennink
Fons is one of the most experienced acrobatic teachers with 30 years ofexperience and has been teaching for the last 25 years. He is the veteran of many international workshops all over the world. His classes cover from complete beginners up to advanced performers. Fons trained and performed with 'The Como Brothers' in Amsterdam for 5 years and 'The Osmani's' also in Amsterdam for 3 years.
Trudi – 'Albatros' – Albert
Trudi is the flyer in the team. She has been teaching the acro group of the Munich University for over 10 years. Also she gives workshops on acro conventions, specializing in handstand and preparatory workshops for hand to hand and tempo tricks. She has been performing in aerial silks and as part of 'Traumfänger' acrobatics all over Europe.
Bart – 'Acro' – Venne
Bart, originally from Holland is organizer of many conventions and a travelling acro teacher, offering his skills all over world. He's specializing in standing dynamic tricks without flight, crocodiles and creative, complicated transitions (not only with hand- and foot stands) both in duo and trio acrobatics.
FOOD
We are very happy to have Jasper cooking for us again this year. He will provide breakfast, lunch and dinner. The food will be mostly organic and regional, with the choice between meat and vegetarian.
HOW MUCH
€ 320,- early bird price until February 28th 2018
€ 350,- after February 28th 2018
REGISTRATION
Last year'sconvention was a big success and we had good time organizing it. For the 2018 edition we therefore expect more candidates than capacity, so we will have the ungrateful task of selecting participants. How to do this: who cancome? Good, well-known friends? – Last year's participants? – The first that sends back a mail? – New people? – The first that transfers the money? – People that bribed us?
We decided to do it like this:
Pleasesend a mail to: piethein25@tele2.nl when you like to participate the post convention.
We will send you a registration form with all conditions andpractical details. Please fill in this form and send it back as soon as possible. We will collect all applications and we will inform you before February 28th 2018 if we have a place for you or not. We will choose the participants based on following criteria: We (Paul & Wyb), both will choose5 people we really like to come. The rest of the participants we will choose from the list, regarding ratio base/flyer, not splitting up (acro)-couples, ratio man/woman, age). Your spot is final when we have received your payment before March 25th 2018.
The people that don't have a spot immediately will be placed on the waiting list.