Convergence Acro Festival
June 14, 2019 @ 8:00 am

-

June 16, 2019 @ 5:00 pm
Event Navigation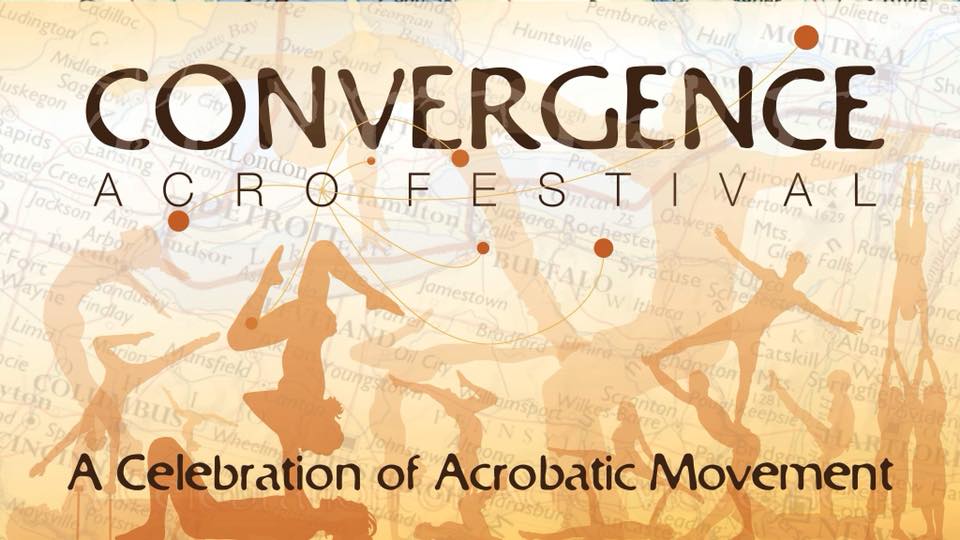 onvergence Acro Festival is a celebration of acrobatic movement: Partner Acrobatics, AcroYoga, Cheerleading, Handbalancing, Tumbling, & more! Featuring teachers from over 14 cities across the south-eastern Great Lakes area and beyond, it is an opportunity for different movement communities to converge, connect, and discover what's possible through the sharing of skills & smiles.
WHO IS THIS FESTIVAL FOR?
Movers of all shapes, sizes, and experience levels welcome! This festival is for total beginners to advanced practitioners. Multiple workshops with different skill level requirements (prerequisites) will be offered simultaneously to accommodate the diversity of skill, interest, and experience. It is a safe and inclusive event for all respectful human beings.
WHAT'S NEW FROM LAST YEAR?
1) A Day-Long Intensive on Friday with Blox Acrobatics and Christine Moonbeam! Check it out HERE.
2) A Friday night Jam open to EVERYONE registered for any part of the festival!
3) Main Festival schedule has been adjusted to make space for MORE ACRO!
VENUE: Power Cheer Gym: 580 Quebec St, London, Ontario
INVESTMENT (all prices in CAD $):
SOLD OUT ~ FIRST 5 FLASH SALE —-> $150 All 3 Days* / $100 Any 2 Days
~ EARLY BIRD (APRIL 30) —-> $200 All 3 days / $130 Any 2 days/ $70 Any Single Day
~ LAZY BIRD (MAY 30) —-> $215 All 3 days / $145 Any 2 days / $80 Any Single Day
~ REGULAR PRICE** —-> $230 All 3 days / $160 Any 2 days/ $90 Any Single Day
*You MUST meet the prerequisites to take the daylong intensive, Friday June 14th.
**Paying At the Door is cash or eTransfer only (no cards)
***All refunds subject to a $10 processing fee. No refunds after June 13th.