Camp CAMP Costa Rica 2018
February 28, 2018 @ 4:00 pm

-

March 5, 2018 @ 4:00 pm
Event Navigation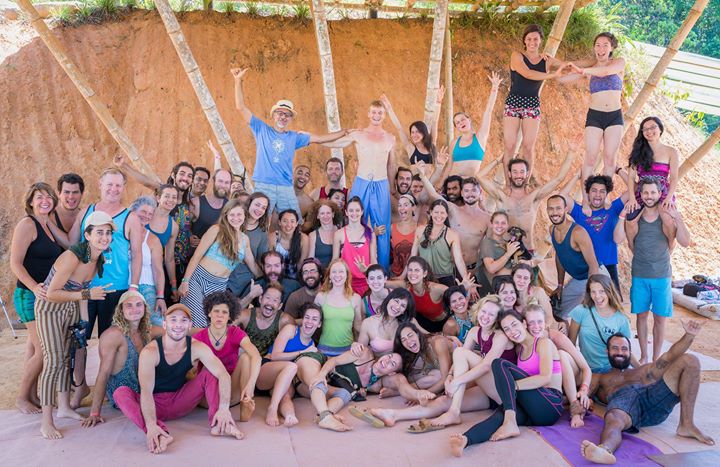 This fun-filled campout in the tropical rainforest is dedicated to the practice of cooperation through acro, movement arts, music, and play.
Para Español, ver debajo.
Phenomenal passionate people dedicated to practicing the Art of Cooperation (in varied forms) will get together to teach, learn, play, and inspire each other, for 5 days.
Teachers, artists, and leaders, in fields such as: Acroyoga, Baile Latino, Dance, Acoustical Music, Circus, Permaculture, Healing, etc., will organically co-create a shared practice. Experimenting with practical/functional cooperation skills, attitudes, and techniques.
This years' classes will be heavily oriented towards physical movement/activity and Acroyoga.
This annual event help increase the infrastructure of C.A.M.P. Costa Rica – a permanent training facility for Cooperative Arts, Movement, & Play (C.A.M.P).
Will we change the world beautifully?
We believe so, and are working to make it happen.
Guest Tickets – only 70 total
Teachers – 30+
For more info and reservations:
CAMPcampcostarica@gmail.com
Pricing, Schedule, and other important info coming soon!
What to expect –
*Fun, and lots of it!
*Training and Practice
*To be humbled by some Great Humans
*Campfires at night
*Starry skies
*Relationships and Connections
Accomodations:
Camping,
in the Humid Tropics, at the end of dry season –
– it will be hot
– there will be insects
– low possibility for rain
– we can supply camping equipment (extra charge)
– water for drinking and outdoor showers, composting toilets
****************************************************************
Aqui!!!
Un campamento maravilloso, en el bosque húmedo tropical, dedicado a la practica de Cooperación, a través el acro, movimiento, música, y juego.
Personas apasionadas, dedicadas a practicar el Arte del Cooperación (en formas variadas), van a unir para enseñar, aprender, jugar, e inspirar unos al otros, por 5 días.
Maestros, artistas, y lideres en campos como: Acroyoga, Baile Latino, Danza, Circo, Slackline, Música, Saneamiento, juntos crearon una practica compartida. Experimentamos con los habilidades, actitudes, y técnicas necesarias para cooperar felizmente.
Habra un enfoque en movimientos/actividades físicas y el acroyoga.
Este evento anual contribuirá a la construcción de un centro permanente para el entrenamiento en los Artes de Cooperación (C.A.M.P. Ashram – Cooperative Arts, Movement, & Play).
Este visión podría cambiar de una bella manera el mundo, verdad?
Creemos que si.
Para más información, o reservaciones:
CAMPcampcostarica@gmail.com
Va a ver-
* Diversion
* Entrenamiento y Práctica
* Ser iluminado por unos humanos grandiosos
* Fogatas
* Cielo estrellado
* Relaciones y Coneciones, como de Familia
Acampar
– en la zona tropical húmeda, al final de la temporada seca –
– calor
– insectos
– poca probabilidad de lluvia
– podemos proveer equipo de acampar (con un costo extra)
– agua potable y duchas exteriores
Precios, horarios, maestros invitados, etc. serán anunciado pronto!!!